Bali Hotels Near Street Food & Markets
Bali is famous for its mouth-watering cuisine and abundance of affordable markets and there's nothing better than combining the two! If you want to stay close to the action, there are an outstanding range of Bali hotels near street food and markets, many within walking distance of the most popular stalls and marketplaces.
Wandering street stalls perusing clothing, handicrafts and souvenirs while snacking on some delicious treats sounds like the perfect day. Follow locals to discover the best food stands (known as warungs) and sample fresh tropical fruit, local delicacies and iconic regional dishes at rock bottom prices.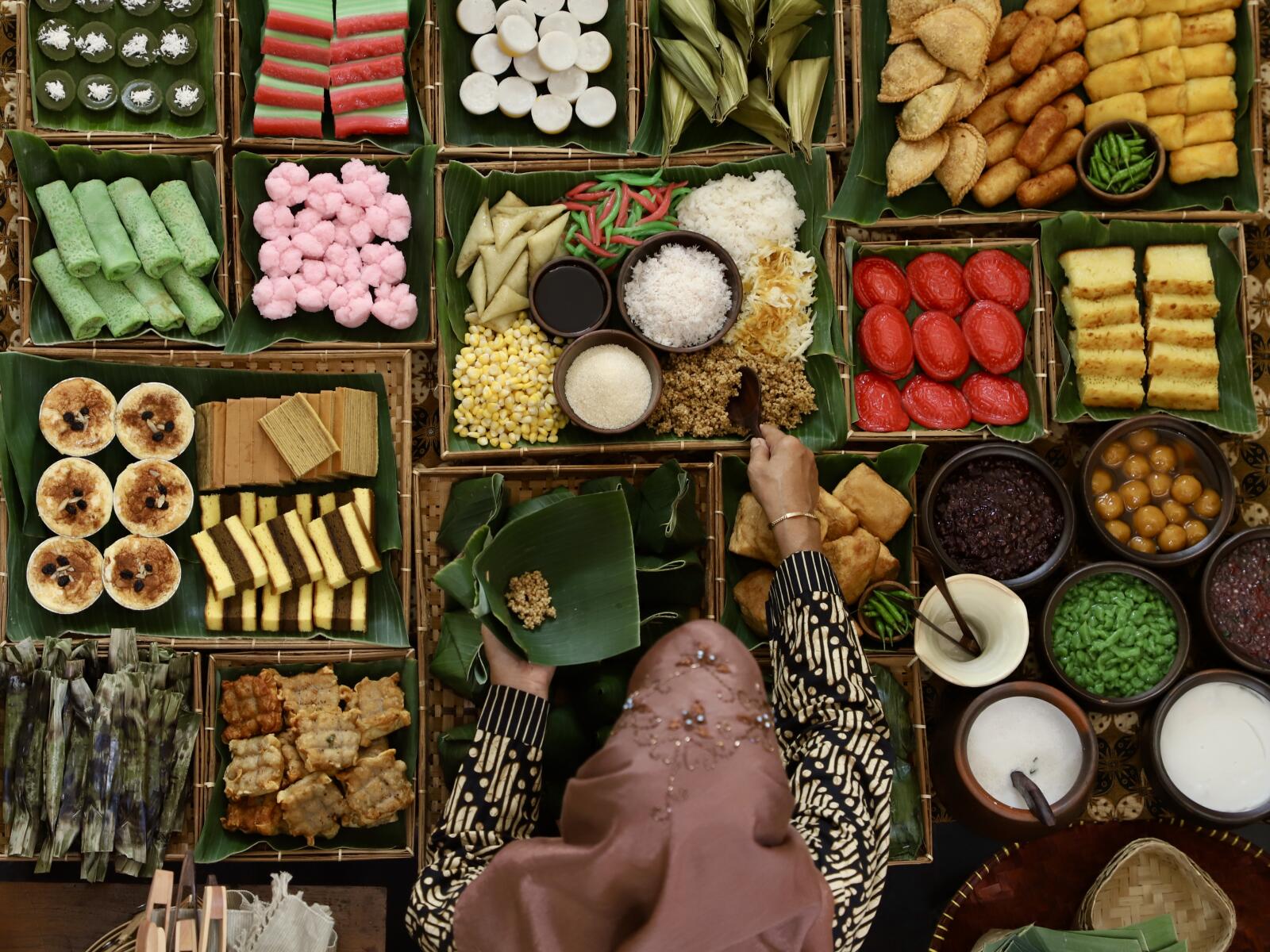 Bali Holidays | Stay Near Markets
Bali hotels near street food and markets are the ideal way to save money on holiday while experiencing authentic local cuisine. Offering some of the cheapest and most delicious meals in Bali, you'll find street food stands in all of the most popular tourist areas including Kuta, Legian, Seminyak and even in the jungle-clad hills of Ubud.
Kuta Hotels Near Street Food & Markets
A visit to Jimbaran Fish Market and neighbouring Pasar Ikan Kedonganan in Kuta is a savoury culinary experience and a cultural experience to be savoured. Stay at the Hard Rock Hotel Bali and arrive at sunrise to see local fisherman hauling in their catch of the day. Have your pick of the freshest lobster, red snapper, squid and oysters then seek out the local chefs who will be more than happy to clean and prepare it for you. If you prefer a sleep in, then head over at sunset when the seaside food stands open to relax on Kedonganan Beach while enjoying a delectable selection of traditional cuisine.
Legian Hotels Near Street Food & Markets
Legian is packed with street stalls, particularly along Jalan Legian so guests staying at Padma Resort Legian will enjoy easy access to a variety of delicious and affordable warungs (food stalls) selling traditional Balinese dishes such as satay, nasi goreng and babi guling (roast pork). If you prefer to wait until sundown, guests of Bali Mandira Beach Resort & Spa are within walking distance of Legian Night Market where vendors sell everything from handicrafts and clothing to local delicacies. Shop, snack or do both, but no holiday to Bali is complete without a night market experience.
Seminyak Hotels Near Street Food & Markets
When talking about Balinese street food, Seminyak is a standout. The area is famous for its lively street food and market scene and features a 2km stretch known as the Seminyak Eat Street. Stay at Blu-Zea Resort by Double-Six to be just footsteps from the Eat Street and Night Market where you can sample a variety of local snacks and dishes. Beginning at Corner House restaurant which has become a landmark, this trail of foodie delights stretches all the way to Petitenget Beach. Try not to fill up at each stop as there's so many bites that you'll want to leave room for!
Ubud Hotels Near Street Food & Markets
Even the jungle-clad hills of Ubud don't miss Bali's famous foodie treatment. Guests of Bisma Cottages Ubud will enjoy easy access to an outdoor food court located in the heart of Ubud. Taman Kuliner Ubud features a variety of street food vendors hawking succulent local dishes including sate lillit (Balinese-style satay) and crispy roast pork known as babi guling. The Ubud Art Market has recently undergone a complete rejuvenation, with the old building demolished and a brand-new market complex opening. Located within walking distance of Goya Boutique Resort, the market is on the main street opposite the Ubud Palace and offers everything from souvenirs and clothing to delicious snacks and street food. Pie, peanuts and pork chips are the top selling snacks at this bazaar so be sure to give them a try. The Ubud Art Market was also featured in the Hollywood movie Eat Pray Love starring Julia Roberts, so if you're on your own spiritual or culinary journey of discovery this is one not to be missed.