5 Star Bali Resorts
Bali, often referred to as the "Island of the Gods," is home to an array of luxurious 5 star resorts that epitomise opulence and tranquillity. Nestled amidst lush tropical landscapes, these resorts often boast stunning infinity pools overlooking the Indian Ocean, private villas with traditional Balinese design elements and world-class spas offering rejuvenating treatments.
Renowned for their impeccable service, these establishments cater to every whim of their guests, providing personalised experiences ranging from private beachfront dinners under the stars to guided cultural tours around the island. With gourmet dining, breathtaking views and an immersive touch of local culture, Bali's 5 star resorts are an embodiment of the island's rich tapestry of natural beauty and heritage.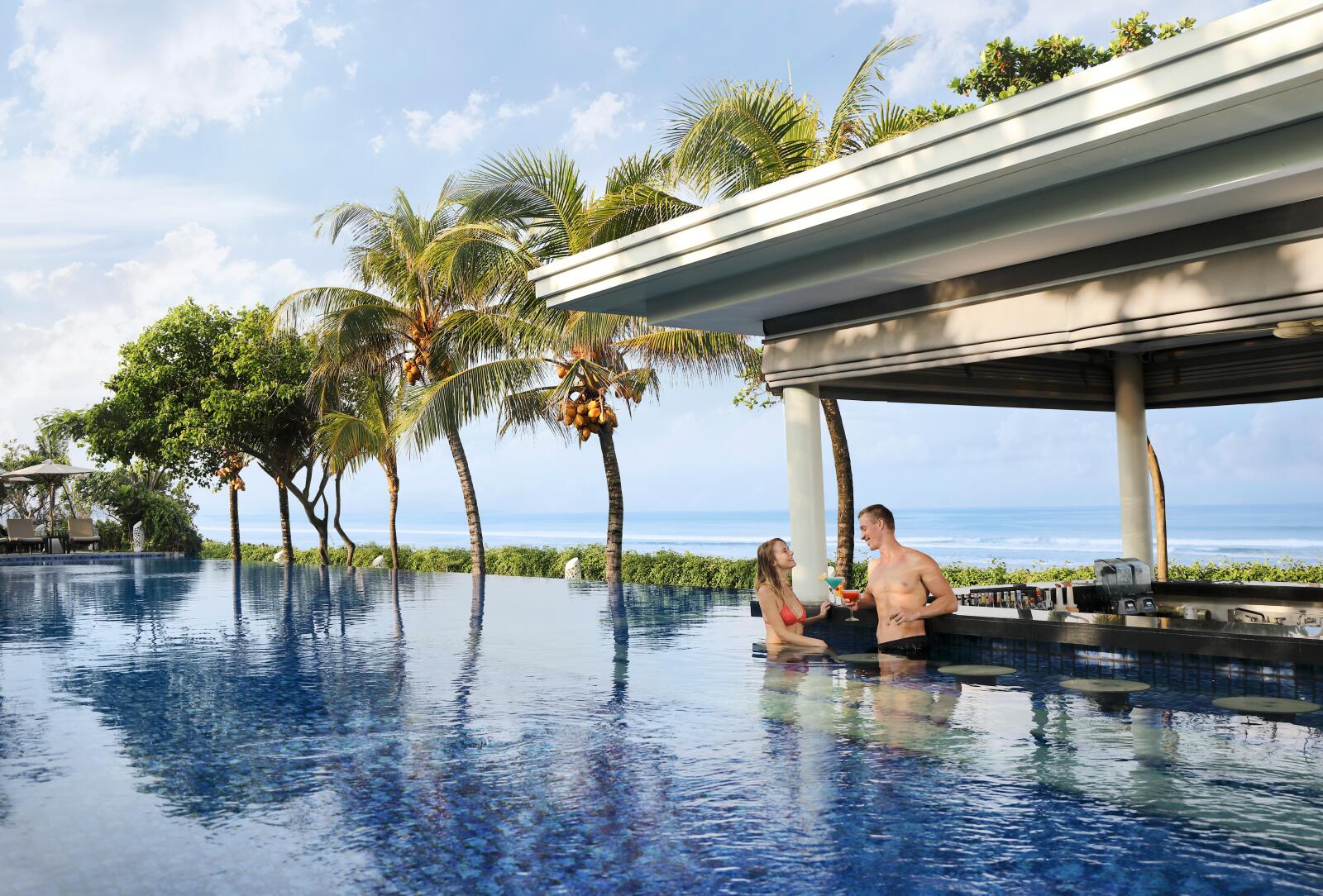 Bali | 5 Star Holiday Packages
5 star Bali resorts can be found throughout Bali's most popular regions including Nusa Dua, Seminyak, Legian and Ubud. TravelOnline's 5 star Bali holiday packages offer a host of exclusive benefits and a higher level of luxury.
Top 5 Star Bali Resorts
Padma Resort Legian: An oasis of elegance, Padma Resort Legian presents a harmonious blend of contemporary design and traditional Balinese aesthetics. With its expansive lagoon-style pools, beautifully landscaped gardens, and serene beachfront location, guests can indulge in an unparalleled tropical luxury. Its suites and rooms, adorned with sophisticated touches, offer panoramic views, ensuring a stay marked by opulence and tranquillity.
Double-Six Luxury Hotel Seminyak: Standing tall along the Seminyak coastline, Double-Six Luxury Hotel is a beacon of modern sophistication. Each suite is meticulously designed, boasting plush furnishings, state-of-the-art amenities and expansive balconies overlooking the azure ocean. The hotel's rooftop bar, one of the largest in Bali, offers guests an exquisite venue to enjoy mesmerising sunsets, making it the embodiment of 5 star indulgence.
Grand Mirage Resort & Thalasso Bali: Situated on the golden sands of Tanjung Benoa, the Grand Mirage offers the perfect blend of luxury and recreation. Beyond its opulent rooms and suites, the resort is known for its Thalasso Bali Spa, a sanctuary for rejuvenating treatments sourced from the ocean's depths. Its range of gourmet dining options, with vistas of the sea, further accentuates its 5 star stature.
The Stones Hotel - Legian Bali, Autograph Collection: A part of the coveted Autograph Collection, The Stones Hotel brings a touch of avant-garde luxury to Legian. Its architecture, inspired by Bali's rich cultural heritage, is complemented by interiors that speak volumes of modern luxury. With its signature pool draped in cabanas, a world-class spa and culinary experiences that traverse global flavours, the hotel is a testament to 5 star splendour.
Hotel Indigo Bali Seminyak Beach: Showcasing a unique fusion of contemporary design and Balinese craftsmanship, Hotel Indigo stands out as a gem in Seminyak Beach. The resort's villas and rooms, punctuated by artful decor inspired by the local culture, open up to lush landscapes and the shimmering sea. With its array of themed dining venues and the indulgent Sava Spa, guests are invited to experience luxury at its most authentic and refined.