Cook Islands Luxury Holiday Packages
Boasting unspoiled natural beauty and pristine tropical settings, the Cook Islands is the ultimate luxury holiday destination. With its balmy tropical climate, lush lagoons and laid-back atmosphere, there is no better place to relax and unwind in pure paradise. The Cook Islands offer a range of luxury accommodation options catering for those with lavish taste, including beautiful beachfront resorts, intimate self-contained villas and private luxury retreats. Consult our list below to explore our most exclusive luxury Cook Islands holiday options, offering the ultimate in style and service.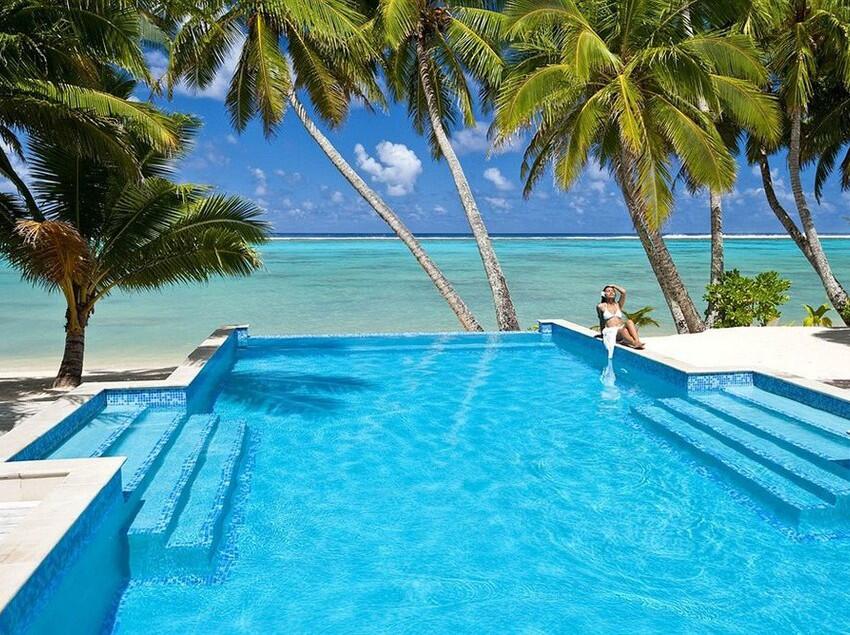 Luxury Cook Islands Resorts
Aitutaki Lagoon Private Island Resort
Aitutaki Lagoon Private Island Resort is island accommodation at its most luxurious. Set in a beautiful secluded islet right on the edge of stunning Aitutaki Lagoon, the resort presents breathtaking views of the lagoon and the surrounding beach and gardens. The resort is the only one directly on Aitutaki Lagoon and offers the Cook Island's only overwater bungalows.
Pacific Resort Aitutaki
Nestled amongst 17 acres of lush tropical forest and golden sand beaches, Pacific Resort Aitutaki is a simply luxurious accommodation option. Boasting 29 boutique bungalows and villas traditionally styled in traditional Polynesian elegance, Pacific Resort Aitutaki enjoys luxurious amenities in a dreamy island setting.
TravelOnline offers a number of Cook Islands luxury holiday packages that are curated to provide the ultimate 5-star island experience. Let us save you time and money by bundling together travel essentials like flights, accommodation, transfers and travel insurance along with additional extras like spa vouchers, fine dining experiences and luxury cruises that will make your holiday that little more special.
Luxury Cook Islands Deals