Broome Holidays & Travel Guide
Located 2,200km north of Perth, Broome is a popular tourist town in Western Australia's Kimberley region renowned for its pearling industry. Situated on the Yawuru people's traditional lands, Broome is one of Australia's fastest growing towns thanks to its tourism industry and mining boom. There are a fantastic range of Broome attractions including famous Cable Beach and Chinatown, home to a string of stunning pearl galleries that showcase local pearls as well as offering the opportunity to purchase.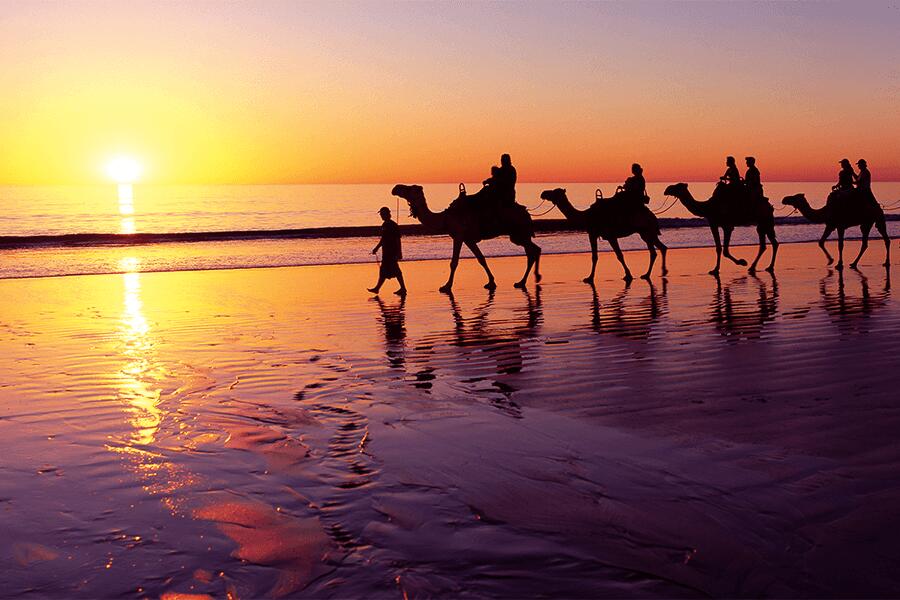 Broome offers a great range of accommodation ranging from 4 to 5 star conveniently located near Roebuck Bay and Cable Beach. Offering a diverse range of room types, deluxe amenities, friendly service and an outstanding range of onsite facilities, accommodation in Broome is also just minutes from the region's international airport, local activities and attractions as well as shopping and dining precincts.
Cable Beach is one of the region's most popular tourist attractions, named after an undersea telegraph cable that runs from Java to its shores. Offering almost 23km of soft white sand, the crystal clear waters of Cable Beach are approximately 7km from the main town. Almost perfectly flat, Cable Beach is also home to one of the country's most famous nudist beaches at the north end of the beach but is also very popular for its iconic camel rides.
Although Broome's permanent population is only 14,436 during peak tourist season the population swells to more than 45,000 per month. Broome was named after Western Australia's Governor from 1883 to 1889. Despite being a large part of the pearling industry in Broome, the major ethnic group of the Japanese were considered the enemy during World War II when Japanese aircraft attacked Broome four times. Pinctada Maxima, the largest pearl shell in the world, was discovered in Broome. Broome's northwest coastline is also home to Gantheaume Point, an iconic landmark featuring 130 million year old dinosaur footprints.
Broome Holiday Packages