Luxury Thailand Escapes
Boasting spectacular natural beauty and relaxing tropical settings, Thailand is the ultimate luxury holiday destination. With its gorgeous tropical climate, turquoise waters and laid-back lifestyle, there is no better place to unwind in paradise. Thailand's amazing and diverse regions offer a variety of luxury accommodation options catering to travellers with lavish 5 star taste.
Accommodation ranges from decadent beachfront resorts, intimate self-contained villas, and secluded luxury retreats. Consult our list of Thailand luxury resorts below to discover our exclusive accommodation options, offering the ultimate in sophistication and service.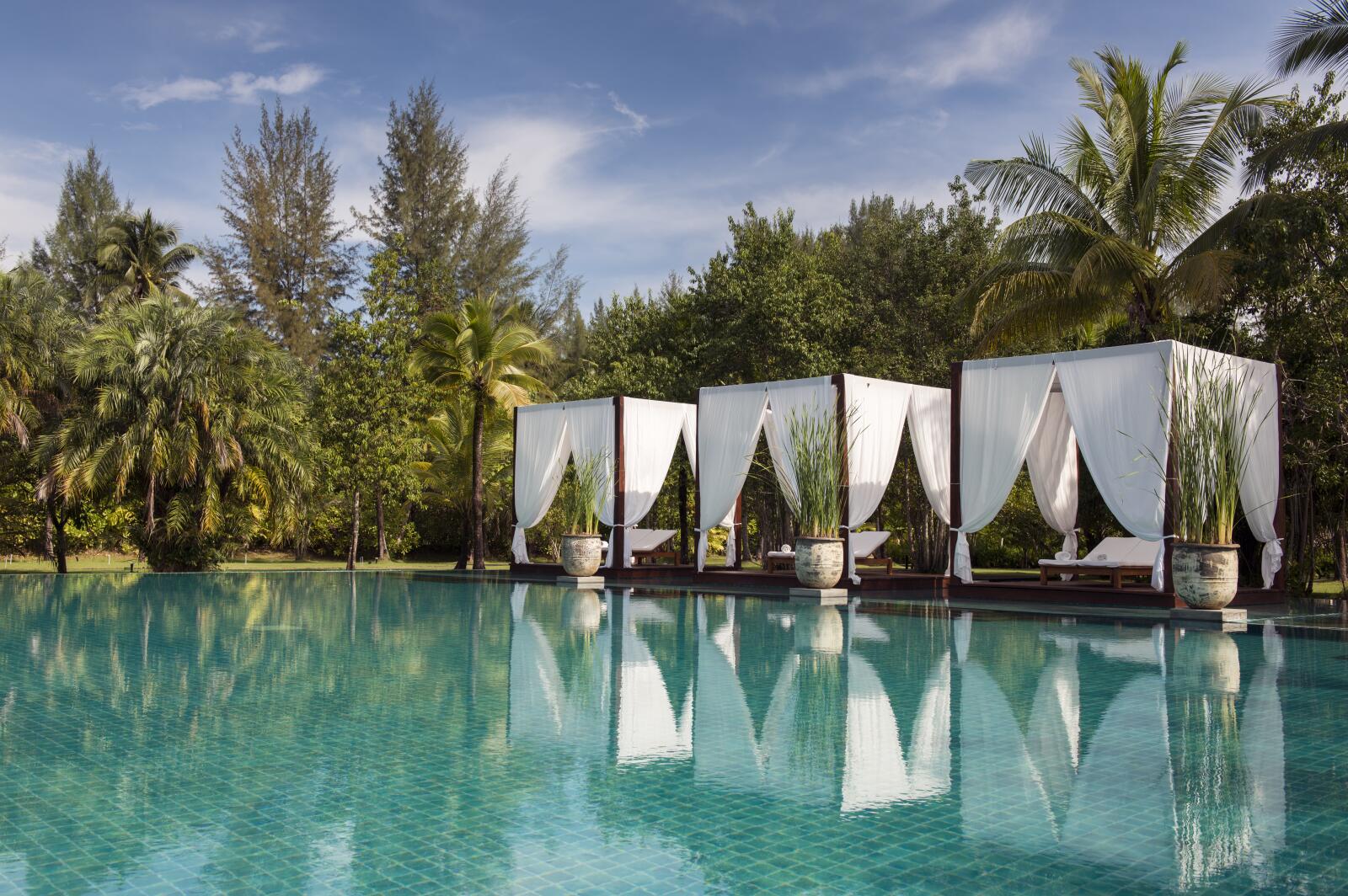 Thailand | Luxury Holiday Packages
Luxury Thailand escapes can be found across the country's most popular destinations including the party town of Patong, the beachside beauty of Karon and tropical Koh Samui. TravelOnline's luxury Thailand escapes offer all of the indulgence of international standard resorts including direct beach access, private pools and Jacuzzis, day spas, 24 hour room service and more.
Top 5 Luxury Thailand Resorts
The Sarojin
Conveniently located close to a range of Khao Lak tourist attractions, The Sarojin is a luxurious boutique beach resort with 56 guest rooms set amongst tranquil exotic gardens, with direct access onto a beautifully secluded beach. A perfect choice for a relaxing romantic escape, the resort welcomes children 10 years and over and is surrounded by dive sanctuaries, forested national parks and Phang Nga Bay.
Crest Resort & Pool Villas
Overlooking the mesmerising waters of the Andaman Sea, Crest Resort & Pool Villas offers a luxury retreat for those seeking a blend of nature and opulence. Every villa is meticulously designed with a contemporary aesthetic and is equipped with first-class amenities, including private pools. Its hilltop location ensures guests enjoy panoramic sea views, blending seamlessly with the tropical landscape, making it a haven of tranquillity and luxury.
Diamond Cliff Resort and Spa
Situated in the vibrant Patong area, Diamond Cliff Resort and Spa offers a serene escape from the hustle and bustle. Luxury is evident in its spacious suites and villas, many boasting private pools and ocean views. The resort's spa is a sanctuary for rejuvenation, offering an abundance of treatments that perfectly encapsulate the essence of relaxation, complementing the overall lavish experience.
Centara Grand Beach Resort Phuket
Set along the expansive shores of Karon Beach, Centara Grand Beach Resort Phuket exudes Thai charm and a warm and inviting level of luxury. Its rooms and villas, set amidst lush landscapes, promise style and sophistication at every turn. Guests can indulge in the resort's world-class spa, fine-dining restaurants and numerous high-end facilities, ensuring a stay marked by comfort and unparalleled service.
Centara Reserve Samui
The height of luxury on the island of Koh Samui, Centara Reserve Samui is a blend of modern design and traditional touches. With its beachfront location, guests are treated to pristine views of the Gulf of Thailand from the comfort of their plush rooms and suites. Personalised services, gourmet dining experiences and an exclusive spa elevate your stay, making it a top choice for discerning travellers.