Bali Accommodation with Kids Clubs
Does the thought of travelling with kids stress you out? Well join the club, the kids club that is! A holiday to Bali should be just that, a holiday for everyone and it's important to make sure that mum and dad are having just as much fun as the kids.
These Bali resorts with kids clubs offer a guilt-free way to entertain the kids while parents get to enjoy some time to themselves and truly relax. Perfect for families with young children, these great range of Bali resorts with kids clubs provide the peace of mind knowing that the kids are safe, making friends and having so much fun while on holiday.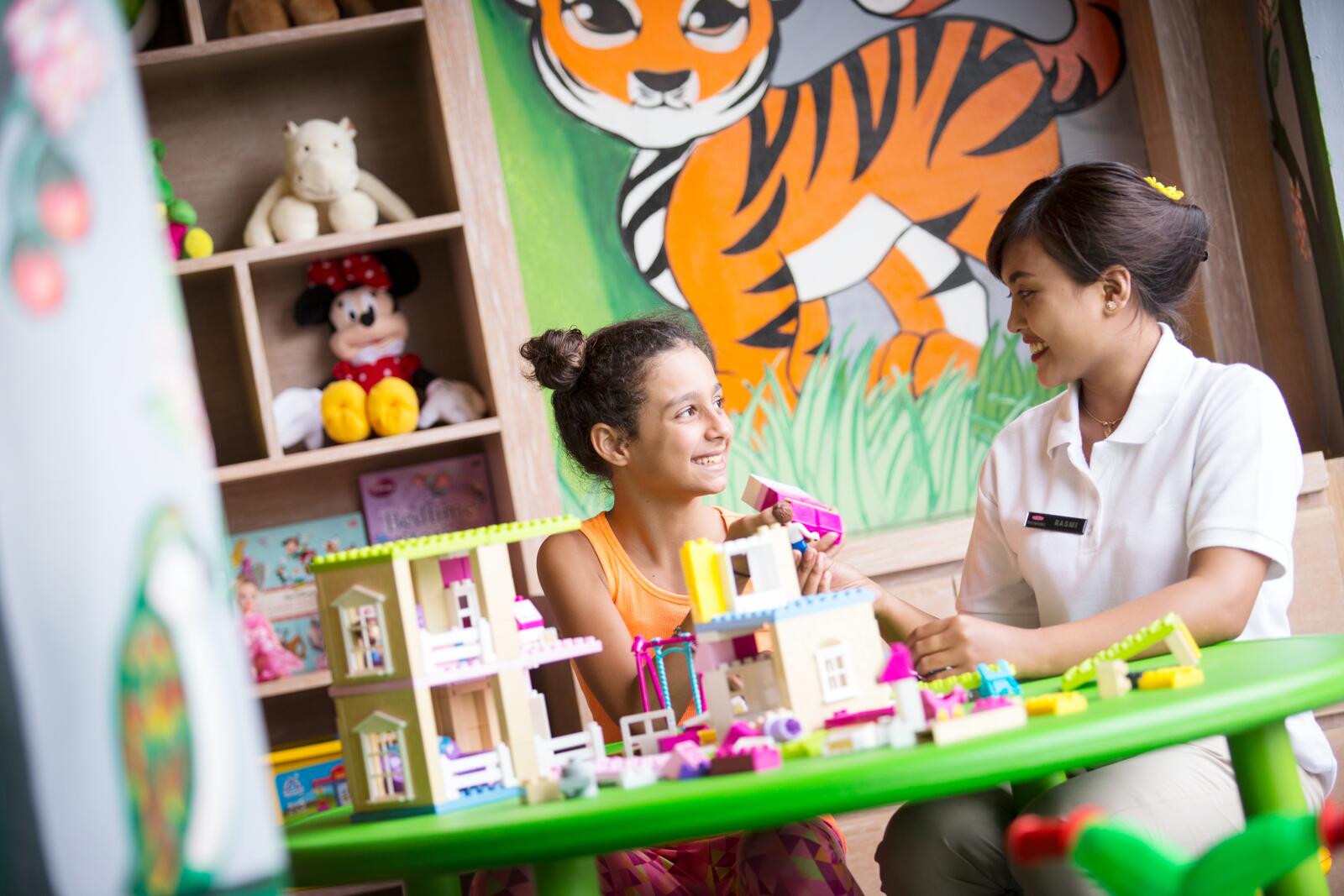 Bali | Holiday Packages with Kids Clubs
Bali resorts with kids clubs are located throughout Bali's most popular destinations including South Kuta, Sanur, Kuta and Legian and range from 4 stars to 5 stars. Offering a fantastic range of complimentary activities, TravelOnline's family friendly Bali holiday packages are offered at our most popular range of Bali accommodation with kids clubs.
Top Bali Accommodation with Kids Clubs
Bali Dynasty Resort: Located in South Kuta, Bali Dynasty Resort is home to the Kupu-Kupu Kids Club and a Water Fun Zone for all ages. Open daily and catering to children aged 4-16 years with games, cultural and educational activities, the kids club is a highlight of every family holiday. The younger children (4-8 years) are cared for on the ground floor while the older children (9-16 years) have fun upstairs. Children under 4 are also welcome however they must be accompanied by an adult at all times. With a waterslide, kid's pool, baby pool, outdoor play area and air-conditioned club room The Kupu-Kupu Kids Club offers a balance of fun and educational indoor and outdoor activities as well as traditional Balinese games and crafts.
Hard Rock Hotel Bali: The Hard Rock Hotel in Kuta is perfect for families with children of all ages. The iconic resort offers two kids clubs for different age groups including the Roxity Kids Club featuring arts and crafts, rockwall climbing and movies and the TABU Teens Club, a club offering a private cinema, pool table and more. While the little ones are busy making new friends and the older kids are enjoying the wonders of the club, adults can enjoy their own slice of paradise, basking in the resort's serene surroundings or indulging in rejuvenating spa treatments.
Padma Resort Legian: Padma Resort Legian is a delightful Bali accommodation that caters to families with its exceptional kids club. Centrally located on Legian Beach, this resort offers a haven of comfort and excitement for all ages. The Wolly Kids Club provides a fun-filled escape for young ones, offering a wide range of engaging activities and entertainment under the watchful eye of trained staff, ensuring parents can relax and unwind. With its family-friendly amenities and dedicated kids club, Padma Resort Legian promises an unforgettable and enjoyable experience for every member of the family, making Bali's enchanting wonders even more delightful.