Bali Weddings
Located just 4 hours from the west coast of Australia, Bali is perfect for couples wanting a unique, exotic and beautiful wedding destination that is convenient for friends and family to attend. From gorgeous beachfront weddings to traditional Balinese ceremonies, there are plenty of packages available for those looking to marry in beautiful Bali.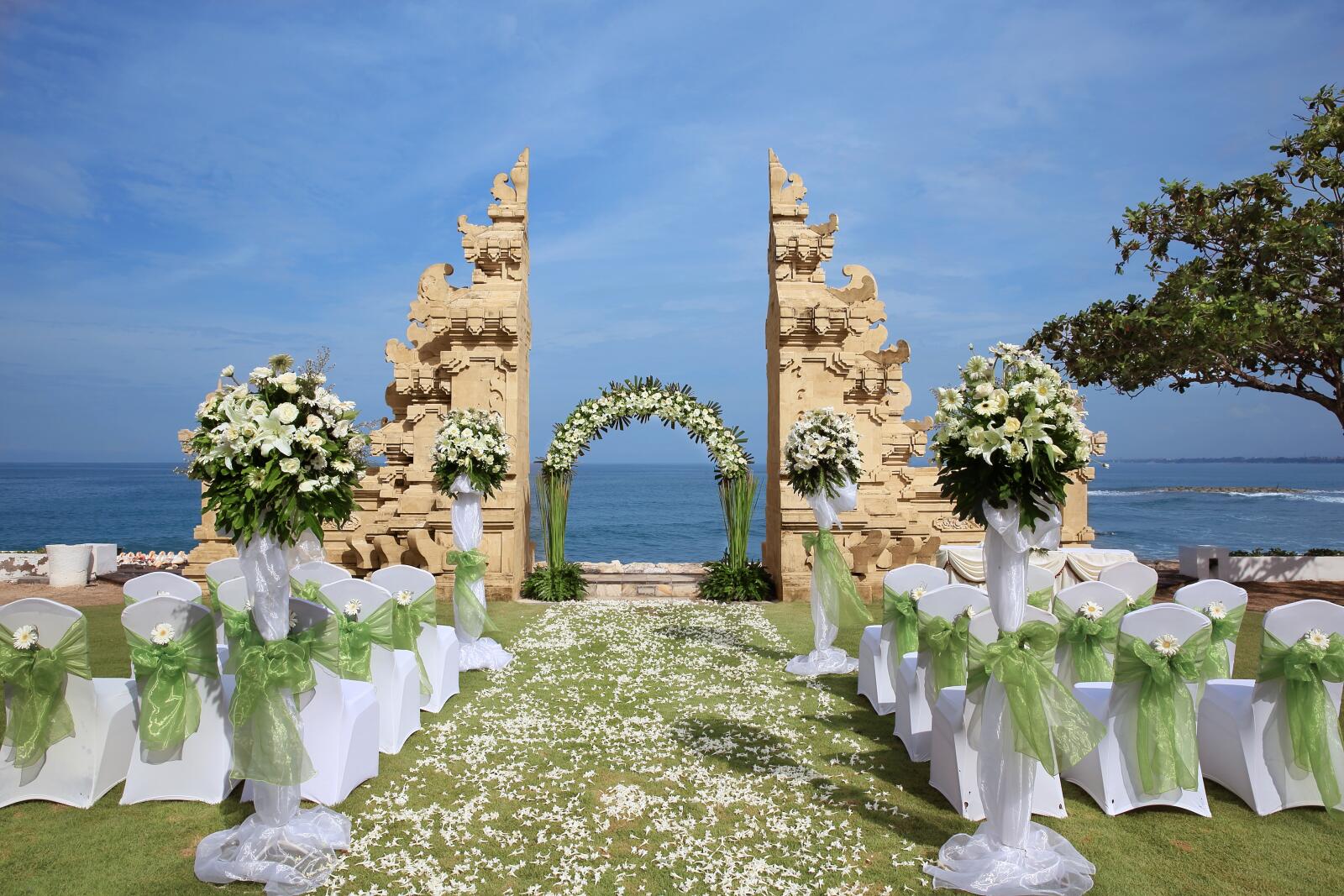 What you need to know before getting married in Bali
All couples intending to have a legally binding ceremony in Bali are required to declare a religion with the Civil Registry Office. The only religions accepted are Islam, Buddhist, Hindu, Christian-Catholic and Christian-Protestant. Partners must also declare the same religion or submit a change of religion via written declaration.
Couples who do not follow an Islamic faith must also file a Notice of Intention to Marry with the Civil Registry Office and present a consular representative Letter of No Impediment to Marriage. To obtain the Letter of No Impediment, couples must present the consular representative with their passports which must be valid for longer than 6 months as well as any Certified death certificates or divorce decree (absolute) for the dissolution of any preceding marriages.
Required Documents
To submit the Notice of Intention to Marry both partners must file the below documents (display the original as well as providing a copy) at the Civil Registry Office -
Certificate of the religious marriage;
Passport for foreign citizens, or KTP (Identity card) for Indonesian citizens;
Certified birth certificate;
Certified divorce decree (absolute) or death certificates regarding the termination of all previous marriages;
Four 4x6 cm photos, both partners side by side;
'Letter of No Impediment to Marriage' issued by your Consular Representative for Bali or Indonesia
Two witnesses over 18 years are required. Civil Registry employees can act as witnesses.
Generally the Civil Registry office imposes a mandatory 10 day waiting period from the date you file your intention, however, tourists may be able to have this waived by presenting their guest registration form.
All Islamic marriages are legal immediately after the ceremony, however other religious marriages must be recorded with the Civil Registry Office to be considered legal. A recording by a Registry official can be performed directly at the ceremony for an additional fee. Otherwise, Marriage Certificates are usually issued on the same or next day. It is also recommended that couples obtain a sworn English translation of the Marriage Certificate to return home with.
If this all seems like a lot of paperwork, you can always have a non-legally binding commitment ceremony and then sign required marriage documents upon return to your home country.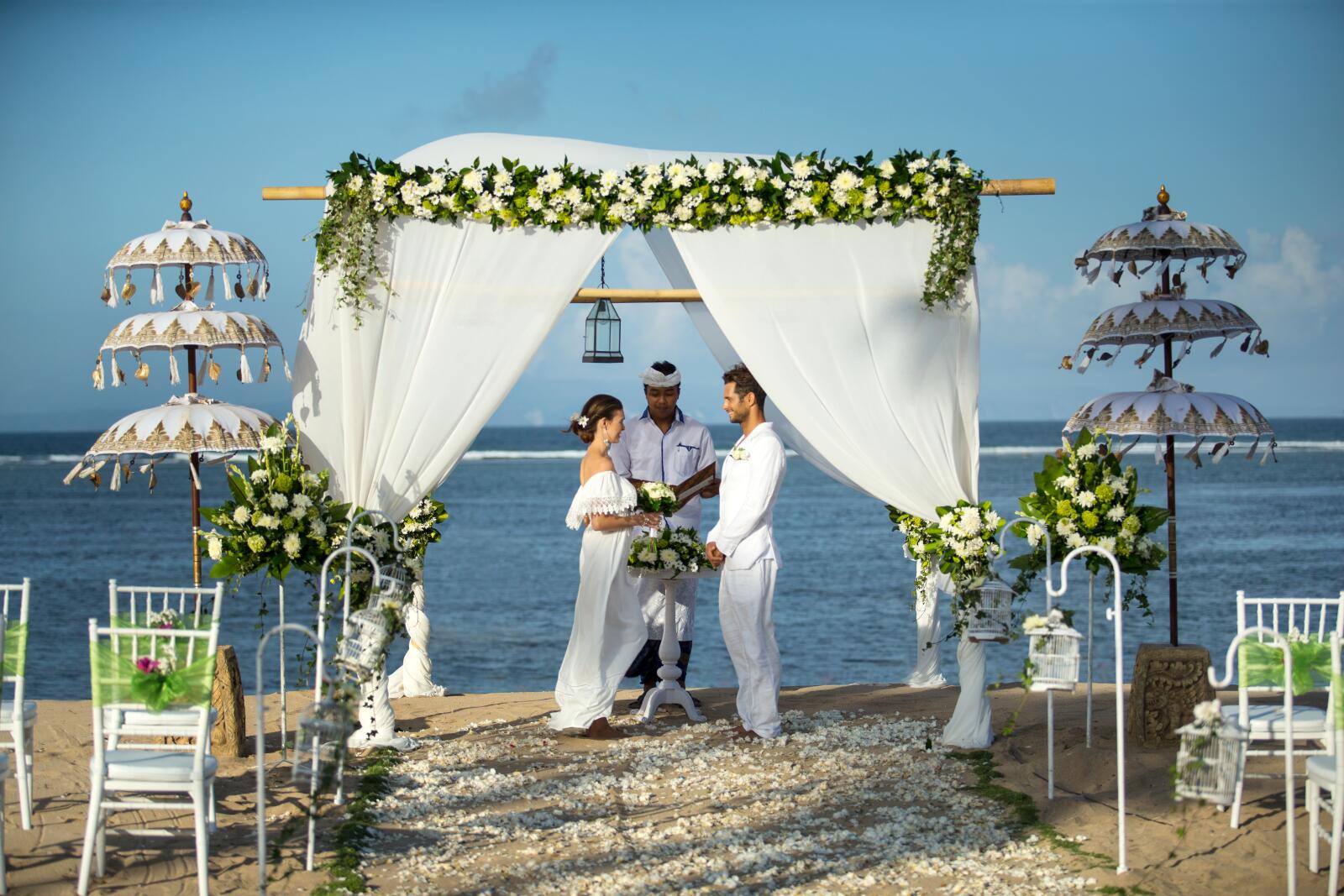 Resort Wedding Venues
Padma Resort Legian: Providing a spectacular choice of backdrops, from seaside sunsets to Balinese tropical garden and pond, the Padma is a wonderful choice for your Bali wedding.
The Nusa Dua Beach Hotel & Spa: Offering 5 star luxury accommodation on the shores of Nusa Dua, this resort offers comprehensive wedding services, a stunning location and exotic intimacy to make your special day one of the most memorable for the rest of your lives.
Bali Romantic Resort Deals