Cook Islands Diving
With beautiful year-round weather, crystal clear waters and an abundance of marine life, The Cook Islands offers some of the most spectacular diving in the Pacific.
Water temperatures in the Cook Islands range from a lovely 23°C to 28°C throughout the year. Divers can enjoy visibility up to 60m as they navigate the steep oceanic drop offs, caves, canyons and technicolour coral reefs. The Cook Islands boasts 73 types of coral and hundreds of fish species, making it a diver's dream.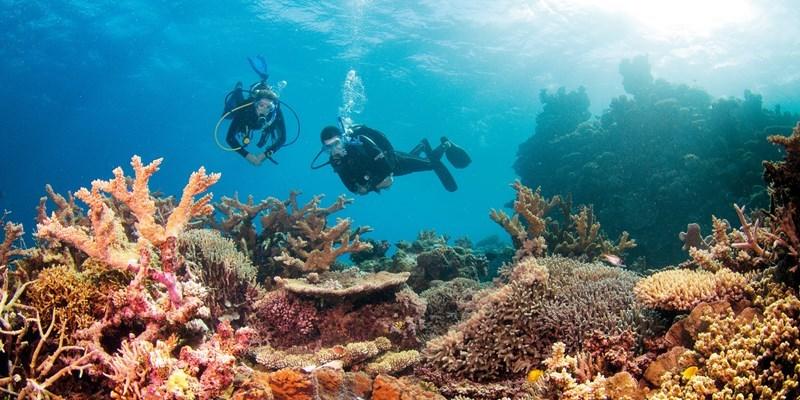 Best Cook Islands Dive Sites
There are over 30 dive sites amongst the Cook Islands with plenty of options for beginners and more experienced divers.
Both Rarotonga and Aitutaki offer easily accessible dive spots off shallow beachside lagoons, that slowly descend and drop off to reveal a myriad of coral formations. If you're looking to dive deeper. the Cook Islands offer many diving tours to coral reefs a short distance off the islands.
Diving in the Cook Islands, you can expect to see an array of different fish species such as angel fish, butterflies, parrot fish, moray eels, surgeons, puffer fish, trumpet fish, wrasse and triggers
Rarotonga
Albertos
Suitable for all experience levels, Albertos is a spectacular shallow site just a short distance from Avarua Harbour. This magnificent dive spot offers opportunities to spot coral bommies, stone fish, lion fish and moray eels.
Mataora Wreck
This dive site features one of three wrecks found on the island. Parts of the vessel are scattered across the coral reef, attracting many types of marine life. Mataora Wreck is suitable for all divers.
Jade Reef
Steep drop offs, large overhangs and an abundance of technicolour coral make Jade Reef a diver's playground. Jade Reef is only suitable for advanced open water divers and is part of a guided tour
Aitutaki
Aitutaki Lagoon
Perfect for beginners or those just wanting to snorkel. Aitutaki Lagoon features many exciting viewing spots to see an abundance of giant clams, and impressive reef fish.
Artutanga Passage
For the best chance of catching sharks, turtles and manta rays, head to the Artutanga Passage in Aitutaki. Here you will find hundreds of colourful fish and white tipped reef sharks hiding amongst the caves. Artutanga passage is suitable for all divers.
Black Rock
This unique dive site features a barge wreck where divers can swim through and explore the ruins. This is also one of the best spots to see turtles in The Cook Islands. Black rock is more suited to experienced divers.
Cook Islands Resorts Near Diving