Cook Islands Weddings
With its stunning natural beauty and year-round warm climate, The Cook Islands is the picture-perfect place for a destination wedding. Just a 7 hour flight from Sydney, couples can tie the knot beneath a beautiful tropical landscape surrounded by turquoise waters, and tropical palms. From beachfront ceremonies to traditional dress and culture, there are plenty of packages available for those looking to marry on The Cook Islands
What you need to know before getting married in The Cook Islands
Despite what you may think, getting married in the Cook Islands is simple and oh so romantic. Best of all, marriages in the Cook Islands are legally binding and internationally recognised.
The legal age of consent to marry in the Cook Islands is 20 years, but all you young love birds don't despair. As long as you have your parents' blessings (in the form of written approval of course!) you can still tie the knot in one of the most pristine and majestic island settings in the world.
Acquiring a Marriage License
To ensure getting hitched goes off without a hitch you will need to apply for your marriage licence in person to the Registrar of Marriages in the Cook Islands at least three working days prior to getting married.
The Registrar may waiver this three day requirement in special circumstances, however to avoid disappointment your wedding coordinator must apply in advance. A small fee is applicable for this service.
Please note, application for a marriage licence cannot be made outside the Cook Islands.
Required Documents
Your passport and birth certificate when filling out the "Notice of Intended Marriage" at the Registrar's Office
A copy of the Decree Absolute (if divorced)
All documentation must be in English or translated into English
Catholic couples will need to have completed a course for engaged couples and will need to have Baptism Certificates
If you have been widowed you will need to provide the Death Certificate of your spouse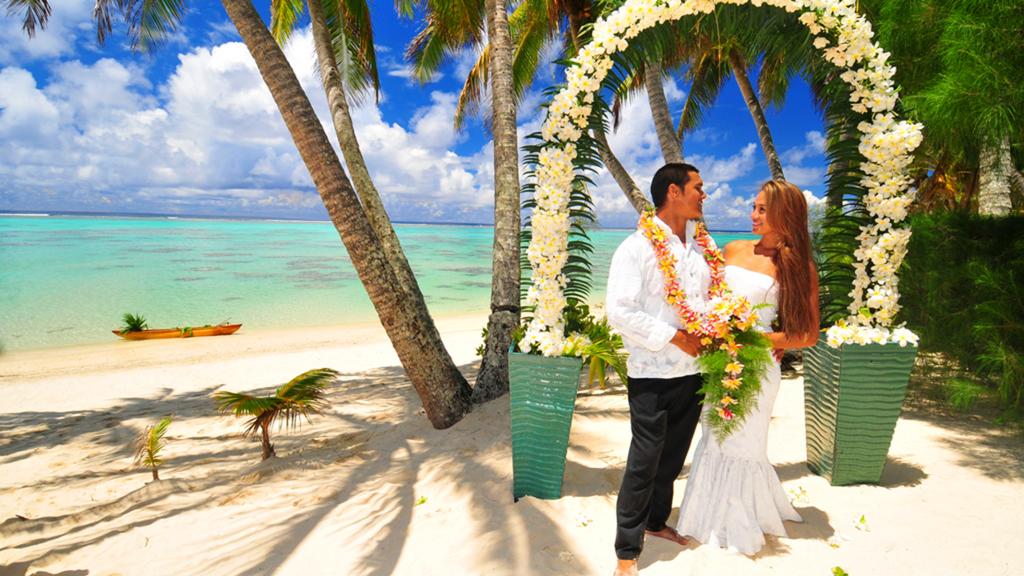 Resort Wedding Venues
All properties listed below offer Wedding Packages available through TravelOnline. Please see the property page for further details:
Rarontongan Beach Resort
A delightful way to say 'I do' beside the lagoon or amongst the tropical gardens. Package features a fresh floral archway, island string band, tropical flower bouquet for the Bride, loose flowers for the Bride's hair, Neck Ei Garland for the Groom, wedding cake, Methode Champenoise, platter of canapes and tropical fruits, ceremonial planting of the 'Uto' (baby coconut palm), flame touches (for sunset ceremony), Celebrant or Minister, witnesses, Marriage License and transfers to Registrar of Marriages, and personal wedding planner.
Moana Sands Beachfront Hotel
Includes wedding on site, return airport transfers to Moana Sands Beachfront Hotel & Villas, Marriage License, Marriage Celebrant, round bouquet for the Bride and buttonhole or Neck Ei for the Groom, professional Wedding team, bottle of sparkling wine and a Moana gift.
Muri Beach Club Hotel
Includes Wedding Coordinator, transfers to town, Wedding License, Celebrant/Minister, witnesses for wedding, flowered archway on lagoon edge, head garland for Bride, neck garland for Groom, professional photographer and 40 photos (including album & negatives), celebration bottle of champagne, celebration canapes for 2, wedding cake, island serenader for ceremony, wedding gift on turndown, Under the Stars - 3 course celebration dinner for 2, morning after celebration breakfast for 2 served on your own private balcony.
Pacific Resort Rarotonga
The Pacific Wedding Ceremony includes choice of venue, Wedding License, services of a Minister, flower leis for the bride and groom, flower arrangement for ceremony table, coordination from Pacific Resorts wedding team.