5 Star Cook Islands Accommodation
Known for its romantic landscape, beautiful tropical settings and luxurious ambience, the Cook Islands offer a gorgeous array of 5 star accommodation. From the picturesque island of Rarotonga, to a the stunning Aitutaki, the Cook Islands is a stunning location to holiday in style. Thanks to our exclusive luxury holiday packages at TravelOnline, 5 star resorts & villas are much more accessible than you may think. The perfect excuse to treat yourself and live like royalty, 5 star Cook Islands accommodation offer a full range of exclusive services and benefits that will have you relaxing the second you arrive. With a range of world class facilities and the privacy to unwind and indulge, 5 star Cook Islands accommodation are the ideal place to relax in style.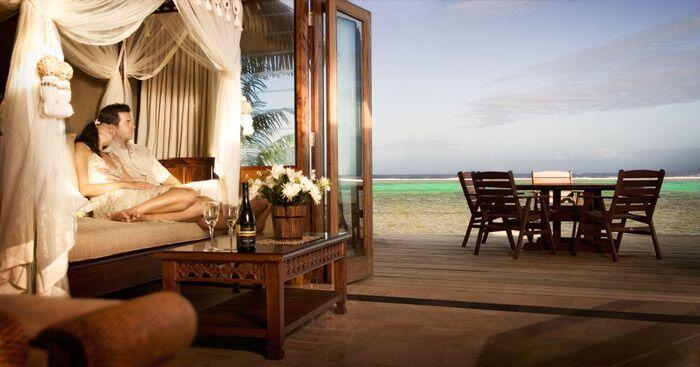 Located on the main island of Rarotonga, Rumours Luxury Villas & Spa is lavish 5 star adults only escape boasting a picture-perfect beachfront setting. With 3 different style villas to choose from, and an array of free activities like snorkelling and kayaking, Rumours Luxury Villas is the ultimate luxury accommodation.
The beautiful Te Manava Luxury Villas & Spa offers a stunning combination of both 5 star service and luxury self-contained villas. Located on the picturesque Muri Beach in Rarotonga, Te Manava Luxury Villas & Spa offers private swimming pools, stunning views and luxurious villas that are the perfect place to unwind. Additionally, Little Polynesian Resort in Rarotonga showcases an intimate and romantic accommodation option. Set amongst the stunning Titikaveka Lagoon, this 4.5 star resort is pure Cook Islands luxury. Also located in Rarotonga, The Nautilus Resort offers 4.5 star villa accommodation with picture perfect views of the South Pacific. Boasting romantic landscapes and world class services, The Nautilus is a popular Cook Islands wedding venue.
Set amongst the magical Aitutaki lagoon, Pacific Resort Aitutaki offers ultimate paradise in its 5 star beachfront accommodation. Boasting tranquil gardens, a romantic infinity pool and complementary use of bicycles & snorkelling equipment, Pacific Resort Aitutaki is an enchanting resort just waiting to be discovered.
Don't deny yourself the luxurious experience of staying in style at our range of 5 star Cook Islands Accommodation. There's no better way to experience the magical Cook Islands than by staying in pure luxury of the South Pacific.
5 Star Accommodation Deals