5 Star Fiji Resorts
5 star Fiji resorts encapsulate the essence of luxury amid stunning South Pacific scenery. The perfect way to spoil yourself in paradise, 5 star Fiji accommodation offers everything from traditional Fijian bungalows, known as bures to world-class dining unforgettable activities like diving and snorkelling. With personalized services and top-notch amenities, these resorts provide an unforgettable, immersive experience in this tropical paradise.
Delivering a full range of services and benefits, including the space and privacy to relax and indulge, 5 star Fiji resorts provide a level of service designed to minimize stress and maximise enjoyment. From sunrise to sunset, these luxury accommodations offer an unforgettable stay that celebrates the serene beauty and rich cultural heritage of Fiji.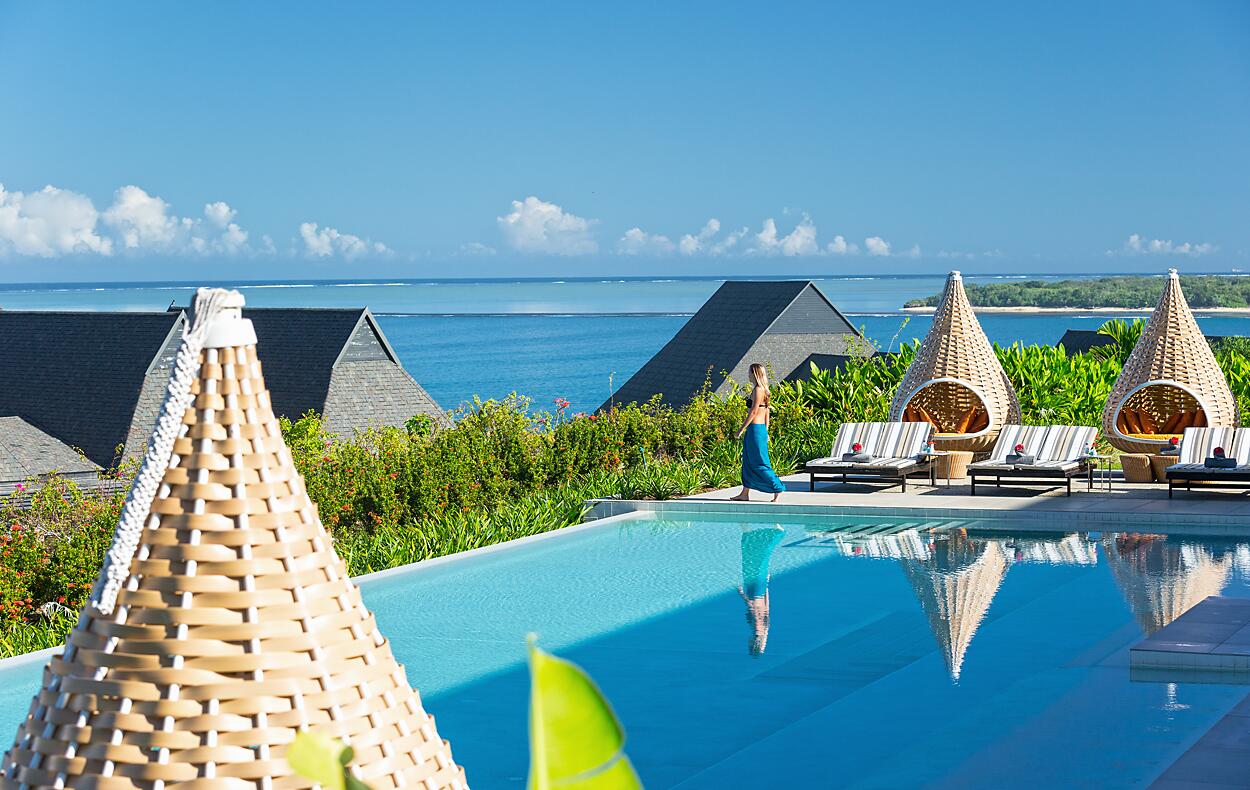 Fiji | 5 Star Holiday Packages
5 star Fiji resorts can be found throughout Fiji's most popular regions including Denarau, Coral Coast, Pacific Harbour and the Mamanuca Islands. TravelOnline's 5 star Fiji holiday packages offer a host of exclusive benefits and a higher level of luxury.
Top 5 Star Fiji Accommodation
Outrigger Fiji Beach Resort: The Outrigger Fiji Beach Resort is a five-star oasis nestled on the Coral Coast, offering an exemplary combination of luxury and authentic Fijian hospitality. The resort features elegantly designed rooms and bures that blend traditional aesthetics with modern comforts. Unwind at the Bebe Spa, set high on a hill with panoramic ocean views, or dine in gourmet restaurants serving local and international cuisine. With amenities such as a captivating lagoon-style pool, professional childcare services, and a range of water and land-based activities, Outrigger Fiji Beach Resort creates a sublime tropical vacation experience.
InterContinental Fiji Golf Resort & Spa: InterContinental Fiji Golf Resort & Spa, located on Natadola Bay, exemplifies five-star luxury. This stunning resort offers plush rooms and suites with a design reflecting traditional Fijian style, boasting magnificent views of the Pacific Ocean. The resort is particularly known for its world-class golf course, a haven for golf enthusiasts. The acclaimed Spa InterContinental, nestled amidst tropical gardens, provides an exquisite relaxation experience. With a variety of gourmet dining options and a range of activities including diving, snorkeling, and cultural tours, the InterContinental Fiji Golf Resort & Spa ensures a luxurious and memorable stay.
Radisson Blu Resort Fiji Denarau Island: Radisson Blu Resort Fiji Denarau Island epitomises five-star tropical luxury. It features stylish rooms and suites with private balconies or courtyards that provide panoramic views of the South Pacific Ocean. The resort stands out with its array of lagoon-style swimming pools, a nearby 18-hole golf course, and the Harmony Retreat Day Spa. Gourmet dining options include several on-site restaurants that serve a range of international and local cuisine. With exceptional service and world-class amenities, Radisson Blu Resort Fiji promises an unforgettable luxury experience.
Nanuku Resort Fiji: Nanuku Resort Fiji is a 5 star luxury resort set in Pacific Harbour, offering an idyllic blend of elegance and Fijian tradition. It provides beautifully designed villas with private plunge pools and breathtaking ocean views. The Lomana Spa and Wellness Centre is a sanctuary for relaxation, while the array of water and land activities keeps guests entertained. The resort's gourmet dining boasts local ingredients prepared to international standards. With impeccable service and a dedicated personal butler, Nanuku Resort Fiji ensures an unforgettable luxurious stay.
Vomo Island Resort: Vomo Island Resort is a luxurious 5 star resort located on its own private island in Fiji. This elite retreat offers upscale villas and beachfront residences, all providing spectacular views of the surrounding turquoise waters. The resort stands out with its world-class dining options, indulgent spa services, and extensive activities that range from snorkelling to paddle boarding. With its private beaches, lush gardens, and personalised service, Vomo Island Resort provides an exquisite experience of luxury and seclusion, making it a perfect tropical island getaway.