Cruises to Fiji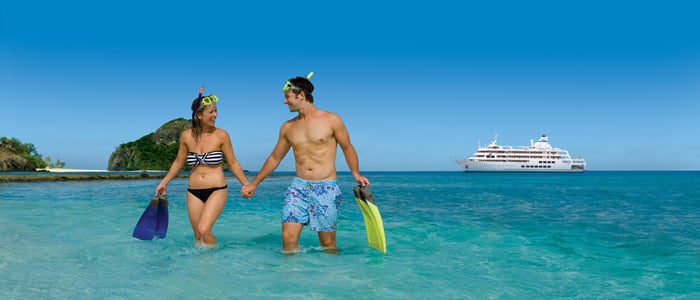 A fantastic way to see Fiji's spectacular islands, stunning natural attractions, pristine beaches and crystal clear water, cruises to Fiji are a convenient way to holiday. Allowing plenty of time for relaxing in the sun, enjoying the onboard facilities, swimming, snorkelling and day trips onto the islands, Fiji cruises are a value-for-money option for exploring this tropical oasis. A popular way to spend your time in Fiji and be completely taken care of, cruising in Fiji is available on both major cruise liners as well as the more laid back and intimate atmosphere of small ship cruises. With overnight options available that include accommodation, meals, some drinks and all your tours and activities, set your watch to 'island time' and let all concept of time and day slip away with your worries and cares.
Cruises to Fiji
Cruise Name
Date
Nights
Departing
Price
Grand Asia & Pacific


82 Nights on

ms Amsterdam Departing Los Angeles: 30th Sep 2018
$15,149.00
pp twin share
Trans-Pacific Hawaii


21 Nights on

Explorer of the Seas Departing Seattle: 5th Oct 2018
$1,938.03
pp twin share
New Caledonia & Vanuatu


11 Nights on

Carnival Legend Departing Sydney: 13th Oct 2018
$1,749.00
pp twin share
Ploynesian and South seas Sampler


28 Nights on

ms Maasdam Departing Papeete: 28th Oct 2018
$3,199.00
pp twin share
---
Cruises to Fiji from Sydney
Cruise Name
Date
Nights
Departing
Price
New Caledonia & Vanuatu


11 Nights on

Carnival Legend Departing Sydney: 13th Oct 2018
$1,749.00
pp twin share
Pacific Islands from Sydney


12 Nights on

Carnival Legend Departing Sydney: 1st Nov 2018
$1,099.00
pp twin share
Grand Asia & Pacific


25 Nights on

ms Amsterdam Departing Sydney: 27th Nov 2018
$5,148.51
pp twin share
South Pacific Treasures


32 Nights on

Seabourn Encore Departing Sydney: 21st Dec 2018
$16,598.99
pp twin share
---
Cruises to Fiji from Brisbane
---
Fiji Cruise Attractions
Cruises to Fiji offer a variety of activities and attractions to suit all visitors, meaning your time here can be as relaxing or adventurous as you like. Laze on the pristine beaches, indulge in a soothing massage or experience the local culture with a visit to a local village. If action is your middle name then you'll love all the water sports on offer including snorkelling, scuba diving and parasailing.
Once Fiji's Commonwealth administration centre, Suva has an abundance of grand old architecture. Explore the township and discover the fascinating exhibits of the Museum of Fiji and wander through the beautifully kept Thurston Gardens. Don't forget to sample the local cuisine, especially an authentic Indian curry from any of the street vendors that line the roads.
If you have time, head west to Pacific Harbour and the Coral Coast. The scenic coastal road delivers you through tropical rainforests opposite beautiful Beqa Island. Head across to the island for a rare display of traditional firewalking, which is a ritual only performed by men who original from Beqa.
Fiji cruises visiting Port Denarau offer the fantastic opportunity to experience some of Fiji's most spectacular islands in the Mamanuca chain. More stunning than words can express, you'll see incredible white sand beaches, crystal clear aquamarine waters, colourful coral and amazing marine life. Sail the glistening waters, snorkel the coral reefs or stay dry and marvel at the shifting underwater world from a glass-bottom boat. You won't believe your eyes!
Nearby in Denarau, don't miss a visit to the famous orchid gardens of The Sleeping Giant. Passing by several villages, you'll gain an insight into the traditional way of life of the Fijian people before learning about the colonial influence of Fiji and some of the legends behind their most sacred sites.
Cruises to Fiji Arrivals & Departures
South Kings Wharf
Harris Road, Suva Harbour
Distance from Suva: 5kms (13mins)
Taxi Fare Estimate: F$2-$4 ($1.50 - $2.50 AUD) one way, cruise terminal to Suva
Port Denarau
Anchored offshore, passengers tendered to cruise terminal
Distance from Airport (Nadi): 16km (25mins)
Taxi Fare Estimate: F$8-$10 ($5 - $6 AUD) one way, cruise terminal to Nadi