Vanua Levu Holidays & Travel Guide
Located just over 60 km northeast of Viti Levu, Vanua Levu is the second largest island in Fiji despite being little more than half the size of Viti Levu. Originally a bustling hub for copra trade, sugar production is now the island's most significant industry thanks to the vast cane fields. The island features rugged terrain with wide open spaces and a coast flanked by an extensive coral reef system. Although a beautiful holiday destination that boasts stunning accommodation and attractions, Vanua Levu remains relatively untouched by modern tourism and commercial development. As such, Vanua Levu presents the perfect opportunity to experience ancient local culture and traditions in practice.
Labasa and Savusavu are the largest population centres of the island, relatively small townships predominantly comprised of Indo-Fijian communities. The under-developed town of Savusavu has recently increased in popularity as a dive holiday destination, particularly within the yachting community.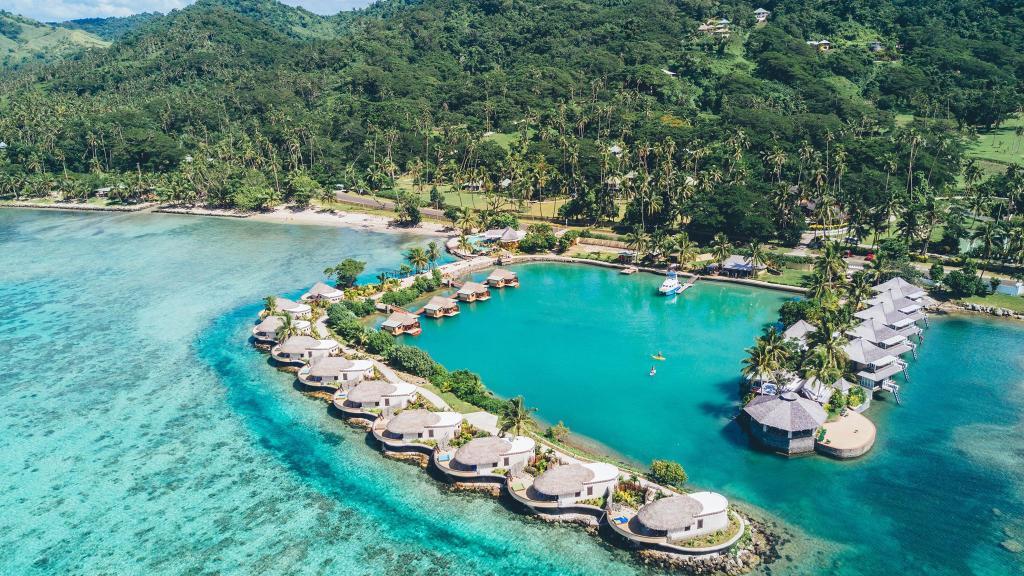 Easily accessed by local boat or ferry, the most spectacular aspect of Savusavu is found in it's stunning bay and surreal natural hot springs. Scattered in abundance around the city's edges, the hot springs are a must see when visiting Vanua Levu. Creating an almost 'twilight zone' quality, the hot springs cause steam to literally rise from cracks in the sidewalk, grassy fields and even up along the seashore.
A trip to Vanua Levu is not complete without experiencing the remote and spectacular diving and snorkelling on offer. With options available for divers of all skill levels, take the time to explore brommies (coral heads), colourful hard and soft corals, huge sea fans and the sensational Mystery Reef.
Vanua Levu Accommodation
Designed with the ultimate relaxation experience in mind, accommodation on Vanua Levu is all about taking it slow and embracing 'Fiji time'. Choose from stunning 5-star resorts and the luxury villas which line the tropical shores. Private bures float out on the reef and guests are invited to enjoy indulgent spa days and lazy poolside afternoons.
Vanua Levu Packages
Ease the stress of holiday planning with our pre-bundled and custom packages designed to help you save and maximise your tropical break. With travel essentials like accommodation and flights, we combine added extras like transfers, tours and insurance to curate the ultimate Fiji escape - these are deals that are truly hard to pass up.
Did You Know?
So impressed with the diving and spectacular beauty of the island, famous oceanographic explorer and environmentalist Jean-Micheal Cousteau establish a resort here.