Cook Islands Hotels With Weddings
The Cook Islands are a picturesque romantic holiday destination that offer some of the most stunning natural scenery in the South Pacific. Popular with couples and romantics looking for the ultimate island escape, the Cook Islands are the perfect destination to take your love that one step further, tie the knot and make it forever. Cook Islands Hotels with weddings are the ideal and stress-free way to plan and host your wedding in the spectacular South Pacific. Offering stunning romantic settings, beautiful beachfront ceremonies and a balmy tropical ambience, you and your partner will say "I do" in pure Polynesian paradise.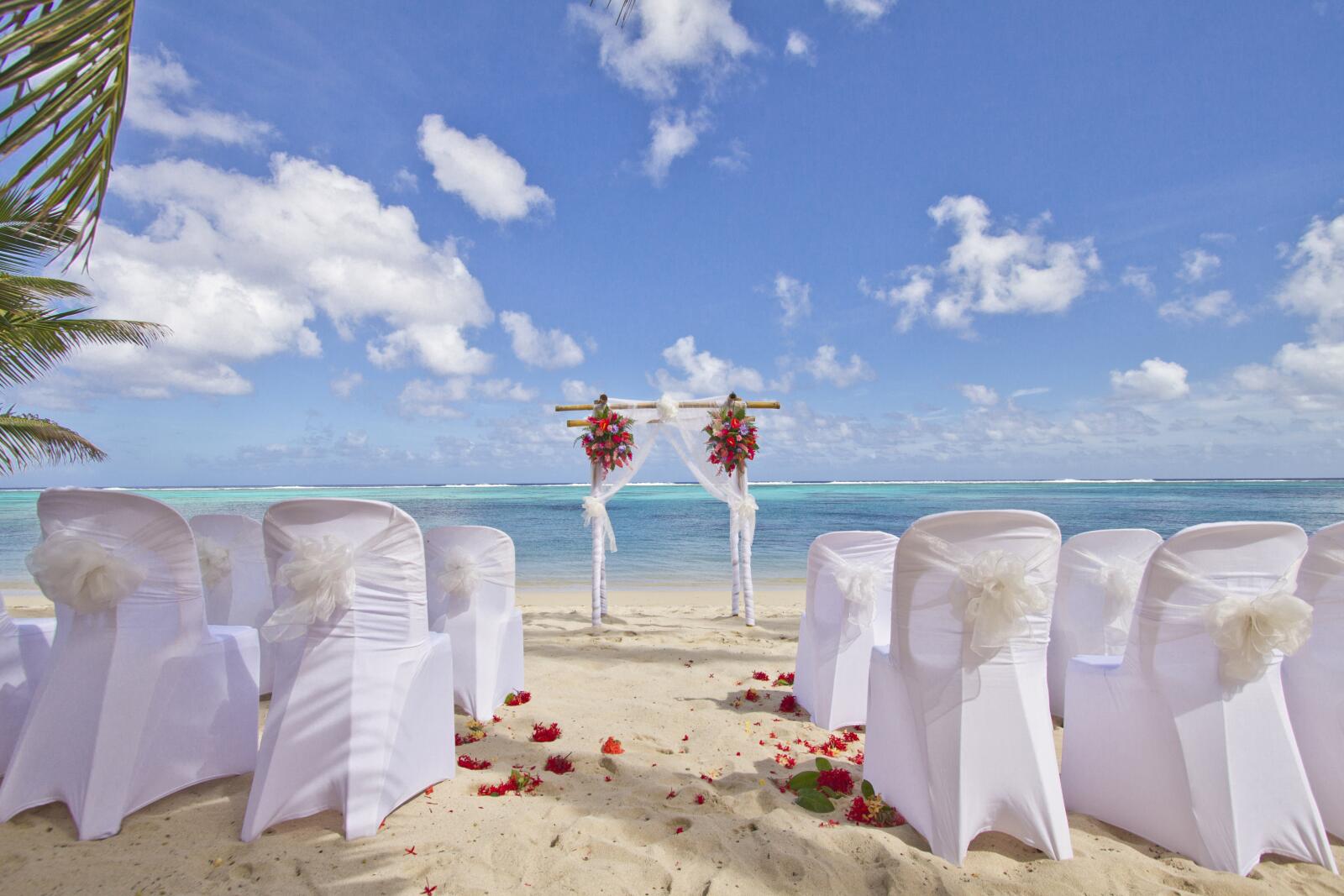 Cook Islands hotels with weddings can be found throughout the main islands of Rarotonga and Aitutaki and range from 3.5 stars to 5 stars. Offering everything you need from onsite wedding coordinators, stylists, kitchen staff and a variety wedding packages tailored to suit a range of tastes and budgets, The Cook Islands hotels with weddings are the ideal way to declare your love in tropical paradise. So, whether you're looking for a traditional western ceremony, or to embrace the culture and romance of the Cook Islands in true Polynesian style, look no further than this great range of Cook Islands hotels with weddings.
Located on Rarotonga, the stunning Rarotongan Beach Resort offers an intimate and romantic wedding ceremony set amongst the Aora Lagoon, which in Maori, translates to 'lagoon of love'. With personal wedding planners and a variety of wedding packages available to suit celebrations of all styles and budgets, the Rarotongan Beach Resort takes care of all your needs on your special day. Also on Rarotonga, the Moana Sands Beachfront Hotel provides an idyllic location for a beautiful beachfront ceremony. With a picturesque stretch of white sand and glistening blue lagoons, there is no better place to say, "I do." Wedding packages at the Moana Sands include a legally binding marriage license, marriage celebrant and professional wedding team on site to help you plan the most perfect day.
Muri Beach Club is a tropical paradise that offers a truly romantic Rarotongan wedding experience which includes a beachfront ceremony and choice of three romantic reception locations such as Lagoon Lounge, Restaurant or Beachside Marquee. These all-inclusive packages cater for up to 30 guests and are individually customised to suit your every need.
For the perfect way to celebrate your marriage amongst a romantic and dreamy tropical setting, look no further than these Cook Islands hotels with weddings.
Wedding Resort Deals