Vanuatu Markets
There are Vanuatu markets scattered across all of the islands, offering everything from fresh fruit and vegetables to wooden carvings, shell necklaces and a number of souvenirs and trinkets. However these are on a much smaller scale compared to the most famous of the Vanuatu markets, the Port Vila markets. Open daily along the Main Street, these markets offer the unique chance to soak up the authentic island atmosphere while sampling everything from French pastries and natively grown coffee to Chinese cuisine and of course all the usual carvings and hand dyed fabric and clothing.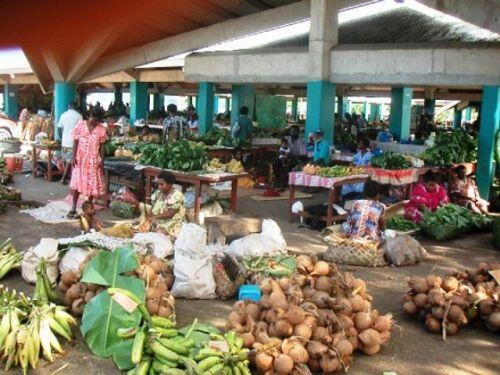 Vanuatu, and particularly Port Vila, is home to a unique cultural fusion, influenced by Chinese, Melanesian, French and English culture creating an exciting blend of inspiration, arts, craft, cuisine and cultural activities from a wide range of backgrounds. This cultural phenomenon is best illustrated by the Port Vila Vanuatu markets where tourists can purchase a range of products from all of these influences surrounded by the friendly company of the locals.
Some of the most popular products available for purchase from the Vanuatu markets include locally grown farm fresh produce, island raised beef, freshly caught fish and shellfish as well as fresh baked pastries, native wines and locally grown coffees. There are also a fantastic selection of local merchandise, handicrafts, shells, flowers, antiques and souvenirs available for purchase from a number of local vendors.
Carvings are also a favourite with tourists and can be made out of everything from wood and coral to stone and even volcanic material. Occasionally these are hand painted but often are just carved into the likeness of fish, birds and other animals or more functional items such as bowls and even mini canoes. Other handmade items such as masks, woven mats and baskets, pottery and other traditional clothing and jewellery are also popular purchases.
Top Port Vila Resort Deals