Vanuatu Golf Resorts
Vanuatu is a stunning tropical island in the South Pacific and is renowned as a relaxing holiday destination. Home to a surprising number of Vanuatu golf resorts, there are some excellent options for avid golfers and beginners alike. With a number of resorts offering golf courses onsite and others equally conveniently located close to the country's premier courses, these accommodation options are ideal for not only pleasing the golfer in your life but for the whole family to enjoy as well. Boasting stunning scenery and brilliant tropical weather, conditions in Vanuatu are ideal for a relaxing round of golf and taking in the unique surroundings.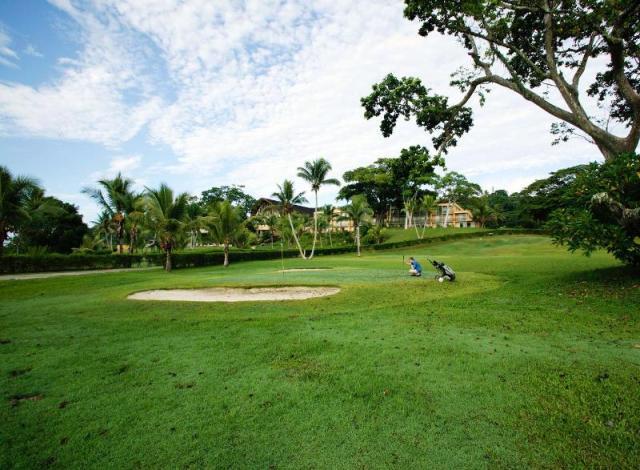 Vanuatu golf resorts are located on the main island of Efate, near the capital Port Vila, and range from 3.5 stars to 4 stars. Courses vary in size, ability and facilities however all courses offer quality golfing opportunities and each resort boasts its own range of excellent onsite facilities to keep the rest of the family entertained while you step out for a round of golf or two. Whether you're up for a long and challenging game of strategy or just want to get out in the sun and enjoy the views while you hit the ball around, there's something for everyone at these Vanuatu gold resorts.
Located by Erakor Lagoon, Holiday Inn Resort Vanuatu offers a 9-hole beachfront golf course surrounded by lush tropical gardens. Clubs and buggies are available for hire and players will enjoy holes that play along the peninsula of the lagoon. Situated on 75 acres of sprawling exotic gardens, Warwick Le Lagon Vanuatu features a 12-hole golf course complete with tee boxes, improved greens, motorised golf carts and professional golf sets. Just minutes from Port Vila, the marine sanctuary of Hideaway Island Resort is also a sanctuary for golfers with Vanuatu's premier golf course just minutes away. The flat course enjoys beautiful views of Mele Bay but is deceptively challenging thanks to sand traps and surrounding trees which keep all 18 holes interesting.
For a great way to relax and enjoy all the fun of the golf course on your next visit to Vanuatu, these Vanuatu golf resorts offer all the convenience of a golf course and leisure facilities onsite.
Resort Deals Near Golf Courses