All Inclusive Queensland Islands Resorts
In the sun-soaked state of Queensland, numerous island resorts offer the alluring promise of all-inclusive packages, allowing you to truly relax and immerse yourself in the tropical splendour without the worry of extra costs. These Queensland Island resorts combine the region's stunning natural beauty—ranging from the iconic Great Barrier Reef to dense World Heritage Listed rainforest—with impeccable service, gourmet dining and a plethora of activities.
Whether it's snorkelling, island hopping, or simply lounging by a pool with a cocktail in hand, guests can relish every moment knowing that everything from their accommodation to meals, drinks and recreational activities are covered in one package. This ease and convenience make all-inclusive Queensland Island resorts an increasingly popular choice for both international tourists and Australian holidaymakers.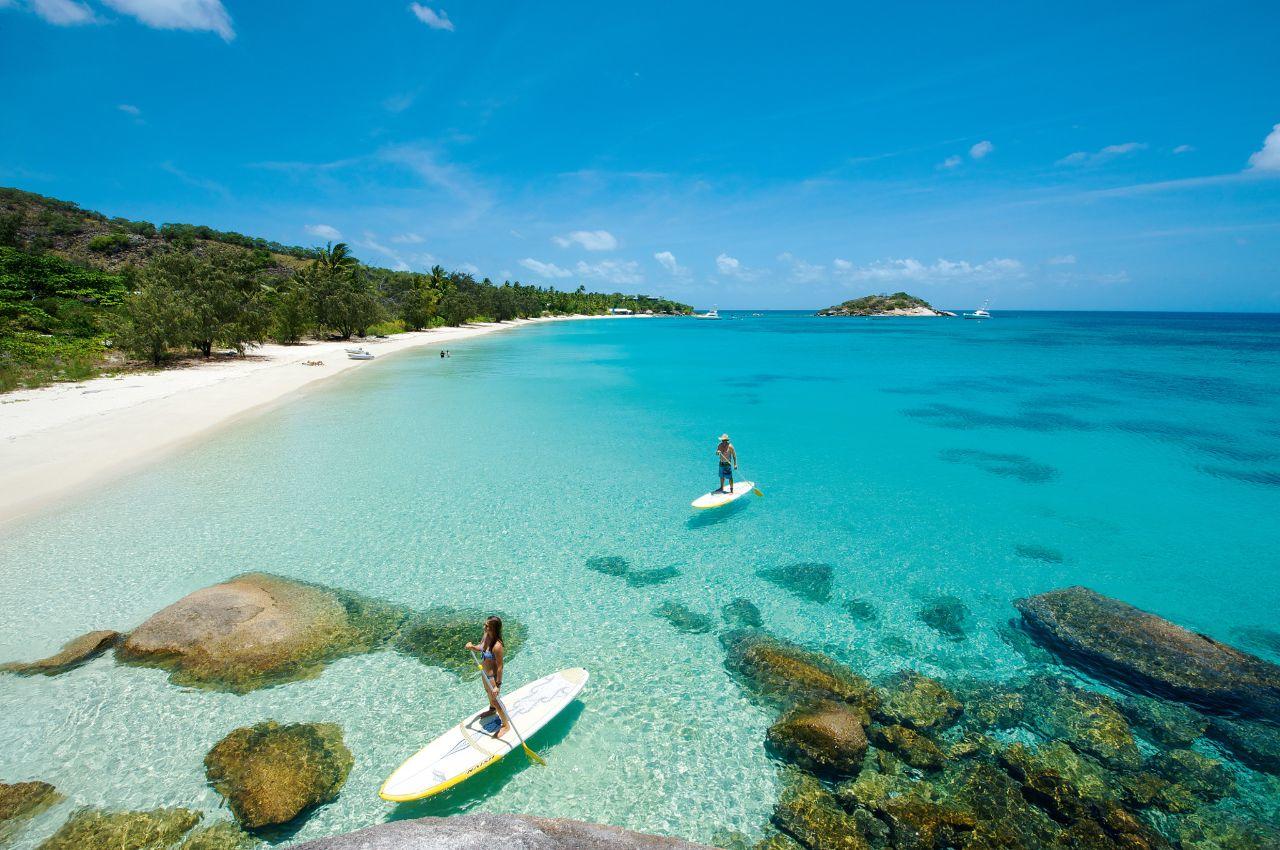 Queensland Islands | All Inclusive Holiday Packages
Ranging from 3 to 5 stars, all inclusive Queensland Island resorts are situated throughout the islands including in popular spots such as Hamilton Island, Lady Elliot Island, and Orpheus Island. TravelOnline's all inclusive Queensland Island holiday packages offer a variety of meal or meal and beverage packages.
Top All Inclusive Queensland Island Resorts
Orpheus Island Lodge: Nestled within the serene surrounds of the Great Barrier Reef, Orpheus Island Lodge epitomises secluded luxury. As an all-inclusive resort, it limits its guest number to ensure a personalised experience. With gourmet meals, fine wines, and daily activities like snorkelling, fishing and island cruises covered in their packages, it offers a comprehensive tropical escape where guests can indulge without concern for added expenses.
Hamilton Island Beach Club: Positioned in the heart of the Whitsundays, Hamilton Island Beach Club provides an inclusive experience that is both intimate and luxurious. With beachfront accommodation, guests have unobstructed views of the Coral Sea. The inclusive rate typically incorporates a host of activities, gourmet dining options and even some spa treatments, ensuring a worry-free and indulgent stay amidst nature.
Lady Elliot Island An ecological treasure, Lady Elliot Island is renowned for its commitment to conservation and sustainable tourism. While offering an all-inclusive experience, the focus is on immersive natural encounters. Guests can expect meals, accommodation and guided activities such as snorkelling tours, reef walks, and bird watching in their package, providing a holistic and educational island retreat.
Green Island: Just a short boat ride from Cairns, Green Island provides a unique all-inclusive experience amidst a lush rainforest and vibrant coral reef. Beyond just meals and accommodations, the resort often includes activities like glass-bottom boat tours, nature walks and access to their island pool in the all-inclusive package. The blend of rainforest and reef exploration makes it an all-round tropical getaway.