Hawaii Restaurants and Eateries
Hawaii's cuisine is a vibrant and international blend of traditional dishes and modern fusion, generally prepared with fresh, local produce. Hawaiian cuisine is heavily influenced by American tastes and US stapes are readily available in most Hawaiian restaurants. There are a fantastic range of restaurants located throughout the islands of Hawaii, from fine dining venues to casual cafes serving local flavours. Below we've curated a list of some of the top Hawaiian restaurants scattered across the main islands.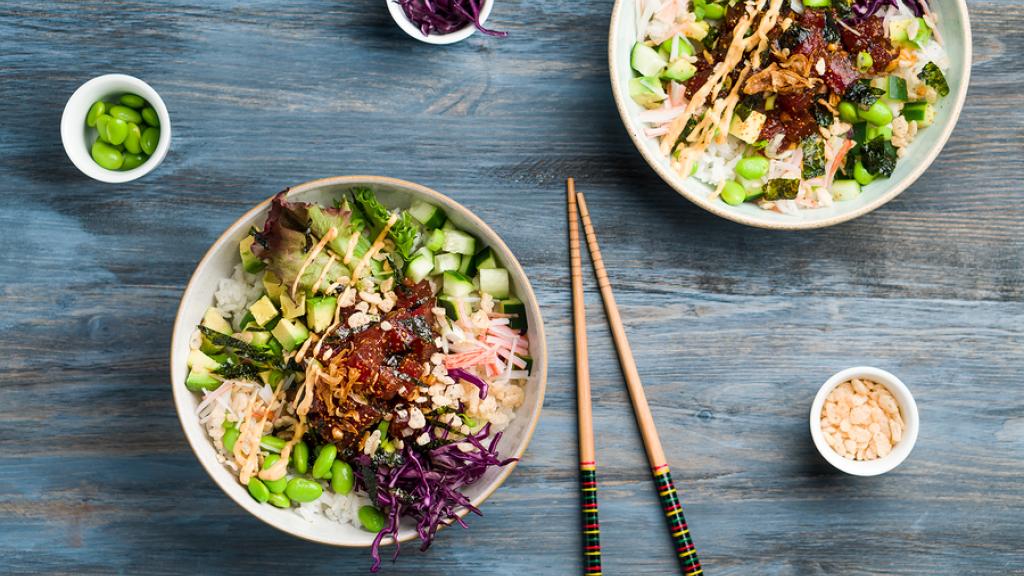 Oahu
Leonard's Bakery: 933 Kapahula Avenue, Honolulu
An obvious and unoriginal choice for a list of Oahu must-eats, it would be even worse if Leonard's were to be excluded. Despite the crowds (which can tell you only one thing), Leonard's warm and doughy fried Malasadas have been a Honolulu institution since 1952. A genuine must-visit.
Alan Wong's: 1857 South King Street, Honolulu
Renowned chef Alan Wong brings his flair to regional Hawaiian cuisine with a contemporary take on authentic flavours. Traditional ethnic influences are the perfect match for the locally grown and raised produce.
Roy's Waikiki: 226 Lewers Street, Honolulu
Famed fusion chef Roy Yamaguchi blends bold Asian flavours with European influenced sides. Strictly cooking with fresh local ingredients, Roy's deliciously diverse menu specialises in seasonal seafood and carefully considered fusion plates.
Maui
Tin Roof: 360 Papa Place, Kahului
This noodle house is still the (comparatively) new kid on the block yet already it's a Maui icon. Custom bowls of garlic noodles or white or brown rice with pork belly, fried chicken or garlic shrimp draws a long line each day, all clamouring for the sensational takeaway lunch.
Lahaina Grill: 127 Lahainaluna Road, Lahaina
A memorable dining experience that offers fresh seafood and grilled meats, Lahaina Grill is an award-winning culinary journey. The historic building offers patrons an intimate atmosphere (and the opportunity to dine at the chef's table), with a 350 bottle wine selection and myriad vegetarian options.
Kaua'i
Chicken in a Barrel: 5-5190 Kuhio Highway, Kaua'i
Intoxicating smoked barbecue chicken, Chicken in a Barrel is a one-of-a-kind institution. Messy, saucy, totally moorish BBQ chicken and pork lead to consistent high reviews and return customers to the Kaua'i favourite.
Kauai Grill: 5520 Ka Haku Road, Princeville
An inventive dining experience that offers panoramic views of Hanalei Bay, Michelin Chef Jean-Georges Vongerichten offers a traditional take on local and international cuisine. This signature restaurant serves fresh local fish and quality meats grilled simply and accompanied by bold flavours.
The Big Island
Holuakoa Gardens: 76-5901 Mamalahoa Highway, Holualoa
With a Hawaiian garden and cottage, this is our pick for the Saturday morning restorative brunch or lunch. This is an award-winning, slow-food restaurant that shouldn't be missed next time you find yourself on Hawaii Island.
Don The Beachcomber: Royal Kona Resort 75-5852 Alii Drive, Kailua-Kona
A delightful retro Polynesian atmosphere that offers spectacular sunset and ocean views, this award-winning bar and restaurant sits right on the beachfront, boasting unmatched views and a unique array of Hawaiian cocktails.