Maui Holidays & Travel Guide
Accommodating a far more tranquil pace than her Oahu sister, Maui calls to travellers seeking the inspiring combination of remote beaches and intrepid adventure; enjoying everything from world-class mountain biking, extreme jungle ziplining and impressive waves for the surfers and wind-boarders among us. Explore the kaleidoscopic coral cities below or follow gently winding tracks through bamboo forests and over lava flows. Away from the hustling crowds of Honolulu, Maui's Haleakalā is the ideal place to experience Hawaii's famed sunrises as their yolky rays blaze spectacularly across the horizon.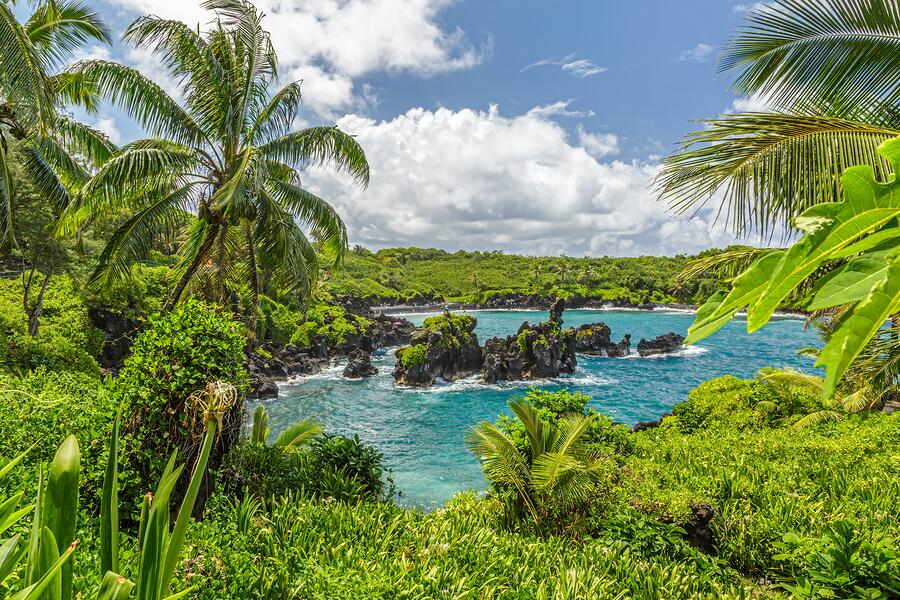 Those in search of indulgence will find it aplenty in the myriad spas, private retreats and stunning golf courses that dot the land. Vibrant green fairways meet ancient lava streams on Hawaii's second largest island, boasting over 80 pristine beaches for guests to enjoy.
One of Maui's most popular attractions is Haleakala, a dormant volcano which takes up most of the island's east. At 10,000 feet above sea level, Haleakala is much like a lunarscape and offers spectacular views of the sunrise. If you're feeling adventurous, you can cycle down the 61 km long volcano or simply immerse yourself in Wai'anapanapa's clear mineral waters.
Maui's best snorkelling and diving takes place in the waters of Mololkini where you can explore the marine conservation area and volcanic crater, home to a vast array of marine life. If visiting Maui's west coast during December to April, be sure to keep an eye out for the passing humpback whales. Surfers will find the best surfing conditions during the winter months at Ho'okipa, while windsurfers will prefer summer waters.
The Road to Hana, a popular scenic drive, draws visitors from around the world. Winding its way up through the jungle, the route offers abundant opportunities to explore waterfalls, lookouts and towns along the way. Be sure to leave plenty of time for the trip as much of the route is one way and can become congested.
Accommodation in Maui
From luxury resorts and 5-star hotels to beautiful self-catered apartments, there is a diverse range of Maui accommodation options for the patchwork of travellers who visit the lush island. Most hotels and resorts back straight on to the water, offering breathtaking ocean views and inviting swimming pools. Hosting thousands of visitors each year, Maui is highly experienced at catering to the wants and needs of every style of traveller.
Maui Packages
Travellers looking for the best Maui deals will love our curated Maui packages, designed to make planning and travel simple. Bringing together the best of Maui accommodation, flights, transfers and meal packages, travel professionals are here to make your island holiday as affordable and stress-free as possible.
Did You Know?
If culture and history is what you seek, the old whaling town of Lahaina is a national historic district and features accommodation, restaurants, unique shops and an art gallery.
Alternatively, you can hire a car and cruise the coastal road along the Hana Highway. The picturesque road trip winds around cascading waterfalls and secluded beaches and while it features 54 one-way bridges and 600 twists and turns, it is well worth it for the amazing views it offers.
Maui & Hawaii Packages