Bangkok Stopovers
A gateway for Thai Airways, Bangkok is a common stopover for Australians travelling to Asia and other long-haul destinations. However the city is a buzzing metropolis and an excellent destination it its own right. Situated at the mouth of the Chao Phraya River, Bangkok is the capital city of Thailand and a popular place to visit for a holiday or as a stopover on your way to somewhere exotic. There are many flights that feature stopovers in Bangkok and while initially this may seem like an inconvenience in getting to your desired destination, it's actually the perfect opportunity to soak up the history, culture and atmosphere of this vibrant city. Regardless of whether you're stopping over for a couple of hours or a couple of days, there is much to see and do.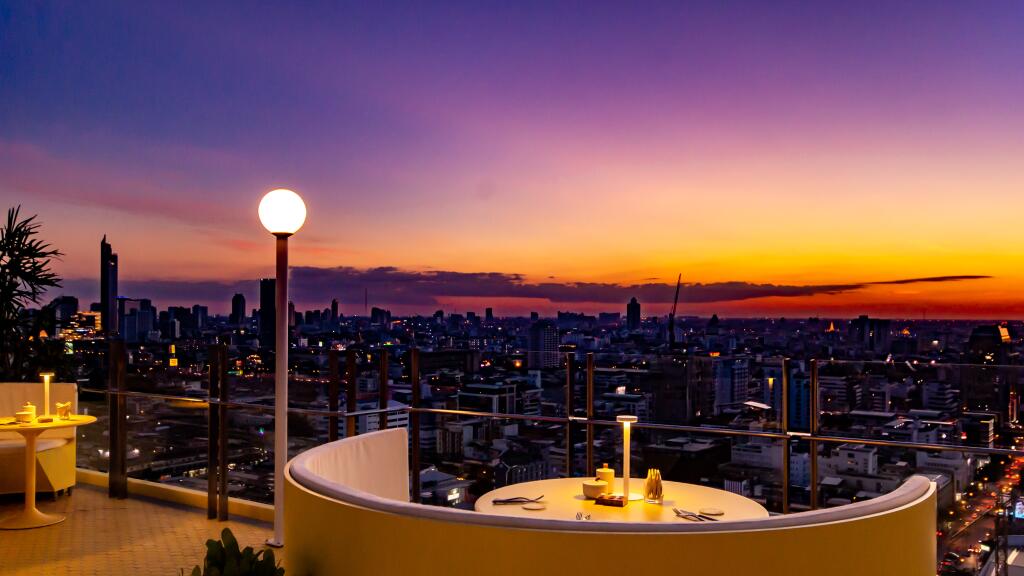 How long do I need if I want to leave the airport?
We suggest a minimum of 10 hours stopover if you want to leave the airport to explore the city. By leaving the airport you are entering the country so you will be required to first pass through immigration, which can take anywhere from an hour to an hour and a half. If you will be boarding an international flight out, you'll also need to be back at the airport 3 hours prior to departure. Accounting for this additional time, 10 hours is the most comfortable minimum to give you time to explore Bangkok without stressing about making your flight.
What if my stopover isn't long enough?
If your stopover is less than 10 hours, it's best to remain at the airport and avoid the hassle of going through immigration. Bangkok Suvarnabhumi Airport is a modern airport and one of the largest passenger terminals in the world. It is repeatedly voted one of the best airports in Asia and although it doesn't have some of the more unique amenities and attractions of its regional neighbours, it has plenty of excellent options for food, shopping and generally killing time.
You can use your stopover to experience delicious cuisine or pick up something more casual at global icons like McDonalds, Starbucks, etc. You may also want to stock up at the King Power duty-free shops to pass the time. Airport lounges are also a great option for some tasty food, internet access and a quiet and comfortable area to relax in. You don't need to be flying first class to take advantage, most lounges allow all travellers to purchase a one-time pass to unwind for a few hours.
If you're feeling a little stiff from your flight, you're in the home of Thai massage so why not treat yourself while you pass the time? Located on Concourse G, Miracle Transit Hotel has a beauty salon and spa, while Chang Massage and Spa has two locations within the terminal. The perfect way to release any tension from your long-haul flight, you can enjoy express and extended massage options, facial treatments, manicures and pedicures, aromatherapy and a number of other spa treatments. You'll be relaxed and ready to fly again in no time!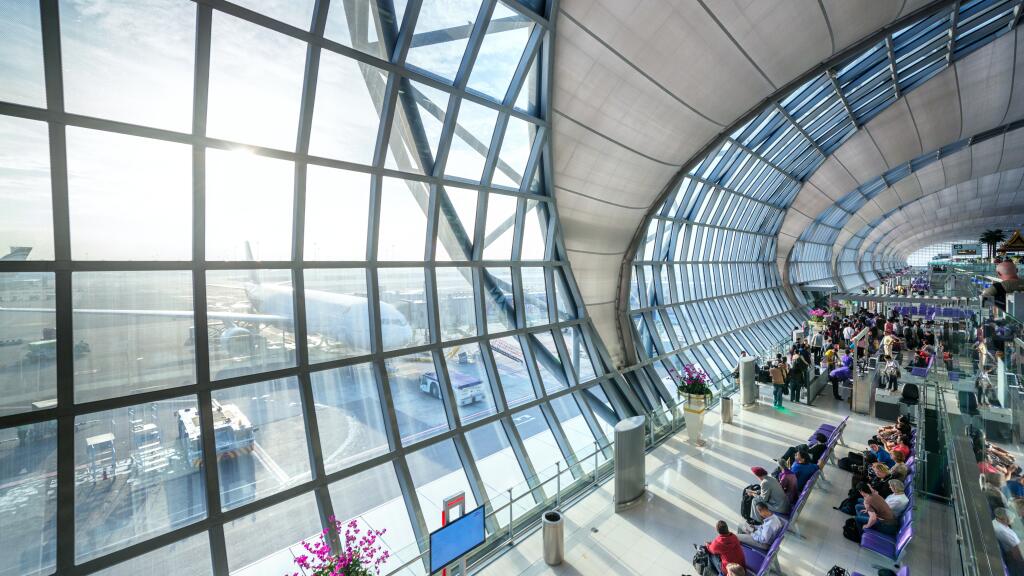 How do I get from Bangkok Airport to the city?
The easiest way to get from Bangkok Airport to the city is by train or taxi. The Airport Rail Link (ARL) is affordable and runs every 12-15 minutes from 6am to midnight. Located on the basement level, the ARL runs from the airport into the city stopping at Phaya Thai station with connections to the MRT and SRT to reach other parts on Bangkok.
You can also catch a cab from the taxi rank on the ground floor, however always insist that the meter is used as the fare will be much lower. You'll also need to pay for any tolls in cash, which is approximately THB110, so be sure to have enough local currency on you for the return journey. Be aware that the traffic in Bangkok can be particularly heavy, especially in the hours between 5pm and 7pm which is right after the Qantas flight from Sydney to Bangkok arrives. If arriving at this time, we recommend catching the train.
Where can I stay in Bangkok?
There is a wide range of Bangkok accommodation located conveniently close to the airport which is ideal for short overnight stopovers. Many of these hotels also offer free airport shuttle services for the ultimate in convenience. However there are also a huge range of accommodation options in the city which put you closer to shopping, dining, nightlife and sightseeing if you have a bit of extra time to explore.
Just 15 minutes from the airport terminal, Mode Sathorn Hotel offers ultramodern accommodation and an impressive range of onsite facilities. Just 20 minutes from the domestic and international terminals of the airport, Centara Grand at Central World is a luxury resort that soars over the Bangkok skyline. The resort enjoys fantastic proximity close to shopping, dining and entertainment precincts and is perfect for a stopover in Bangkok. Located 30 minutes from Bangkok Airport, the Pathumwan Princess Hotel is right above the MBK Shopping Centre. The hotel enjoys a comfortable and convenient range of accommodation and onsite facilities including a swimming pool, fitness centre, tennis court, squash court and a number of bars and restaurants.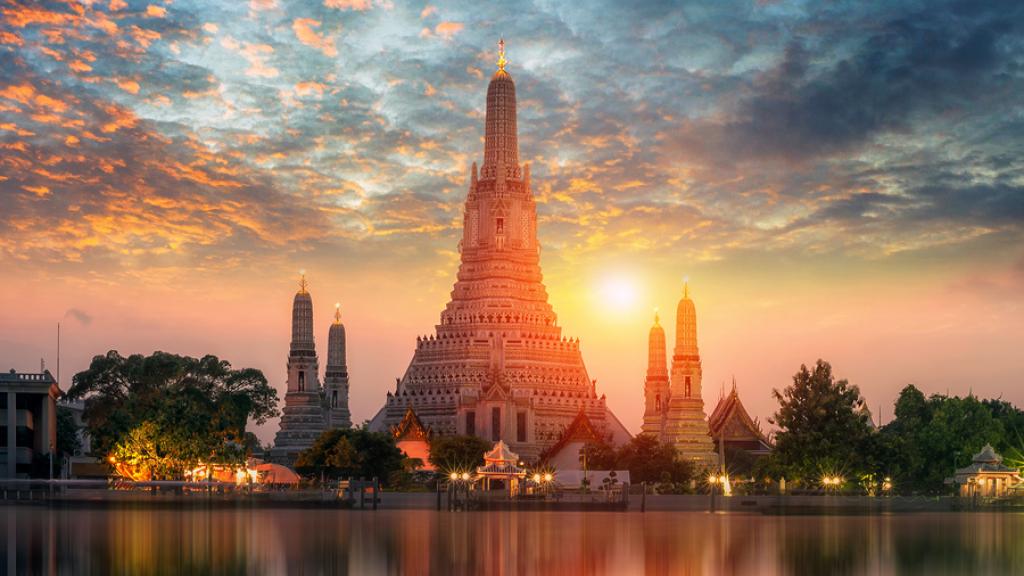 What can I do on a short Bangkok stopover?
If you're just passing through Bangkok and only have a short amount of time to explore, there is still plenty to do on a short stopover. Don't miss your opportunity to soak up some of the atmosphere and culture of the country's capital. A definite highlight of a Bangkok stopover is the excellent food and nightlife. There are also a fantastic range of attractions, many of which are easily accessed just a short distance from the airport. With the BTS skytrain running every 3-6 minutes from 6am until midnight, you can quickly and conveniently make your way to some of the city's most popular shopping, entertainment and attractions. If you only have a few hours to kill, try shopping til you drop at the Catuchak outdoor markets or the Siam Paragon where you can pick up anything from a designer handbag to a Ferrari. About 20 minutes from the airport there is also the huge 400,000m² shopping complex called Mega Bangna. It offers you plenty of ways to relax including ice skating, bowling, cinemas, restaurants and coffee shops, children's playgrounds and of course shopping. You can arrive and leave as you see fit.
What can I do on a longer Bangkok stopover?
If you have a bit more time to explore Bangkok, there is so much to see and do with over 400 temples to discover as well as river cruises, cultural demonstrations, traditional Thai cooking classes and of course the famous shopping. Floating markets and night markets are the perfect way to enjoy a spot of shopping while experiencing authentic culture and enjoying some traditional cuisine. Alternatively, cool off at one of the many super malls packed with high end luxury goods, mid-range western brands and counterfeit designer merchandise.
While on a longer stopover in Bangkok, you should definitely plan to visit some of the more famous attractions. Even with just a full day to explore you can knock off a number of the most iconic attractions. You can take a taxi to visit the Grand Palace in the morning and spend a couple of hours exploring the of iconic sites and temples including Wat Phra Keow (Temple of the Emerald Buddha) and Wat Po, a 15m high and 46m long golden statue of the reclining Buddha. In the afternoon, catch a river taxi to Wat Arun for some incredible photo opportunities of this stunning temple at sunset.
In the evening, catch a river taxi to Central Pier and experience the quintessential experience of riding on a tuk tuk to Sky Bar in Silom for dinner and drinks while overlooking exquisite panoramic city views from the bar made famous by The Hangover Part II movie. If you really want to maximise your time in Bangkok, continue on late into the night with a number of lively nightlife and entertainment options including bars, dance clubs and flamboyant karaoke hot spots. Just don't end up with a hangover of your own and miss your flight!
If you wish to stay longer in Bangkok, speak to your travel consultant about extending the stopover leg of your journey.