Noosa North Shore Holidays & Travel Guide
Backed by Lake Cooroibah, Noosa's North Shore is a holiday playground of beauty and unspoilt nature. A variety of fun, accommodation and activities are available. There is horse riding, camel riding, four wheel driving, swimming, surfing, hang gliding, flying and sailing for the active holiday maker while more relaxing activities are handy to those wishing to do very little, such as wildflower spotting or relaxing with a cool drink on the verandas of the Noosa North Shore Resort. Dine at their restaurant on the North Shore or venture across on the evening ferry to Noosa or Tewantin.
For those wishing to stay in Noosa and enjoy the activities available on the North Shore, pick ups can be arranged.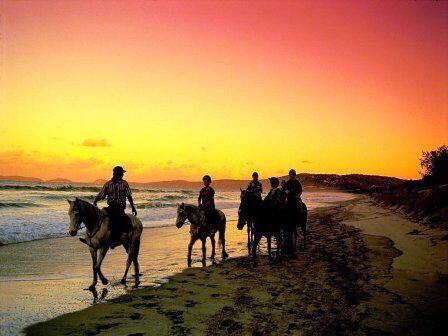 Getting to the North Shore
You can get to the North Shore by car if you drive to Tewantin and catch one of the regular ferries across. The ferry crosses continuously and takes about 5 minutes, holding about 6 vehicles. It costs $5 one way per vehicle. Be prepared to queue during the holiday season.
From there you can drive across to the beach and begin the spectacular drive up towards Rainbow Beach. Only 4WDs are permitted access onto the beach.
Be vigilant about checking tide times before your journey. Plan to do the drive during low tide, otherwise it's easy to become stranded on the beach by a swiftly incoming tide.
Attractions
Coloured Sands
Just a short drive from the freshwater camping area on the North Shore beach, this outstanding natural attraction of multi-coloured cliffs provides the perfect backdrop to 12 km of coastline stretching between Rainbow Beach and Double Island Point. Dozens of sand colours can be seen on this stretch of beach, with some of the striking sand cliffs towering to a height of 200 metres.
Again, be sure to check the tides before venturing on your four-wheel driving trip.
Cherry Venture Shipwreck
This former cargo ship was swept onto Teewah Beach during cyclone conditions in July 1973. After four years of frustration trying to free the ship, its owners abandoned it to its current role of posing for curious on-lookers.
Carlo Sandblow
The Carlo Sand Blow at Rainbow Beach is a popular launching pad for hanglider enthusiasts. It can be reached by a walking track from Cooloola Drive or by driving up the beach from Noosa's North Shore.