Koh Samui Holidays & Travel Guide
Once known as an extended coconut plantation, Koh Samui is now one of Thailand's most popular holiday destinations and has become a trendy cultural melting pot. Just 25 km long and 21 km wide this island paradise is easy to navigate and ring roads connect the island's beaches and main attractions. Home to an International airport and regular ferry services, there are a number of ways to see Koh Samui, with rented motorbikes and scooters being among the most popular.
Offering unique attractions and a dreamy laid back atmosphere, Koh Samui attracts travellers seeking the perfect balance between relaxation and adventure. The picturesque natural scenery, superb accommodation and lively nightlife are major tourist draw cards, as well as the range of amazing attractions.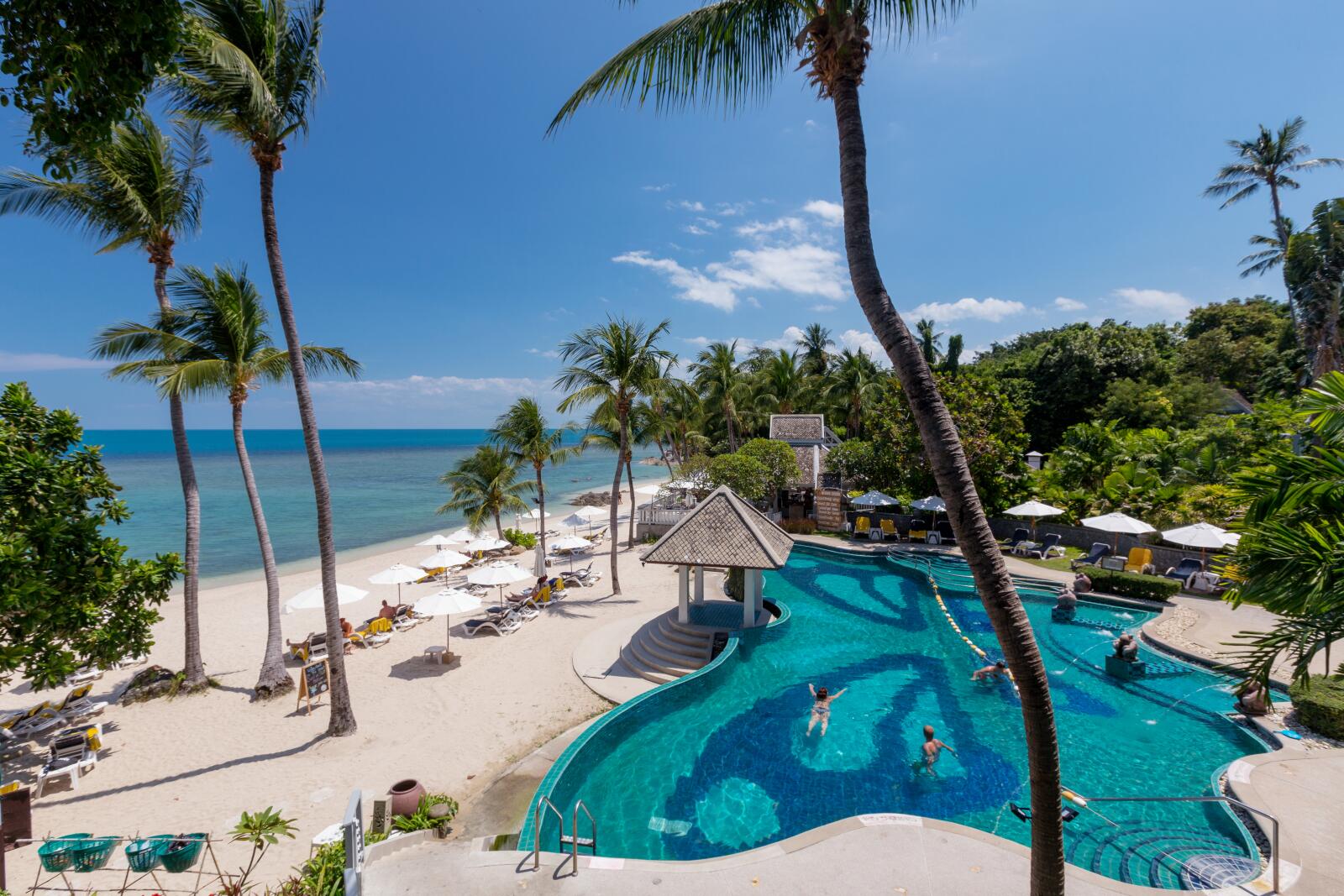 Whether you're a culture buff or an intrepid adventurer, Koh Samui holidays have something for you. Religious imagery and architecture abounds and the Big Buddha is one of the most visited attractions. For those after a bit more action, you can try everything from golfing, horse riding, fishing, sailing and diving to mountain biking, elephant trekking, go karting and bungee jumping.
Located in the Gulf of Thailand, Koh Samui is home to some of the best dive sites in the world. Conditions are at their best between March and August as the ocean is clear and offers incredible visibility. The island's tropical climate also provides ample conditions for exploring the island's stunning natural habitat with temperatures generally averaging 28°C.
Accommodation in Koh Samui
Home to pristine beaches, turquoise tropical water and vibrant coral reefs, Koh Samui offers some of Thailand's most incredible natural scenery. Koh Samui accommodation ranges from 3 stars to 5 stars with many resorts enjoying beachfront access and spacious rooms. Catering to every style and budget, Koh Samui accommodation offers everything from affordable hotels to high end luxury resorts. Perfect for couples and families alike, Koh Samui accommodation features a fantastic range of amenities such as on site day spas, child care facilities and complimentary activities such as snorkeling, tennis and kayaking.
Koh Samui Holiday Packages
Koh Samui holiday packages are the perfect way to visit the island paradise of Thailand. Making your holiday planning simple while saving you time and money, these Koh Samui holiday packages offer amazing savings by combining all your travel essentials into one convenient all inclusive package. Bundling together essentials like flights, accommodation and travel insurance with bonus inclusions like transfers, spa vouchers and meals, we make your holiday planning quick, simple and stress free.
Koh Samui Holiday Deals