5 Star Thailand Resorts
Long gone are the days when Thailand was simply a backpacking hot spot. Today, Thailand is all about world class accommodation, modern amenities and 5 star luxury. While the standard of accommodation has significantly increased, Thailand still remains an affordable holiday destination.
Known for its idyllic scenery, alluring culture and natural attractions, Thailand offers an array of 5 star accommodation. From the picturesque shores of Phuket to the secluded Phi Phi Islands, Thailand is a beautiful and affordable destination to holiday in style.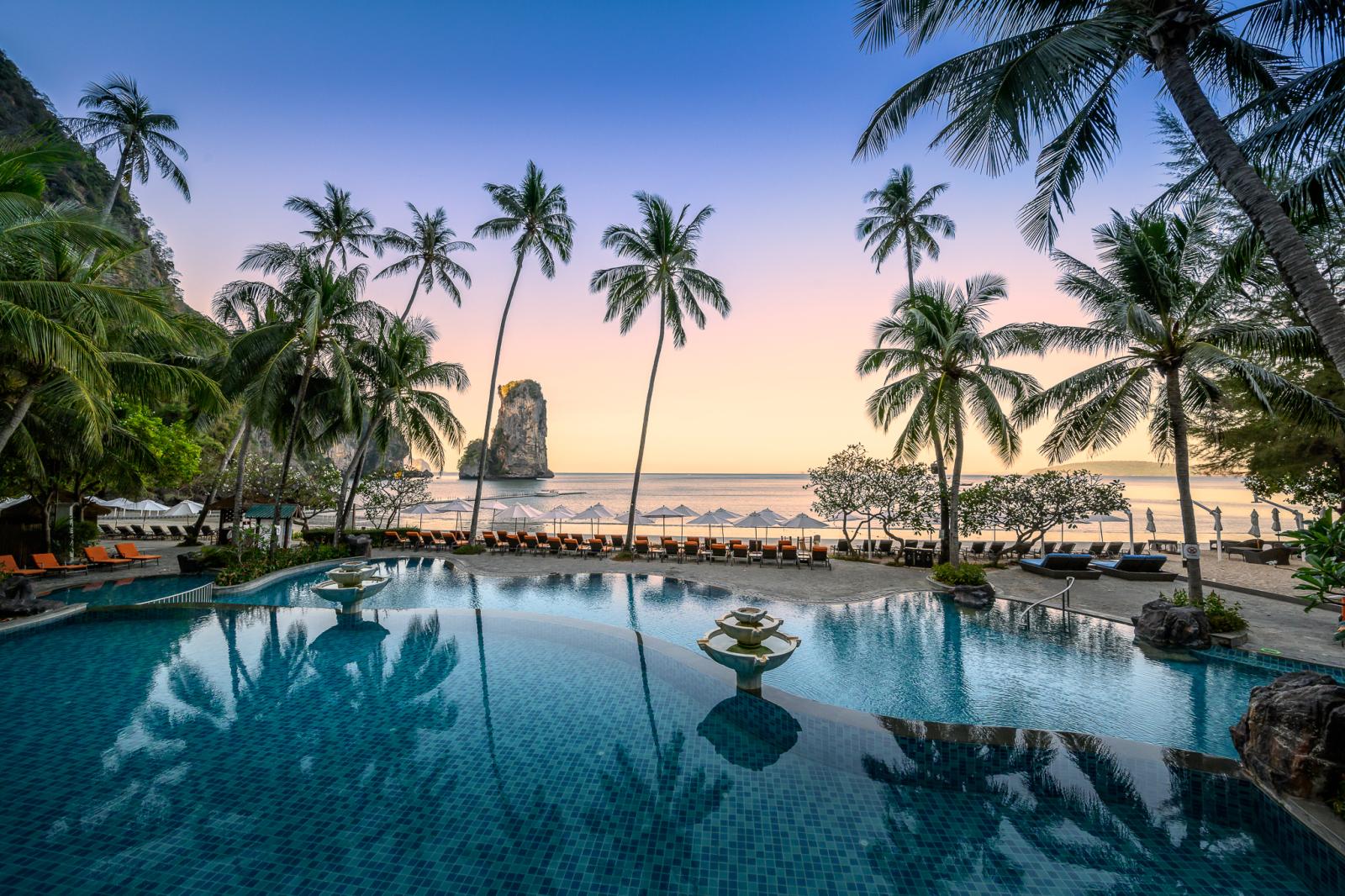 Thailand | 5 Star Holiday Packages
5 star Thailand resorts are located across country's most popular destinations including the party town of Patong, tropical Koh Samui, Krabi and the capital city of Bangkok. TravelOnline's 5 star Thailand holiday packages offer creature comforts such as private pools and Jacuzzis, 24 hour room service, direct beach or pool access, day spas and more.
Top 5 Star Thailand Resorts
Centara Grand at CentralWorld: Soaring above the Bangkok skyline and designed to resemble a flowering lotus, Centara Grand at CentralWorld delivers the epitome of 5-star luxury in Bangkok with breathtaking city views and impeccable service. Conveniently located just minutes from the famous Skytrain, the resort is connected to Southeast Asia's largest lifestyle mall which features more than 500 shops and 50 restaurants.
Diamond Cliff Resort & Spa: A distinguished 5-star resort perched on the stunning cliffs of Patong in Phuket, Diamond Cliff offers luxurious accommodations, stunning views of the Andaman Sea, and world-class amenities including a spa and exquisite dining options. A haven of comfort and style, this resort offers a truly indulgent experience for discerning travellers.
Centara Reserve Samui: Located on Chaweng Beach, Koh Samui's longest beach, Centara Reserve Samui offers casual tropical elegance on the stunning island of Koh Samui. An exclusive retreat with lavish accommodations, exceptional dining, and world-class amenities, guests can enjoy breathtaking views of the tropical landscape, a tranquil spa, infinity pools, and a private beach. Centara Reserve Samui provides the perfect setting for relaxation and rejuvenation.
The Sarojin: A renowned 5-star resort that exemplifies luxury and sophistication, The Sarojin is a boutique beach resort with 56 guest rooms set amongst tranquil exotic gardens, with direct access onto a beautifully secluded beach. Creating a sense of refined comfort, the resort offers an impeccable selection of facilities including a lavish spa, infinity pools, sumptuous culinary experiences, attentive service and even the resort's own luxury private yacht.
Centara Grand Beach Resort & Villas Krabi: Located on the secluded and private bay of Pai Plong in Ao Nang, Centara Grand Beach Resort Krabi is fronted by a 500 metre white sandy beach and is backed by amazing limestone cliffs. An extraordinary retreat offering a captivating blend of natural beauty and exceptional hospitality, the resort features lavish accommodations, seamlessly blending traditional Thai architecture with modern comforts. World-class amenities and breathtaking views complete the package for an unforgettable experience.