5 Star Queensland Islands Resorts
Located on the far north coast of Queensland, the Queensland Islands are a popular holiday destination due to their stunning natural environment and proximity to the world famous Great Barrier Reef. Renowned as a luxurious holiday paradise, 5 star Queensland resorts are the perfect way to see this unforgettable part of Australia in style.
Whether you enjoy the finer things in life or are looking for the most comfortable place to retire at the end of a long day of water sports and exploring, the deluxe accommodation available on the Queensland Islands has everything you need for a relaxing and enjoyable stay.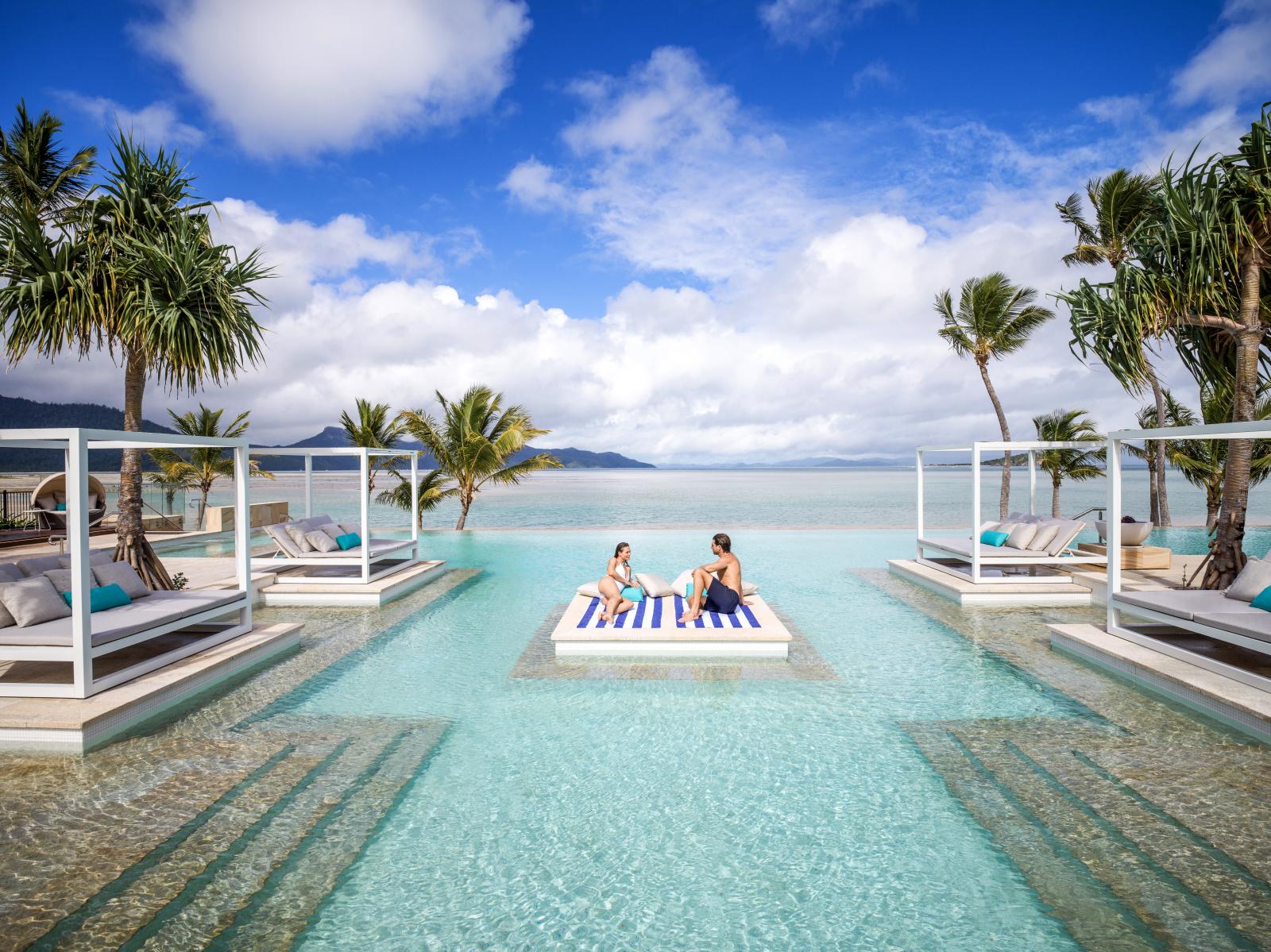 Queensland Islands | 5 Star Holiday Packages
5 star Queensland Island resorts are located on a number of the Whitsunday Islands including Magnetic Island, Hamilton Island, Hayman Island and Long Island. TravelOnline's 5 star Queensland Islands holiday packages offer an unbeatable location, amazing onsite facilities, outstanding service and some of the most spectacular views you'll find anywhere in the world.
Top 5 Star Queensland Islands Resorts
InterContinental Hayman Island Resort: Located on the pristine Hayman Island in the heart of the Great Barrier Reef, InterContinental is a highly acclaimed 5-star retreat that epitomizes luxury and sophistication. Showcasing exquisite accommodation, combining contemporary elegance with breathtaking views of the surrounding turquoise waters, guests can indulge in a wide array of world-class amenities, including an iconic complex of swimming pools, a rejuvenating spa, and exceptional dining options. With its idyllic beachfront location, unparalleled natural beauty, and unwavering commitment to personals service, InterContinental Hayman Island Resort delivers an unforgettable experience in a breathtaking setting.
Hamilton Island Beach Club: Located on the pristine beachfront of beautiful Catseye Beach, Beach Club offers luxurious boutique accommodation with spectacular Coral Sea views. A unique resort, Beach Club adopts a strict adult's only policy to ensure a relaxing and intimate escape for all guests. The Beach Club boasts elegant and spacious rooms, exquisitely furnished and equipped with modern amenities. Guests can indulge in exclusive access to a private infinity-edge pool and lounge area, ensuring a serene and intimate experience. The resort also offers an outstanding range of onsite leisure facilities including the exclusive club lounge, 24 hour room service, a VIP chauffeur service and much more for a deluxe holiday experience you won't forget.
qualia: A renowned luxury resort that embodies elegance and sophistication on Hamilton Island, qualia is set against the backdrop of the Great Barrier Reef. Nestled on Hamilton island's northernmost tip, the resort is situated within 30 acres of peaceful bushland with uninterrupted views of the Coral Sea and surrounding Whitsunday Islands. This exclusive retreat offers a secluded and indulgent escape for discerning travellers, with exquisite pavilions and private villas designed with contemporary elegance. Boasting breathtaking views of the surrounding natural beauty, qualia is the ultimate in unique Australian experiences. With its meticulous attention to detail, impeccable service, and serene ambiance, qualia is a haven of luxury that promises an unforgettable stay in one of the most iconic destinations in the world.
Hamilton Island Yacht Club Villas: A prestigious 5-star resort located by the marina, Hamilton Island Yacht Club Villas offers luxury accommodation with spectacular views of the waterfront, Dent Passage and the surrounding islands. With their modern and stylish design, spacious layouts, and breathtaking views of the marina, the Yacht Club Villas offer a truly indulgent retreat. Nestled amid lush tropical gardens, each villa comes with your own private electric buggy to transport you around the island at will. Guests also enjoy access to a range of premium amenities, including a private pool and outdoor entertaining area. The resort's convenient location allows for easy access to Hamilton Island's popular dining, shopping, and recreational precinct.