Melbourne is one of Australia's most popular cities to visit whether for a quick weekend away or an extended holiday. With some of the top hotels in Melbourne, accommodation is easily taken care of, putting you right in to heart of this city's trendy bohemian vibe. Renowned for its fantastic shopping, gourmet cuisine and foodie scene, live music and performing arts, melting pot of culture, stunning old architecture and sporting icons, Melbourne offers a great range of nightlife and entertainment.
The top hotels in Melbourne, and there are many, are conveniently located close to shopping, dining and attractions as well as the city's famous public transport system. There are plenty of top hotels in Melbourne to choose from however we've compiled a list of the top 5 hotels in Melbourne to make your decision a little easier.
Top 5 Hotels in Melbourne
Breakfree Heritage Little Bourke: Located in the centre of Melbourne's CBD, this self-catering apartment-style accommodation enjoys all the modern comforts within the beautiful facade of a heritage building. Conveniently close to public transport, this iconic hotel is surrounded by a number of boutiques, cafes and restaurants, entertainment options and attractions.
Crown Metropol Melbourne: Part of the Crown Entertainment Complex, this luxury accommodation is conveniently located directly opposite the Convention and Exhibition Centre and offers an outstanding range of onsite facilities as well as a number of major attractions, shopping and dining located nearby.
Crown Promenade Melbourne: Set on Melbourne's Southbank making up part of the Crown Entertainment Complex, this stylish yet comfortable accommodation offers an unbeatable located and excellent onsite facilities surrounded by the convenience of some of the city's best shopping, dining and nightlife.
Crown Towers: The ultimate in luxury, this deluxe accommodation enjoys prime position overlooking the Yarra River, Port Phillip Bay and sparkling city skyline. Home to the 24 hour casino and more than 40 restaurants and dining options, this is the place to see and be seen surrounded by the best of Melbourne city.
The Crossley Hotel: Situated near Parliament on famous Little Bourke Street, this comfortable modern hotel is just minutes from the Melbourne Cricket Ground, Chinatown and some of Melbourne's premier dining, shopping and entertainment precincts. Enjoying easy access to public transport, the city of Melbourne is at your front door.
These are our top 5 hotels in Melbourne however the choice is ultimately yours and by comparing the vast range of accommodation TravelOnline offers in Melbourne, you can find a hotel to suit you.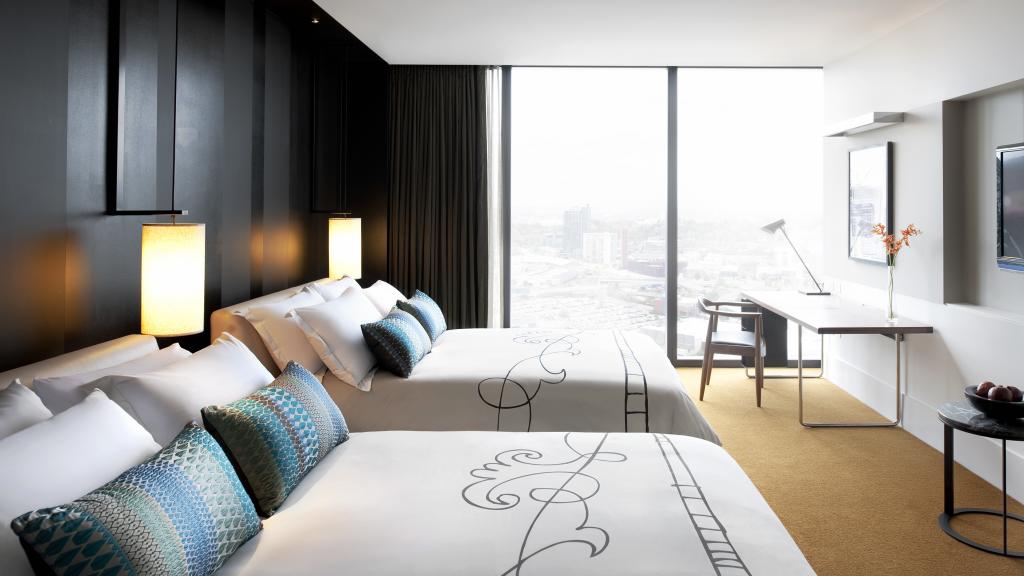 Comments