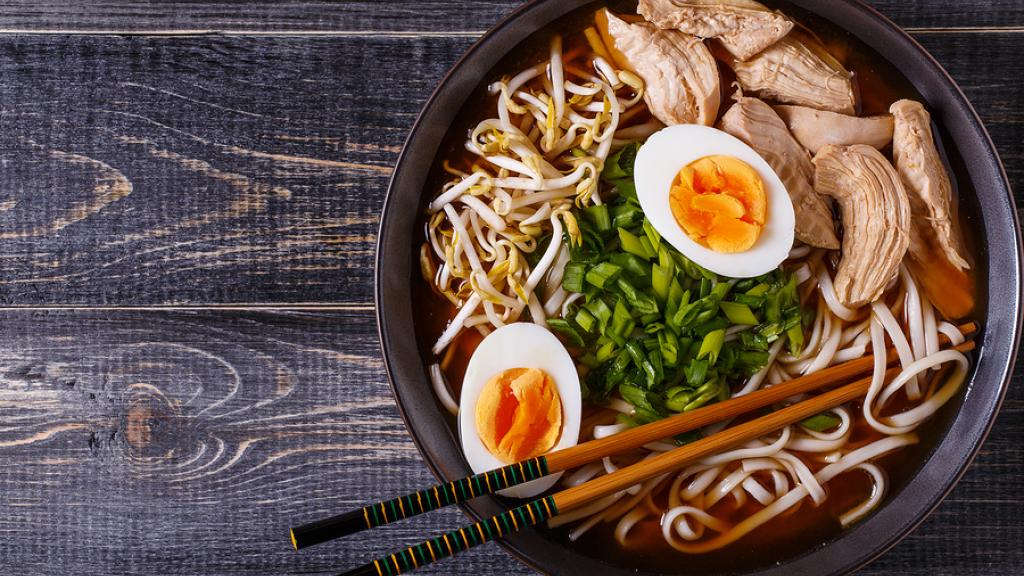 Ahh Japan… it's that quirky country where historic wonders meet Hello Kitty cafes, robot restaurants and real life Mario Kart. It's where you can order hot coffee from a vending machine, spend days exploring ancient temples and ski the powdery slopes of Hakuba. Japan is a unique destination with plenty of weird and wonderful things to discover. However, there may be one thing about your visit to Japan that you're approaching with some trepidation - the food. While many travellers define Japanese food as exclusively sushi, there is actually so much more delicious cuisine to discover. From fussy eaters to foodies, you're sure to find something to surprise and delight. Best of all, their little plastic renditions of meals on the menu make deciding and ordering especially foreigner friendly. We've taste tested Japan beyond the sushi to find the top 8 foods to try on your next Japan adventure.
Ramen
This is a pretty safe bet for the less adventurous eaters among us and once you taste a steaming hot bowl of these fresh handmade noodles, you'll never look at 2 minute noodles the same. Topped with some of the most tender pork you've ever tasted, ramen is traditionally served swimming in a rich and delicious broth and garnished with spring onions and a just-cooked egg. Total heaven. If you just so happen to be walking the streets of Tokyo during the colder months, a steaming hot bowl of ramen is like food for your soul.
Karaage
A great option for kids, karaage (pronounced kah-rah-geh) is basically just Japanese fried chicken. The Colonel may have his 11 secret herbs and spices, but this Japanese fried chicken has some secrets of its own that make it irresistible. Marinated in a tasty soy-based sauce, succulent pieces of chicken are lightly coated in seasoned flour and fried to golden delicious crispy perfection. It sounds simple, but no matter how long you stay in Japan you'll never get sick of these tasty morsels available everywhere.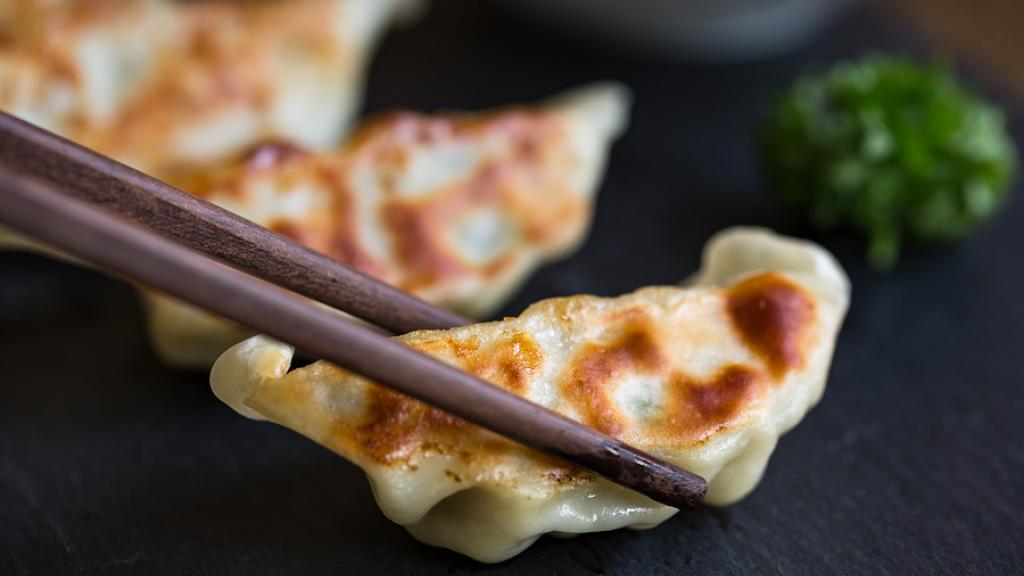 Gyoza
Gyoza (pronounced gee-oh-za) are a type of Japanese dumpling similar to a dim sim. Usually filled with vegetables and minced pork, prawn, chicken or a combination, gyoza can be boiled, steamed or pan-fried. The most common filling is a mixture of ground pork, ginger, garlic, sesame oil, Asian chives and cabbage all wrapped up in a thinly rolled dough. One of the most popular ways to enjoy gyoza is known as yaki-gyōza, a combination of pan frying and steaming the dumplings. This makes the gyoza golden crispy on the bottom and soft and tender on the top. Delicious as a snack on the go, a side during your meal or at an all-you-can-eat dumpling house gyoza extravaganza.
Yakitori
The name yakitori literally translates to 'burned chicken' and while that may not sound particularly appetising, these grilled skewers of chicken are surprisingly tender and juicy with just the right amount of smoky flavour. Small chunks of chicken are skewered and seasoned with a thickened, sweetened soy sauce known as tare before being placed on a charcoal fire grill. This cooking method produces strong flames and high heat with little to no steam allowing the chicken to cook quickly while achieving a mouth-watering smoky flavour and crunchy texture.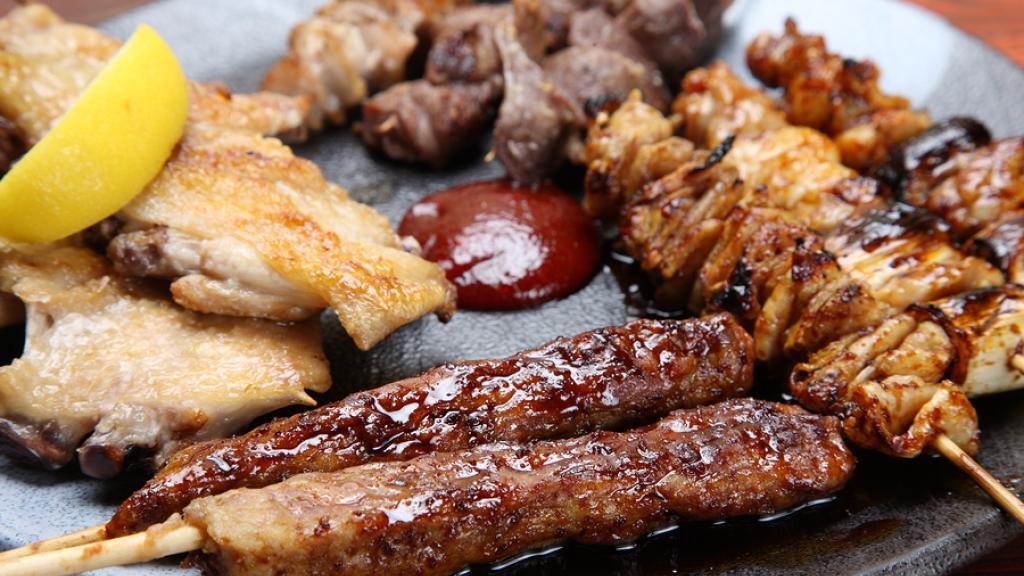 Yakiniku
Another dish that uses grilling over fire to impart a richer flavour, yakiniku typically uses beef dipped in a savoury sauce. Japanese beef is known for being some of the best in the world and the two most popular cuts for yakiniku are sirloin (known as rosu) and a Korean-style marinated beef (known as kalbi) however, there are many types of meat available to suit your taste and budget. By lightly grilling the beef directly over the fire, the soft flavour of the meat really shines through. One of the best places to sample this staple is at Nishiki Market, the most famous market in Kyoto and affectionately known as 'Kyoto's kitchen'.
Tonkatsu
When you're feeling like something warming and hearty that reminds you of home, you can't go past tonkatsu. Based on the Western dish of pork cutlets, this Japanese specialty uses a thick cut of pork coated in panko (flaky Japanese breadcrumbs) deep fried to perfection and served with shredded cabbage. To savour the flavour even more, try a katsu curry. This dish is based on tonkatsu but served with rice and a thick, flavour-packed curry sauce which is slightly spicy without being too hot.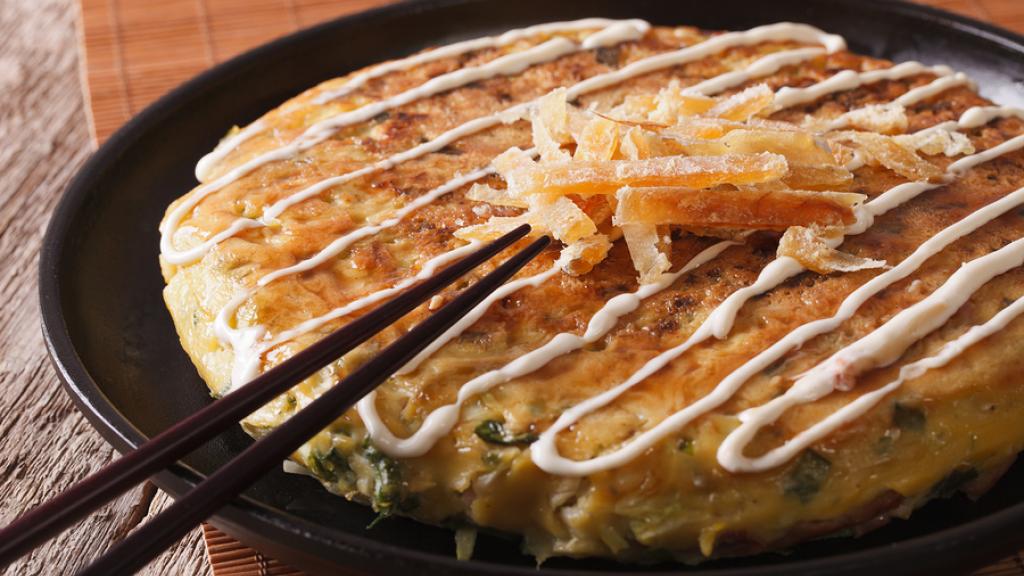 Okonomiyaki
Its name may seem like a tongue twister, but okonomiyaki is a taste bud pleaser. A savoury pancake featuring a variety of toppings and ingredients, the dish is often compared to an omelette or 'pizza'. The name literally translates to okonomi, meaning 'what you like' and yaki meaning 'grill'. Using a batter of grated yam, shredded cabbage, flour and eggs, the pancake is mixed with green onions, vegetables and your choice of thinly shredded meats. Cooked on a teppan grill by skilful chefs using metal spatulas, the pancake is then topped with Japanese mayonnaise, seaweed flakes, bonito (dried fish) flakes and a traditional sauce that is like a thicker, sweeter version of Worcestershire sauce. Super tasty stuff!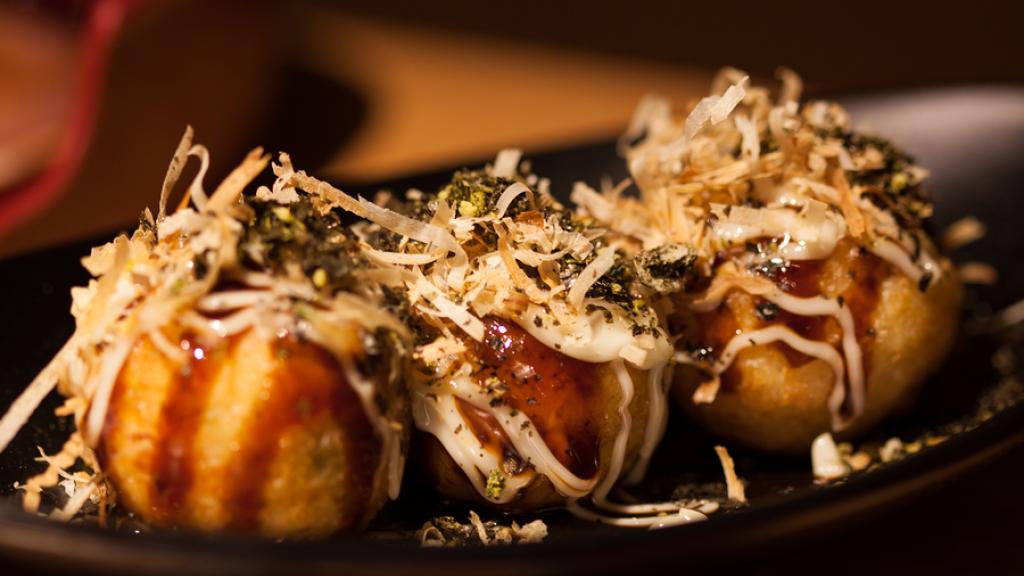 Takoyaki
Takoyaki are basically octopus balls (ahem no not those kind of balls) and they taste as special as the pans they're made in. These flavour-packed snacks are made from a wheat-based flour batter filled with minced octopus, pickled ginger and green onions cooked in a specially moulded pan by chefs that flick so quick, blink and you'll miss it. Finished with a thick sweet yet savoury soy-like sauce, mayo and bonito flakes, these little flavour bombs explode with deliciousness. Takoyaki pans are cast iron griddles formed as half-spherical moulds and as the takoyaki cooks, the chefs turn each ball with a pick to ensure even cooking all over. Watching takoyaki cook and be flipped is almost as fun as eating them…almost.
Have you tried any of these amazing Japanese dishes? Let us know in the comments below!
Comments