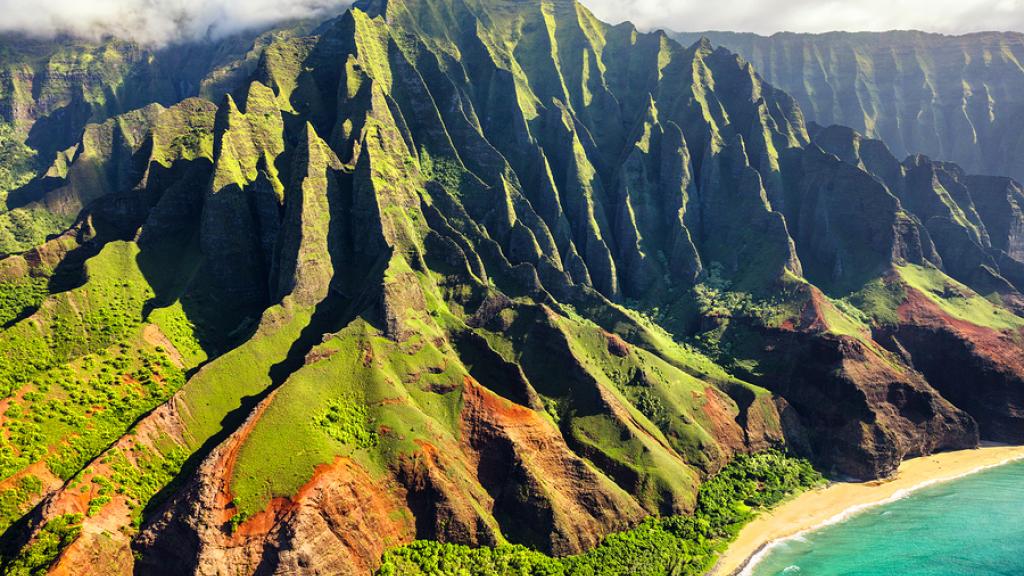 Renowned for its stunning resorts, world-class shopping and unbeatable beaches, Hawaii is a holiday-makers dream. Yet there comes a time where one must leave the resort, brush the sand from our feet and learn a little more about this beautiful island state.
We suggest hitting the road, turning the music up and touring the lush archipelago on wheels. Discover the real Hawaii in local cafes, secret waterfalls and intrepid walks. Experience the scenery that they don't include in the brochures, the wide expanses of desert and remarkable vistas. Wind your windows down and take your holiday on the road.
Waimea Canyon, Kaua'i
Dubbed the Grand Canyon of Hawaii, experience the deep red lava beds and impressive ridges of Waimea Canyon. While you can choose to return along the same scenic road that takes you from Highway 50 (Waimea Canyon Drive), you may (as many do) elect to head back down via Kokee Road for a different perspective (and ocean views).
Both drives are steep, and Waimea Canyon Drive can feel quite rough, with narrow turns. This is all part of the challenge however, and the vantage points make it worth it. Continue on to Kokee State Park, where the entire landscape transforms and you head into 4,345 acres of verdant rainforest – a far cry from the arid canyon just a few kilometres back.
Saddle Road, Big Island
Cutting across the saddle-like valley that separates Mauna Loa and Mauna Kea on Hawaii's Big Island, you'll start in Hilo and travel 83 kilometres of diverse, space-like terrain through to Kailua-Kona.
Initially built as a military shortcut through the islands centre, Saddle Road was long considered Hawaii's most dangerous road. Today, despite the steep elevation and hairpin turns, the road has been sealed and is regularly maintained. Enjoy awe-inspiring views of lava flows, arid landscapes and lush vegetation; this is a drive with more than a couple of surprises up its sleeve. Be sure to fill up on gas before departing though, there's no gas stations on this adventure.
Road to Hana, Maui
One of the world's most iconic scenic drives, the Road to Hana takes you along 620 curves, miles of single lane road and across 59 narrow bridges. Pass by terraced falls, intrepid walks and a reportedly 'unmissable' banana bread stand. While this trip should take you between two and four hours, it's worth putting aside a day or two to enjoy the various pit-stops and natural wonders that are found along the 100km drive. Enjoy lush rainforests, swimming holes and ocean views, but take note that this is a tourist-heavy route and not the drive for those seeking a tranquil escape.
Kahekili Highway, Maui
This one is not for the feint of heart. If you're looking for a classic Hawaiian scenic drive, then choose the Road to Hana instead. However, if you're sick of tourists, feel as if you're struggling to get to the heart of Hawaii and are up for a challenge, take the road less ventured.
The Kahekili Highway on Maui is something of a legend, almost 20 miles of (poorly paved) single lane road, pressed against a solid cliff face and sheer mountain drop. While allowing room for just one lane of traffic, this is a two-way drive (without guardrails), so drivers need to take this slowly – especially when approaching the frequent hairpin turns. It's important to note that this drive should not be attempted at night. Tourists should also consult their hire contracts as many car companies exclude this road from their cover.
Despite the challenges, with fair warning, many say that this is one of the best drives in the world. Sensational views, quiet roads and an adrenaline-worthy experience that can't be beat.
Comments