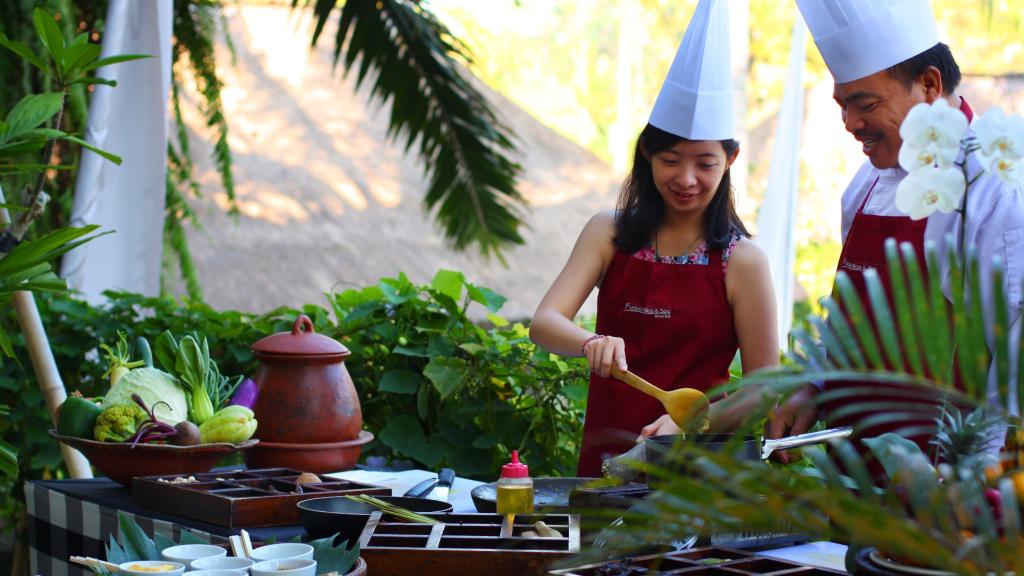 The food and cuisine of Bali is certainly a highlight of any trip to this vibrant holiday destination. Whether you're game enough to indulge in the most traditional fare or prefer to stick to slightly more familiar options, it's worth trying Balinese cuisine for the authentic experience while you're visiting. While the exotic sounding food may conjure some interesting images, the cuisine of Bali truly is a contrast.
The daily diet of the Balinese is delicious if not basic, but it is the festival food that really showcases the astronomical gastronomy of this part of South East Asia. These elaborate feasts are designed to be shared and enjoyed with the ones you love and will have you head over heels with their delicate balance of flavour. Influenced by India and China, Bali food and cuisine is tied to Indonesian flavours and incorporates seafood as well as fried vegetables and chicken or meat.
Some of the most popular dishes are of course, the wide variations of fried rice and noodles as well as stir frys, sweet and sour dishes, gado gado salads, peanut satays and mie goreng but the dish that delights the tastebuds of so many tourists is nasi goreng. Of all the Bali restaurants, perhaps the best nasi goreng can be found at Poppies Restaurant in Kuta near the Hard Rock Hotel Bali.
Having been around for more than 30 years, the chefs at Poppies must be doing something right. The setting and the quality of food makes Poppies famous with food bloggers and travellers from all over the world. Offering excellent food and generous portions, you can't beat the value of Poppies, with the average cost for an excellent feast just $5 per person. If you'd like to try and recreate the magic of Poppies back home, this is the closest recipe you'll find. You can't get a more authentic Balinese nasi goreng without travelling to Bali.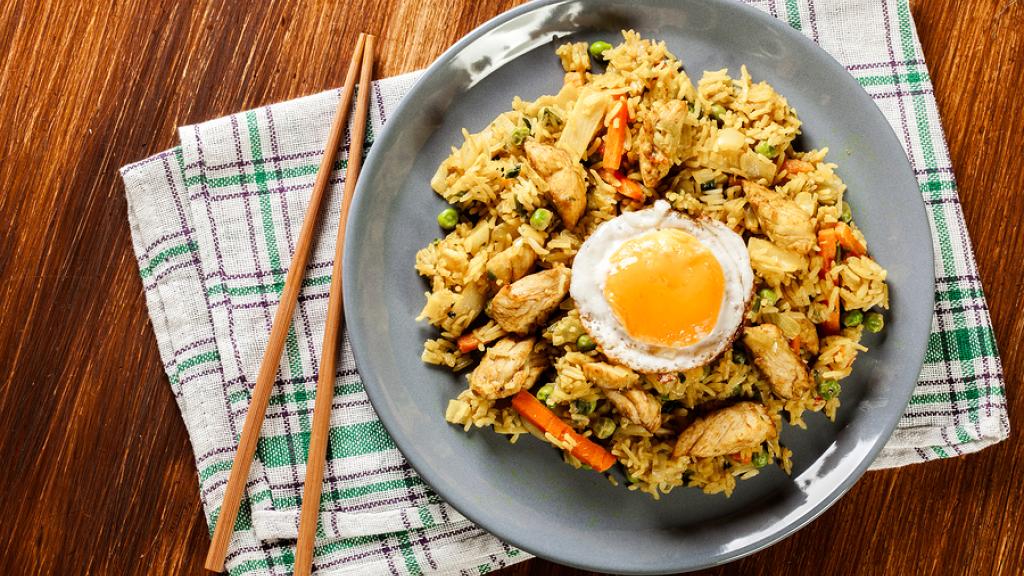 Nasi Goreng
6 small shallots
3 cloves of garlic
1 tsp shrimp paste, toasted
2 tsp red chili
1 tsp pepper
3 tbsp kecap manis
1 tbsp soy sauce
3 whole eggs
150 g chicken breast
1/4 cup cooking oil
600 g cooked medium grain rice, cold
1 spring onion, chopped finely
1 Stick Chinese celery, chopped finely
To serve:
Shallot flakes
Fried egg, sunny side up
Directions
1. Grind garlic, shallots, chilli and toasted shrimp paste in a mortar and pestle to a fine paste.
2. Deep fry the chicken until golden, let cool and then shred.
3. Whisk eggs in a small bowl adding a small amount of water and seasoning with salt.
4. Heat oil in a wok and stir-fry spice paste until slightly browned.
5. Push toasted spice paste to the side of the wok and pour the egg mixture into the wok.
6. Scramble the egg. Before the egg is set, mix in the spice paste and cook for 1 minute.
7. Add the chicken and season with pepper. Add the cooked rice and mix well.
8. Add kecap manis and soy sauce, ensuring all rice is covered and stir well to combine.
9. Stir-fry everything quickly over high heat, for 6-7 minutes.
10. Add spring onion and celery in the final minutes, mixing well.
11. Serve warm with fried egg, shallot flakes, sliced tomato or cucumber and crackers.
Although there are a number of versions of this dish, this incarnation is my favourite. Of course if you want to recreate it yet make it your own you can always use beef or lamb, just ensure you cut the meat into bite-sized pieces and stir fry them quickly with a bit of salt and kecap manis. You can even add satay, peanut sauce or roasted peanuts if you wish, as long as you keep the foundation ingredients of chilli, shallots, kecap manis and shrimp paste you'll have yourself an authentic nasi goreng. Another tip is to make sure you use a heavy bottomed wok rather than a saucepan and you'll live happily ever after with the most delicious Balinese fried rice.
Comments