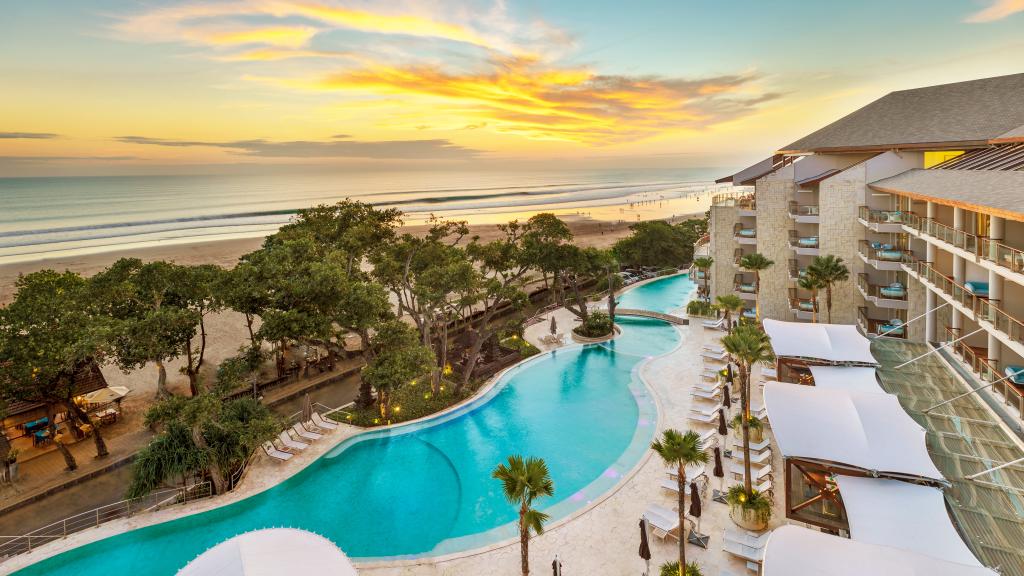 A tropical island of iconic rice paddies, surging surf breaks and glistening coastline, Bali is a one of a kind holiday destination. Known for its laid back lifestyle and unparalleled attractions, Bali offers travellers the choice of ultimate adventure or complete leisure. Whether you're seeking an action packed adventure or lazy beachside escape, Bali is the kind of destination that meets every kind of holiday expectation. Here are 7 photos that prove Bali is always a good idea.
The Bali Swing
Located just 20 minutes from Ubud, The Bali Swing is an adrenaline pumping holiday experience that has quickly become one of the islands most popular tourist attractions. Overlooking a tropical palm tree valley and meandering streams, the Bali swing offers incredible views and photo opportunities as you soar above the jungle and rice paddies. Be sure to arrive early though, as the Bali swing is very popular and lines have been known to reach 3 hours long!
Nusa Lembongan
Known as Bali's tropical playground, Nusa Lembongan is a tiny island that offers some of the most pristine scenery, azure tropical waters and spectacular coral reefs in all of Asia. Nothing like the bustling streets of Bali's main island, Nusa Lembongan's golden beaches and scenic coastline offer a relaxing holiday escape completely undisturbed by street vendors or traffic.
Food Culture
Known for its delicious cuisines and funky café culture, Bali is one of Asia's top destinations for foodies. Located in Seminyak, KYND Community is an gorgeous café that serves up a range of healthy salads, fresh juices and tasty treats. Known for its pretty pastel interiors and instagram-able smoothie bowls, KYND is one of our all-time favourite places for brunch in Bali.
Surfing
Boasting pipeline barrels and huge ocean swell, Bali is a haven for surfers. Thanks to its geographical position in the Southern Ocean, Bali is lucky enough to receive excellent year-round surf conditions that caters to surfers of all levels and abilities. To check out our favourite Bali surf spots, check out our Bali surfing page.
Massage
Bali's dreamy tropical landscape and tranquil ambiance makes it the perfect place to relax on holiday. There's no better way to unwind in paradise than with an indulgent Balinese massage. Renowned as Asia's spa paradise, Bali has one of the highest ratio of day spas to population anywhere in the world and the prices are ridiculously affordable. With massage treatments available from just AUD $5 you can indulge guilt free and treat yourself every day of your stay.
Ubud Monkey Forest
Nestled deep within the Bali jungle, the Ubud Monkey Forest is home to over 700 cheeky monkeys who just love to cause havoc and entertain tourists. Get up close and personal with these hilarious creatures in their natural environment and watch the antics unfold!
Finns Beach Club
Located on the beautiful Berawa surf break, Finns Beach Club is Bali's hottest new hangout. Featuring swim up pool bars, underwater speakers, live music and delicious food, Finns Beach Club is always a good idea. Spend your days soaking up the sun and partying in true Bali style at this tropical island paradise.
Have you visited the magical island of Bali? Let us know in the comments below
About The Author
Comments