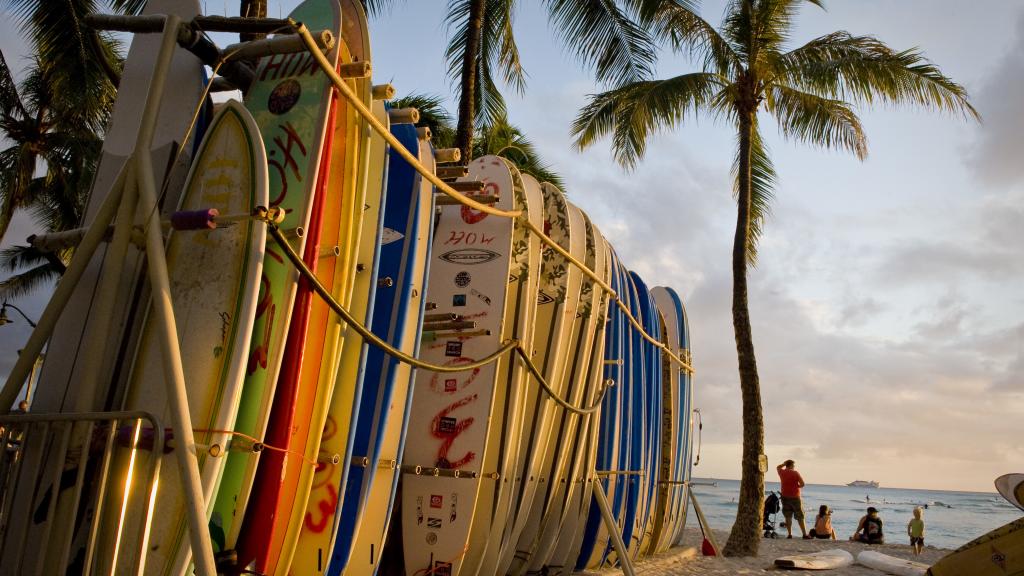 If you grew up watching Brady Bunch repeats and old-fashioned Elvis Presley films, you probably think Hawaii's main island of Oahu is still a haze of hibiscus shirts and happy hang loose vibes. While this is still true to a degree, Honolulu has grown into a cosmopolitan and modern city with much more to explore than just its cocktail menus. While Waikiki Beach is most certainly beautiful, it doesn't provide the full Hawaii experience. Once you've spent some time shopping, swimming and sampling the local cuisine, there's some must-do experiences that offer an insight into a more authentic Hawaii and trust us, there's lots to love.
1. The North Shore
Just over an hour's drive from downtown Honolulu, Oahu's North Shore is the version of Hawaii you were expecting. A barefoot paradise that hugs the Pacific coastline, the North Shore is where life really slows down and you begin to appreciate island life. Sure, there's stuff to do if you want to (the Polynesian Cultural Centre is certainly worth a look) but this beachside hamlet is really best for doing not much at all.
Offering some of Hawaii's most famous surf beaches you can spend lazy days in the crystal clear waters of Sunset Beach, Waimea Bay and Banzai Pipeline. The little town of Haleiwa is a relaxed spot by the beach where locals sit and chat on deckchairs outside surf shops. The main street is lined with delicious food trucks offering everything from traditional Hawaiian fare to more modern morsels. While here you simply cannot pass up the opportunity to try local delicacies Giovanni's garlic butter shrimp and Matsumoto Shave Ice.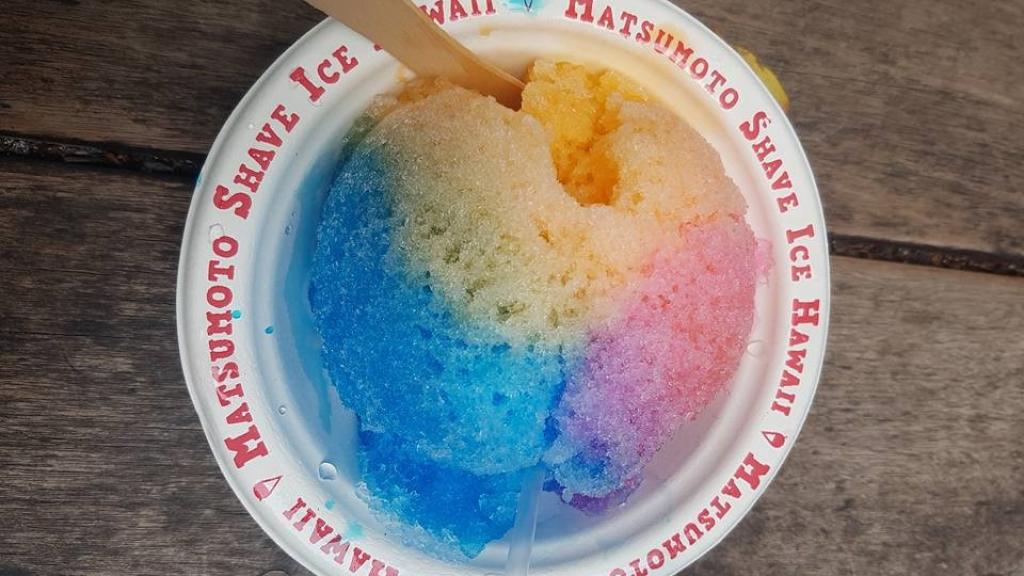 2. Waimea Valley
While up on the North Shore, take a detour off the Kamehameha Highway for a natural attraction that also offers history, wildlife and culture. Awarded to the local people (known as Kahuna Nui) in 1090 by Oahu's then ruler, the land of Waimea Valley was cared for and lived off by high priest descendants until 1886. These days, the lush green 758 hectares that make up the valley promise untold treasures to discover. Littered with wildlife and sacred sites, the Valley offers postcard-perfect views and plenty to explore.
For a small fee you can enter the natural park and take the leisurely walk up to stunning Waihi Waterfall for a swim. Along the way you'll find huge botanical gardens with more than 5000 varieties of tropical and sub-tropical flora as well as native fish, endangered birds and approximately 78 archaeological sites including fishponds, agricultural terraces, houses and shrines. Known as Kauhale, this incredible nature attraction is considered an ancient Hawaiian living site.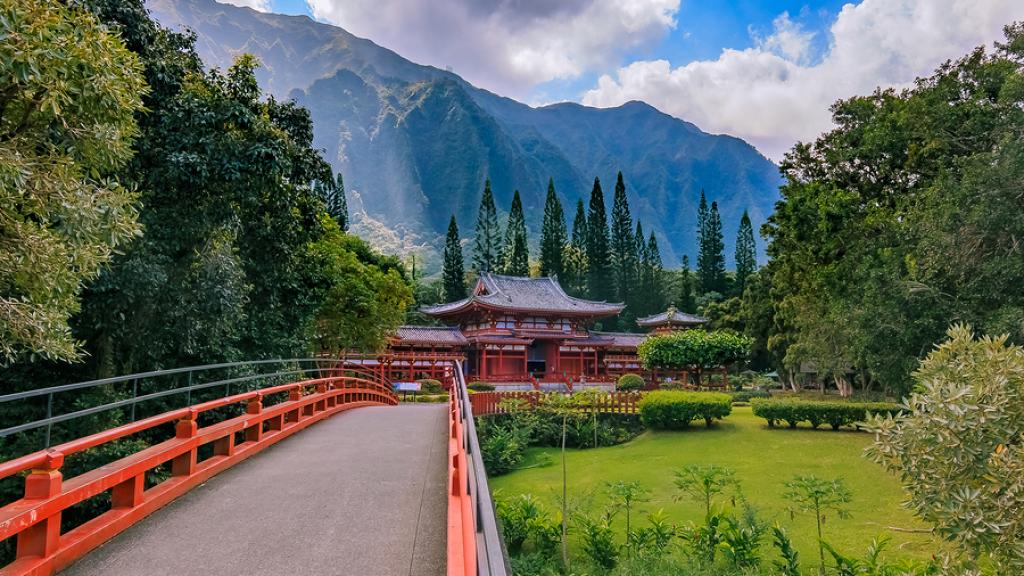 3. Byodo-In Temple
Long before Hawaii and Japan were linked by the infamous events of Pearl Harbor, Japanese immigrants had been living and working in Hawaii for more than 70 years. Located in the Valley of the Temples Memorial Park in the shadow of the Ko'olau Mountains, Byodo-In Temple is an intricate, non-denominational Buddhist temple that is a more modest replica of the original 950-year old temple located in Uji, Japan. Dedicated in 1968, the temple marked the 100 year anniversary of the arrival of the first Japanese immigrants to Hawaii.
Aside from the sheer beauty of the temple's exterior, inside visitors will also find the gigantic gold Amida Buddha stature, the largest of its kind outside of Japan. The temple grounds also feature a Bell House, complete with 3 tonne brass bell cast in Osaka in cooperation with the Japanese government and a Meditation Pavilion for endless tranquillity. The Shinji-ike reflection pond is filled with countless koi which you can feed with food available from the gift shop. If you're lucky, you might also catch one of the resident peacocks strutting their stuff and showing off their colourful plumes.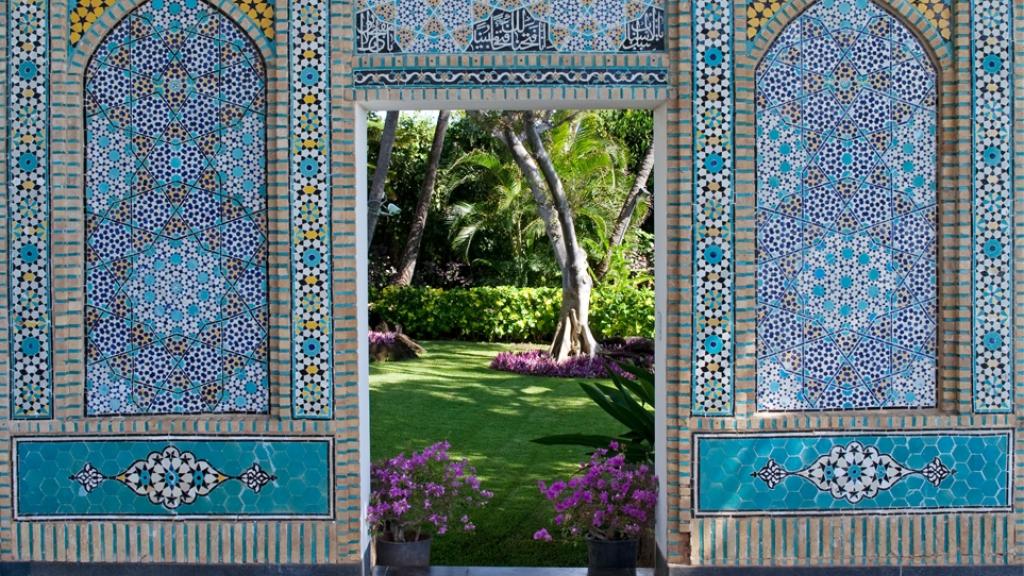 4. Doris Duke's Shangri La
A rich collection of Indian and Middle Eastern art and antiques is not something you'd expect to find in Honolulu, however it's this pleasant surprise that makes heiress Doris Duke's former home and museum such a unique delight. Known as Shangri La, this incredible home is perched on the shores of the Pacific Ocean in the shade of Diamond Head and houses a world-class collection of treasure. Having inherited millions from her father's death in 1925, Doris set off on her honeymoon around the world at 23 and become more enamoured with Islamic art and architecture than she did her husband. While the marriage didn't last, her love for these antiquities did, as did her love for Hawaii - the last stop on her honeymoon and her new home towards the end of the 1930s.
First discovered in the palaces of Moghul India, Doris collected everything from marble screens from India to 900 Iznik tiles, a hand-painted ancient Iranian prayer nook from a Vermin mosque and even entire carved and painted rooms imported from Syria. The house is now a museum which can only be accessed as part of an intimate tour which begins at the Honolulu Museum of Art. Volunteers guide you through the lush gardens and house where this is no 'free time' to explore and absolutely no touching. This limited access to an incredible art collection is a privileged experience and an insight into another world. It's something truly special.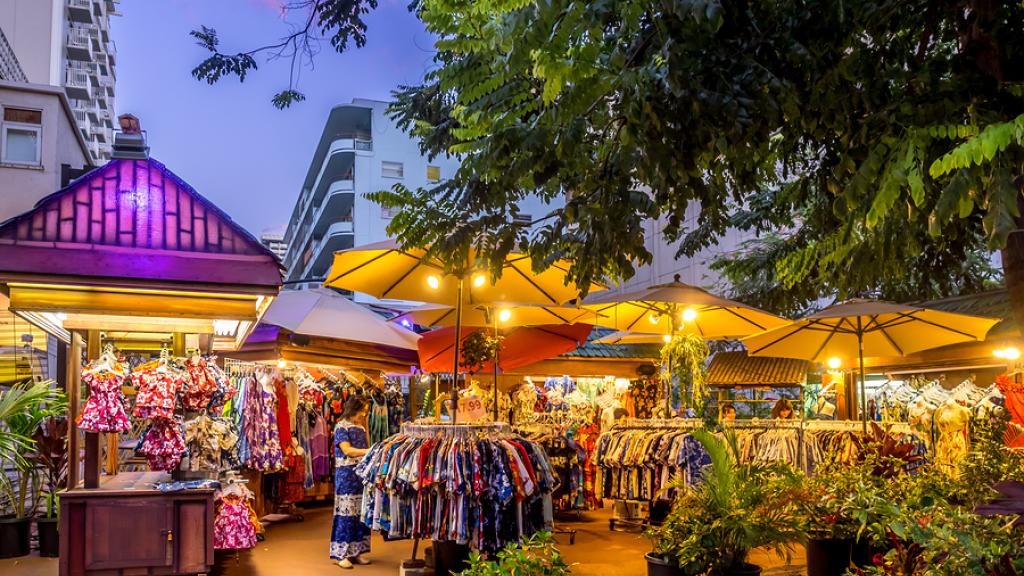 5. Chinatown
Just a few minutes away from the longboards and legendary hotels of Waikiki is a wave of activity in Chinatown. Beginning on Maunakea Street, you'll find gorgeous fresh flower headdresses and leis handwoven from exquisite orchids, fragrant frangipani and tuber rose. You'll also find the old school Maunakea food market where the rich ethnic diversity of Hawaii is on display. Chinese, Filipino, Korean and Vietnamese vendors trade alongside each other selling everything from Chinese greens and fresh-off-the-boat fish to blue swimmer crabs and neon-pink salted duck eggs.
The area is still a little edgy thanks to some of the trendiest new restaurants in the city opening up shop. Channelling Hawaii's emerging organic local farm-to-table food ethos, these interesting eateries serve up a variety of unique fusion food. When your belly is full, lighten off your wallet at the old Hawaii tchotchkes and collectibles at the funky Tin Can Mailman or pop into Roberta Oaks for a modern take on aloha wear. Shopped off some of that food coma? Shoot across the road to Madre Chocolate for a spot of dessert and sample their incredible bean-to-bar chocolates.
Comments