5 Great Australian Road Trips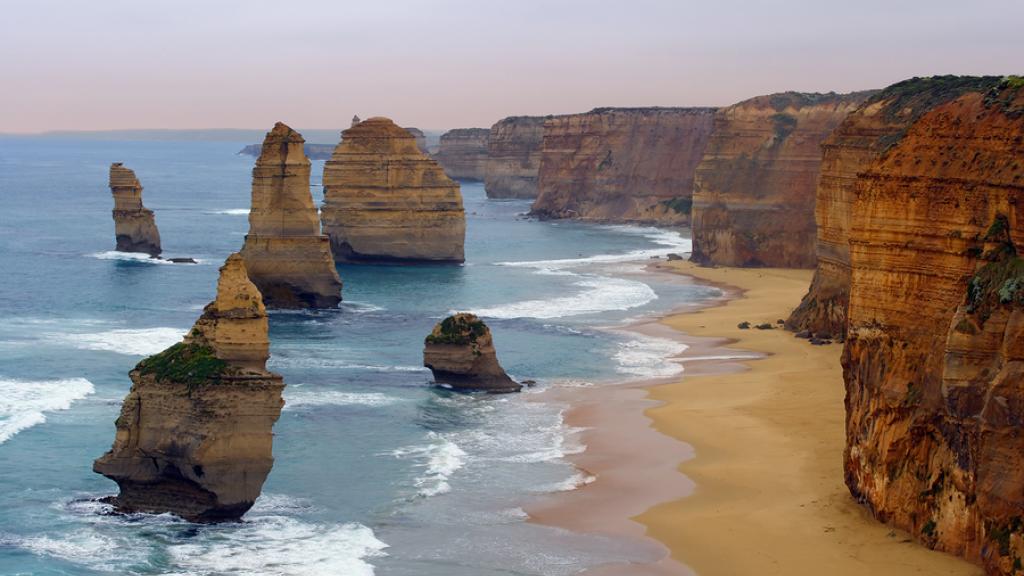 The Great Ocean Road (Melbourne to 12 Apostles, 275km)
Despite the tour buses which power through the nearly five hour drive from Melbourne to the 12 Apostles in an afternoon, the Great Ocean Road is best experienced over a number of days (or weeks if you can spare it). Sheer cliffs overlook the expansive, brilliant blue Bass Strait with each turn bringing yet another spectacular view. Allow time for frequent stops as the coastal villages which line the GOR each offer something new; often hot fish and chips or a must-try local ice cream.
While the Twelve Apostles are absolutely worth the distance, remember to enjoy the journey en route; with unspoilt rainforests, world-class surf and myriad day walks, there really isn't anything quite like the Great Ocean Road.
The Nullarbor Crossing (Perth to Melbourne, 3500km)
Crossing the Nullarbor itself is a mere 1365km journey but for those wishing to attempt the traditional cross-country road trip, 3500km of (mostly) arid road will get you from Perth to Melbourne. Not to be attempted without some preparations, the Nullarbor is renowned for it's spectacular 'nothingness'. The longest, flattest road in Australia, much of the trip is consumed with views of empty plains and wind-battered shrubbery (for hundreds of kilometres). Which isn't to say that it isn't worth doing, rather this extraordinary trip tours some of Australia's most remarkable sites; the pure Eucla sand dunes, the Bunda Cliffs of the Great Australian Bight and of course, every 'big' tourist attraction you could desire from an outback drive.
For those seeking 'Australia' at its most authentic, 5 days of nothing should be exactly what you're looking for.
The Great Eastern Drive (Orford to St Helens, 176 km)
Arguably Australia's most spectacular state, Tassie locals are happy to guard this great secret. For those in the know, Tasmania offers breathtaking ocean drives through pristine National Parks and heritage towns. Enjoy renowned cellar doors, fertile farmland and expansive forest as you meander along the 176 km road between Orford and St Helens.
You can do the Great Eastern Drive in just a few days but for those who'd like to stop and walk, indulge in the regions gourmet food and wine and take time to swim, sleep and soak up the coastline, the trip could easily last a week or longer.
The Grand Pacific Drive (Sydney to Shoalhaven, 140 km)
Taking in rainforests, beach towns and 140km of gently curving bitumen, the Grand Pacific Drive is a magnificent route that can be enjoyed as a short day trip from Sydney's Royal National Park or as a great multi-day adventure. Meandering through regional centres such as Wollongong, Shellharbour and Kiama, travellers have the opportunity to check out the famous Jervis Bay beaches, indulge in fine regional produce and experience the remarkable Sea Cliff Bridge which boasts exquisite ocean views and shadowing cliff faces.
The Savannah Way (Cairns to Broome, 3700km)
Touring 15 national parks and five World Heritage sites, the Savannah Way stretches across the top end of Australia while taking in the majestic Kimberley, sprawling savannahs, diverse and abundant wildlife and many remote towns along the way. Introducing travellers to the red centre, this is not an entirely arid drive. Rather, visitors encounter pristine rainforests, sacred sites, long stretches of ocean and cavernous gorges and gullies.
While the distance could be travelled in a couple of days, this enormous stretch of land offers too much to rush. Take at least a week, preferably longer, to tour Australia's awe-inspiring backyard.
Comments
Posts by Category
Popular Posts
Follow & Share
What's Hot