Hawaii Hotels with Weddings
The majestic islands of Hawaii are a popular place to visit for a romantic and relaxing holiday, however this stunning string of islands is becoming more and more popular for weddings. Hawaii hotels with weddings are the ideal way to plan and host your wedding in Hawaii and with the spectacular natural environment, enduring island culture, stunning beaches, glorious sunshine and gentle ocean breezes, you and your fiancé will be swept away by an unforgettable ceremony to see you become husband and wife. This is also the ideal way to relax and spend some time on the islands before your big day or enjoy the convenience of having your honeymoon in Hawaii after your guests help to celebrate your special day.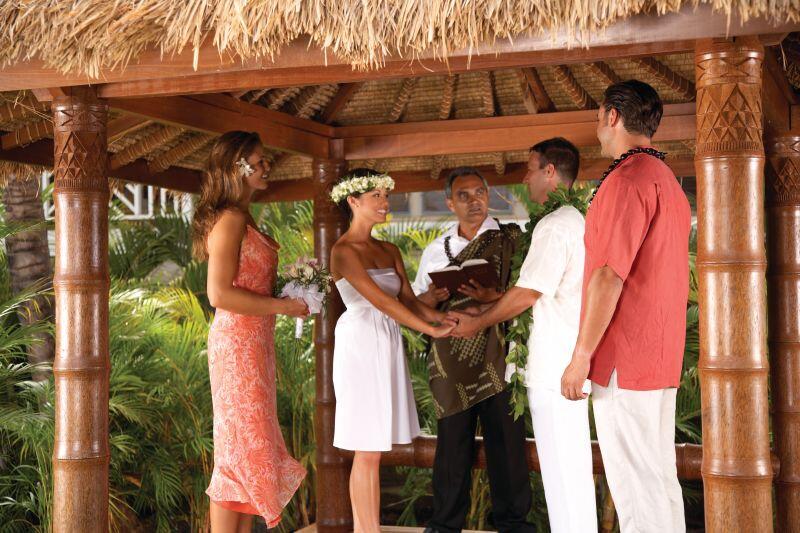 Hawaii hotels with weddings can be found throughout the Hawaiian Islands and include the famous Waikiki Beach in Honolulu, the beachfronts of Maui and the charming atmosphere of Hawaii Island or the 'Big Island' as it is also known. Ranging from 4 stars to 5 stars, these Hawaii hotels with weddings include staff that specialise in planning and executing the perfect wedding. These include event coordinators, kitchen staff, stylists and more. These hotels are also a convenient accommodation option for guests attending your wedding while offering the ability to take care of all the elements of your special day including decorations, ceremony location, reception, catering and more.
Located in Honolulu on the sands of Waikiki Beach, Outrigger Reef Waikiki Beach Resort offers picturesque scenery and one of the world's most famous locations for a large or intimate ceremony. A number of reception venues also allow couples to enjoy a tented reception right on the beach for the complete Hawaii wedding experience. Situated on the shores of Waikiki, The Royal Hawaiian, a Luxury Collection Resort offers a number of beautiful ceremony locations to choose from; including lush, intimate gardens and breathtaking beachfront settings. With a variety of packages to suit every kind of couple, the Royal Hawaiian is the perfect place to tie the knot. Also located in Honolulu, the Waikiki Beach Marriott Resort and Spa, boasts a choice of indoor and outdoor venues and friendly and experienced staff who can take care of all the important details (everything from the bridal bouquet to photography that captures the special moments).
Explore these Hawaii hotels that cater to weddings as the ideal way to celebrate your marriage and perhaps even your honeymoon.
Wedding Resort Packages