Hamilton Island Beaches
Breathtakingly beautiful and scenically stunning, Hamilton Island beaches are as you can imagine, idyllic. Glorious stretches of sand meet the Coral Sea as it washes in from the world famous Great Barrier Reef to create the beaches that resemble paradise.
Catseye Beach is the main beach on Hamilton Island and boasts a long stretch of sand that curves around the island. A relaxing beach with plenty of opportunity for seaside fun, you can relax on a lounge with a book, build a sandcastle or even take part in some entertaining water sports.
There are equipment and water sports hire options located on the beach including snorkelling gear, paddle boards and skis, windsurfers and even catamarans. Guided snorkelling tours are also conducted off Catseye Beach, with plenty of fringing reef to explore and at low tide, you can even walk out to the sand flats.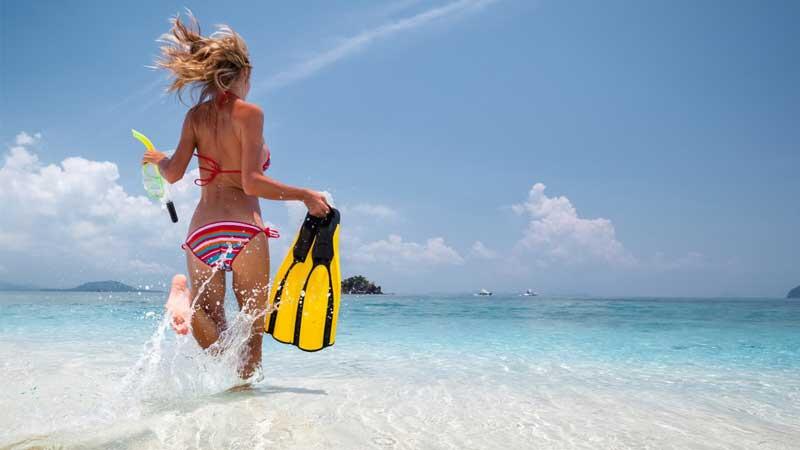 However, one of the most famous beaches in the Whitsundays is Whitehaven Beach, located just a half hour catamaran ride from Hamilton Island. Renowned for its breathtaking pristine white sand and striking crystal clear waters, Whitehaven Beach is a must see attraction on any Whitsundays holiday. Named one of the world's best beaches, the sand is comprised of up to 98% pure silica and as the sea washes onto the shore, swirling rainbows of azure, turquoise, green and blue can be seen.
The Whitsunday Islands National Park, located on the fringes of the Great Barrier Reef, protects Whitehaven Beach and has been voted Queensland's Cleanest Beach as well as the top Eco Friendly Beach in the world. Just down the other side of Whitehaven Beach is a secluded beach known as Betty's Beach. A more private option than the popular Whitehaven Beach, Betty's Beach is also teeming with scenic beauty. On nearby Hazelwood Island, you'll also find Chalkie's Beach which is another popular stop on day trips to Whitehaven Beach and the Whitsundays.
Deals For Hamilton Island