One of the most popular holiday destinations with Australians, we've always had a very special relationship with Fiji and its people. So when the COVID-19 pandemic swept across the world and prevented us from reaching its beautiful shores, it was a sad day for many Aussies whose trips were cancelled or postponed. If you're anything like us, for the last 18 months you've been longing for Fiji to reopen to visitors. It seems now more than ever we all need a relaxing break, and Fiji's road to reopening may be closer than you think.
With the recent announcement of 1 December as the target reopening date, the response has been clear that as soon as it is safe to do so, holidaymakers can't wait to visit. However, navigating international travel in a post-pandemic world has many people wondering what a holiday to Fiji will look like. The good news is, Fiji is still as beautiful as ever. That certainly hasn't changed. Absence makes the heart grow fonder and the friendly Fijian people are more excited than ever to welcome you.
In fact, Fiji holidays might just be exactly what the world is looking for as we learn how to adapt to the 'new normal'. Incredible, uncrowded properties surrounded by amazing outdoor experiences is just what the doctor ordered. Escaping the big cities to soak up some sun on pristine beaches, letting go of all the stress of the past 18 months and allowing ourselves to relax and enjoy life again is what the world needs right now.
How Will Fiji Achieve A Reopening Date Of 1 December?
Simply put, Fiji's main strategy for reopening is high rate of vaccination. Fiji was the first Pacific country to access COVID-19 vaccines from COVAX and received their first supply of 12,000 doses in March 2021. Since then, the island nation has continued to receive doses in batches and vaccinate more of their people.
Tourism Fiji CEO Brent Hill explains,
"Vaccination is the main strategy. So, re-opening at this stage is aimed at the end of 2021. In simple terms, Fiji will welcome vaccinated travellers, who submit to and pass a rapid PCR test, and who then stay and interact with certified tourism experiences."
As of 10th August, 523,285 adults in Fiji have received their first dose of the vaccine and 196,873 have received their second dose. The vaccination program will continue throughout the year, however Fiji has already done a fantastic job of rolling out the vaccine with over 80% of the target population having received their first dose and over 20% fully vaccinated. These percentages will continue to grow rapidly as more people are vaccinated.
Many businesses in Fiji, particularly those who rely on tourism, have pushed to get all employees fully vaccinated in an effort to accelerate the reopening date. Radisson Blu Resort Fiji, Denarau Island is one such business which has achieved full vaccination of 100% of its staff and in-house guests. It is also the first resort in Fiji to receive certification as a Pledge COVID-19 compliant hotel from Standard Global Services (SGS) - the world's leading inspection, verification, testing and certification company.
Fiji is taking its responsibility to ensure visitor safety very seriously, implementing recommendations from the World Health Organisation (WHO) and the Fiji Health Authority for sanitation, social distancing and general health and safety. The World Travel and Tourism Council has also developed 'Safe Travels' protocols to provide the industry with a new framework for global hospitality. The protocols provide consistency to countries as well as guidance to travel providers, operators, and travellers about travel and tourism in a post-COVID world.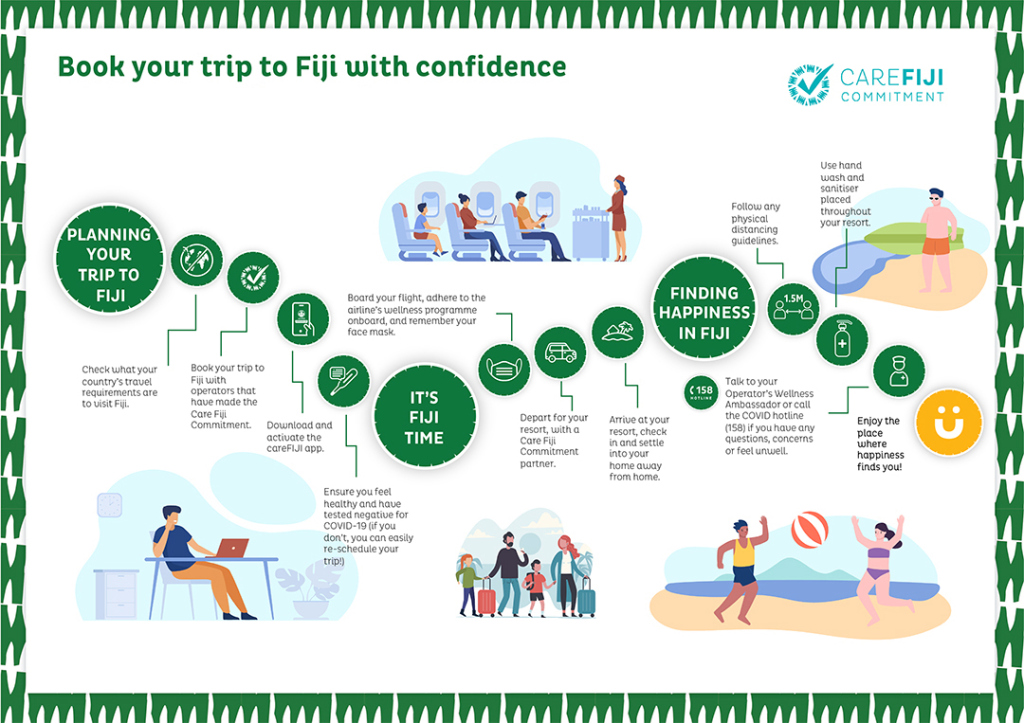 The Care Fiji Commitment
As travellers eagerly await the moment when they can travel to Fiji again, the Fijian tourism industry understands that the world has changed and visitors may have different priorities and expectations then they did before.
In support of the Fiji government's COVID-19 initiatives, the tourism industry has also adopted the Care Fiji Commitment; a WHO-approved standard of best-practice health and safety measures designed to align the industry to safe travel norms in a post-COVID world.
The Care Fiji Commitment is an assurance that Fiji is ready to welcome you back to their shores through the implementation of best-practice COVID-19 control policies and protocols. It is their commitment to you so that you can have a relaxing and safe holiday.
The Care Fiji Commitment is governed by the following key principles:
1. Border restrictions to protect Fiji, our people and our visitors
2. Best practice COVID-19 mitigation measures across the tourism industry
3. Destination-wide COVID-19 health and hygiene policies
4. Frontline staff trained in COVID-19 safe practices
5. Globally recognised control and mitigation measures
6. CareFIJI contact tracing app in place
In recognition of the Care Fiji Commitment program, the World Travel and Tourism Council recently declared Fiji as a 'Safe Travels' destination.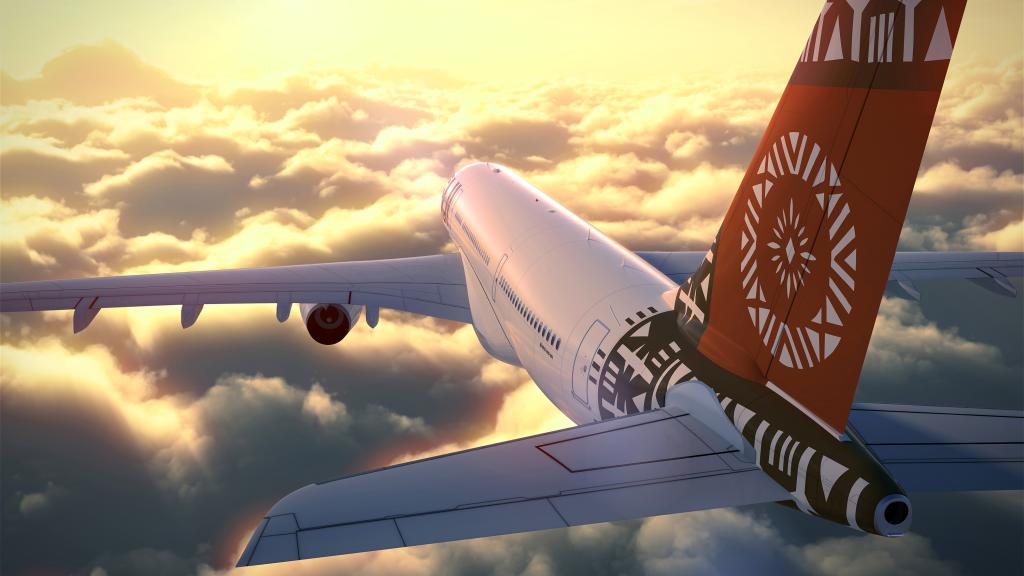 Getting To Fiji
Just like your holiday in Fiji may look a little different, so too will your flight - and for good reason. Fiji Airways, Fiji's national carrier, has also taken its responsibility for the health and safety of its passengers very seriously. Getting to Fiji is now safer than ever, with Fiji Airways receiving certification with the world's highest-level 5-Star COVID-19 Airline Safety Rating by SKYTRAX.
The SKYTRAX COVID-19 Airline Safety Accreditation is regarded as a global benchmark for evaluating COVID-19 safe travel and at the time of writing, Fiji Airways is one of just six airlines worldwide to achieve this top recognition. The airline flagged the importance of balancing safety initiatives while maintaining its unique level of hospitality, citing customer service as one of its top priorities.
Fiji Airways MD and CEO Andre Viljoen told SKYTRAX,
"SKYTRAX's extremely rigorous assessment system independently evaluated over 190 protocols in place for COVID safety, and to score perfectly across these is a remarkable achievement by an airline of our size."
Conducted in March and April of 2021 while the airline was operating repatriation flights to Australia, New Zealand, USA and Hong Kong, the COVID-19 Safety Rating assessed all safety and hygiene protocols introduced by the airline during COVID-19 to enhance customer and staff safety. Fiji Airways services 64% of all visitors who fly to Fiji, making this a vital move for the airline.
SKYTRAX CEO Edward Plaisted said,
"Fiji Airways has developed a very comprehensive COVID-19 safety programme and their attention to detail is a key factor in achieving this highest COVID-19 Airline Safety Rating. Fiji Airways have created robust systems and procedures, supplemented by their Customer Wellness Champions. Whilst COVID safety is at the forefront of priorities, it is pleasing to see that all aspects of the outstanding Fijian hospitality are very much a part of this."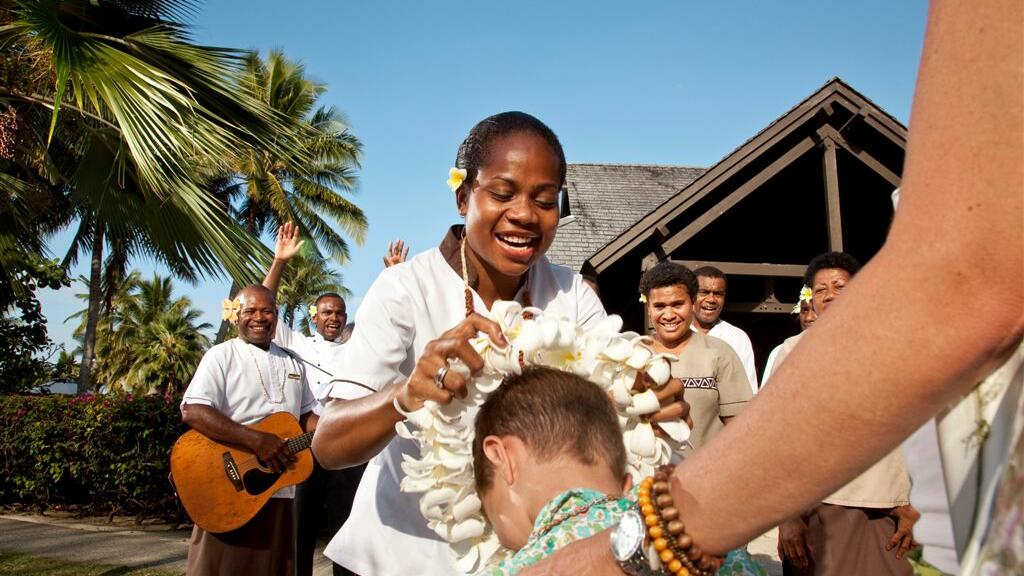 The Bula Bubble
With all of these safety measures in place, it's clear the people of Fiji have been working extremely hard to get their country ready to welcome us back once more. There's no doubt that a relaxing holiday will do wonders for your mental health, however your holiday can help a lot more people than just you and your family.
As a tiny island nation, Fiji has long relied on tourism to strengthen its economy. The interruptions to tourism caused by the pandemic have seen many people face financial hardship throughout this period. With no financial resources such as social welfare support programs on offer, the people of Fiji have been doing it tough.
Of course the incredible Fijian spirit means they are still smiling and working very hard to be ready to reopen and welcome us back. With many Aussies holding travel credits just waiting to be redeemed and some amazing never-before-seen deals in the pipeline, the Bula Bubble is sure to be a welcome relief for Australians and the Fijian people.
With so many safety protocols in place and an abundance of stunning natural beauty right outside the door, when Fiji reopens you can book an incredible deal and relax like it's 2019!
Comments