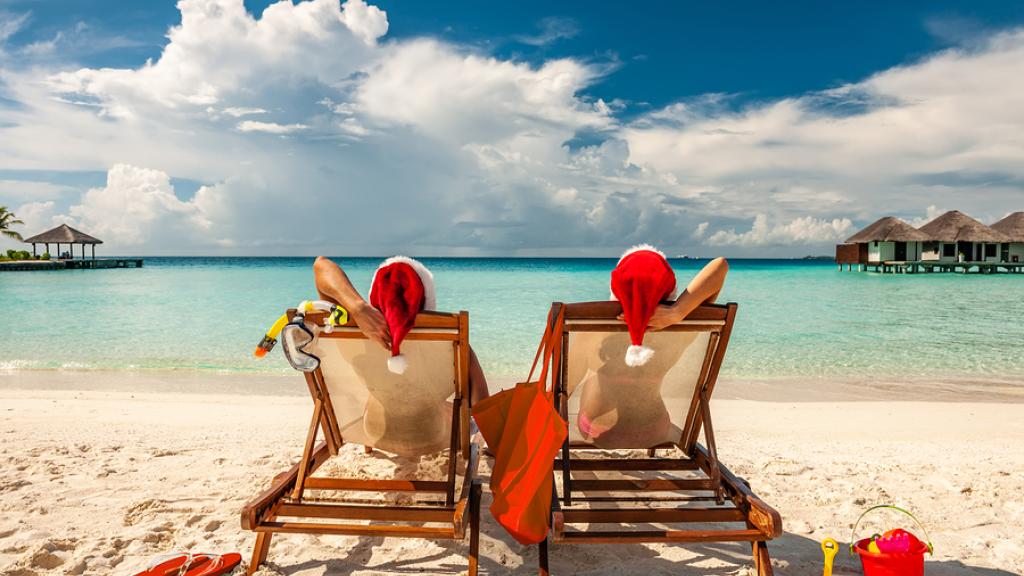 Its the most wonderful time of the year! Christmas day is almost here, and there's a little more magic in the air than usual. Depending on where you are in the world Christmas is celebrated a little differently. For those in the Northern hemisphere, Christmas means rugging up with every item of warm clothing in your wardrobe and staying nice and cosy indoors. However, in the Southern Hemisphere, Christmas is all about spending days in the sun, having BBQ's by the beach with and sipping on some ice cold beers.
Both Summer and Winter Christmas have their own unique traditions and festivities, but the question is... which does it better? Read on to discover our Summer vs Winter Christmas showdown and you be the judge!
The Weather
Winter:
December in the northern hemisphere is pretty damn cold which generally means frosty days, gloomy skies and of course lots of snow! While Christmas morning is spent making snow angels and having a snowball fights, majority of the day is spent indoors, huddled by the fire, snug and sheltered under a warm blanket drinking hot chocolate.
Summer:
In warmer parts of the world like Australia, Christmas day is spent either indoors with the air conditioning on full blast, or outdoors at the beach soaking up the hot summer sun. There is no snow in sight, and instead we slip slop slap, head to the beach and celebrate the day building sandcastles instead of snowmen.
The Christmas Tree
Winter:
Freshly cut Christmas trees fill households across the UK and Europe with sizes ranging from teeny tiny little bushes, to huge trees that turn living rooms into full blown forests. While the mess of a real tree can be a little annoying, the smell of freshly cut pine needles is oh so worth it.
Summer:
Traditional Christmas trees are a rarity down under, so fake trees from Kmart normally do the trick. Even though its boiling hot outside, that doesn't stop us from decorating the Christmas tree with fake snow and pine cones while listening to "Walking in a Winter Wonderland." - Yes, it's weird… we know.
Christmas Lunch
Winter:
As the temperature drops and the snow begins to fall, Winter Christmas lunch is all about indulging in hearty meals that warm from the inside out. We're taking mouth-watering roast turkey, sweet mince pies, roasted chestnuts and delicious mulled wine.
Summer:
While the roast turkey does make an appearance at Summer Christmas, Aussies tend to mix it up by adding some local extras like BBQ meats and fresh seafood. Think kebabs, prawns and oysters by the dozen washed down by some ice cold beer and traditional pavlova for desert.
Christmas Attire
Winter:
As wrapping up is essential in snowy conditions, beanies, scarves and mittens are traditionally worn, as well as the increasingly popular ugly Christmas sweater. Don't ask us how this tradition began, but one thing we know for sure is that its here to stay. Check out some of our favourites in the image below.
Summer:
While the northern hemisphere rugs up with coats, and scarves, Aussies strip off the layers, jump into their bathers and head straight to the beach. Santa also swaps the traditional fur trimmed suit for boardies, thongs and a surf board.
Post Christmas Lunch Activities
Winter:
After devouring the turkey, the adults crank up the heating, snuggle up on the sofa and relax by the fire watching Christmas movies. Meanwhile the kiddies head straight outside for sledding and snowball fights.
Summer:
Forget the hot chocolate and warm fire, Summer Christmas is an outdoors affair. When lunch is all finished, and the food coma sets in, Christmas afternoon down under is normally spent burning off the pavlova with the annual backyard cricket match.
The Verdict?
No matter where you are in the world, both Summer and Winter Christmas' have something special to offer. Boasting their own unique and sometimes hilarious traditions, you really can't go wrong with either. Our verdict? You absolutely have to try both!
About The Author
Comments