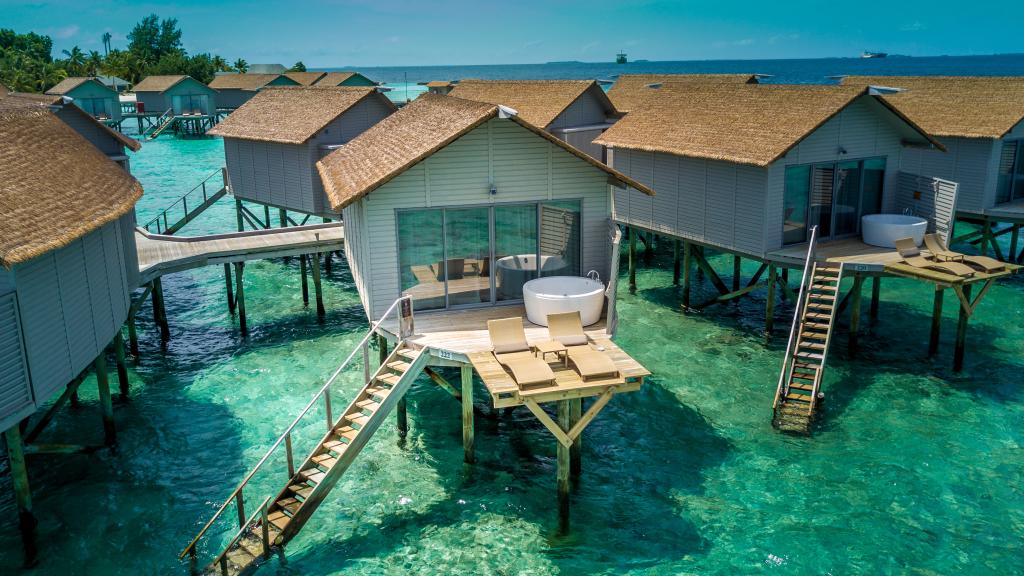 A dream destination bursting with culture, adventure and natural beauty, the Maldives is a special place unlike anywhere else on earth. Here you will find absolute luxury, breathtakingly beautiful beaches, coconut filled palm trees and glistering crystalline waters that make this place the definition of paradise. With its countless islands and luxe accommodation settings, it's no wonder that the Maldives is one of the world's most popular destinations. From where to stay, what to do and what time of year to visit, here's exactly how to plan the perfect Maldives holiday.
When to go
Boasting perfect weather and clear blue skies, November to April is a fantastic time to visit the Maldives. Glorious sunshine, warm water and low humidity make this the perfect time of year for snorkelling, sunbathing and beach going. Best of all, the seas are abundant with colourful marine life including manta rays, sharks, sea turtles and tropical fish.
How long for
With its unrivalled luxury and relaxing tropical ambiance, the Maldives is the kind of place you'll never want to leave. But unless you have some serious cash to burn, we recommend staying for 5 – 7 days to experience the best of the Maldives. We also recommend staying at one resort for your entire holiday, as transfers can be a little tricky to arrange between resorts.
How to get there
Located in the Indian Ocean approximately 700km south-west of Sri Lanka, the Maldives is one of the most remote destinations on earth. As a result, getting there can take a little extra planning… but it's oh so worth it! Visitors travelling from Australia will fly into Singapore for a short stopover, before continuing their journey to the Maldives (flight time is approximately 16 – 20 hours.) Upon arriving in the Maldives at the Malé International Airport, guests will then take either a sea plane or speedboat transfer to their resort island. We know this sounds a little complicated, but don't worry, a resort representative will be there to greet you and guide you directly to your transfer.
What to do
Surrounded by the shimmering Indian Ocean, the Maldives is home to perhaps the most breathtaking scenery on the planet. Pristine beaches, impossibly blue water and perfect tropical weather set the scene for the ultimate barefoot luxury experience. While the Maldives is renowned as a destination for relaxation, there is so much to see and do. From world-class diving expeditions and surfing trips to beachfront yoga and watersports, this holiday paradise has so much to offer the outdoor enthusiast. Best of all, many Maldives resorts offer a range of complimentary activities and water sports included in your stay. Guests can enjoy activities such a wind surfing, sea kayaking, beach volleyball, snorkelling and catamaran sailing at no additional cost. Guests can also enroll in holiday activities such as cooking classes, speedboat safaris and cultural excursions for an additional fee.
Where to stay
Whether you find happiness in all-inclusive resorts, or paradise in overwater bungalows, the Maldives ticks all the boxes for a once in a lifetime holiday experience. Enjoying spectacular locations on their own private islands, Maldives resorts are a destination in themselves. The accommodation is unlike anything you've ever seen and will have you in a total state of relaxation and rest from the moment you arrive.
Maldives resorts have everything you could ever dream of including outdoor cinemas, infinity pools, indulgent day spas, kids' clubs, tennis courts, 5-star restaurants, and so much more. And, the fleet of friendly resort staff will be there to cater to your every whim. To find out more about our favourite Maldives resort, consult our top 3 Maldives resorts page.
About The Author
Comments