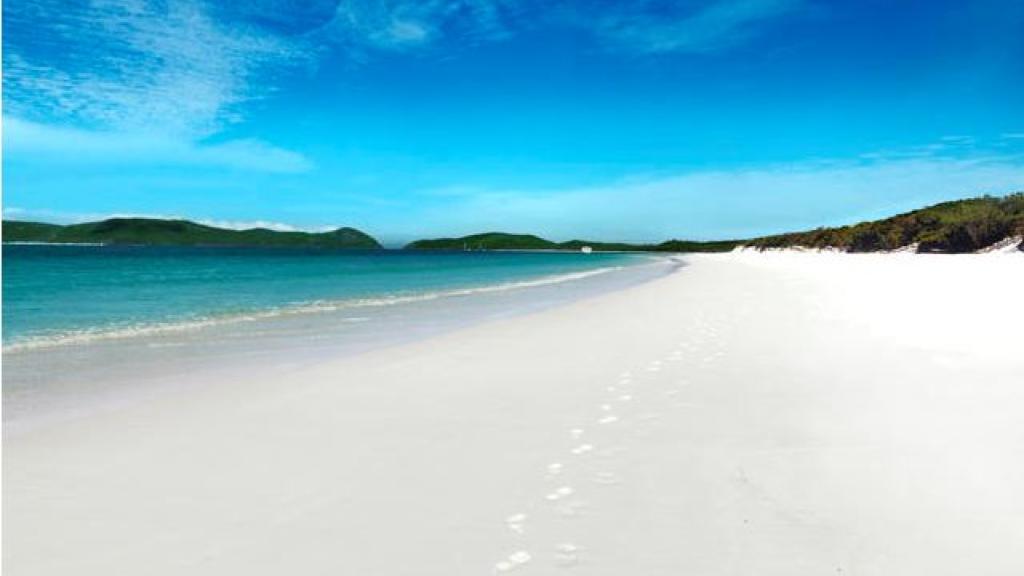 With Australia Day just around the corner, domestic travel is looking to be one of the most popular ways to celebrate. As the summer heat swelters across the country, a long weekend is the perfect way to make the most of it all. Unsurprisingly, the Whitsundays look to be one of the most sought-after holiday destinations this summer.
Home to a stunning string of islands and the World Heritage listed Great Barrier Reef, the Whitsundays are the ideal summer holiday destination. Offering islands and attractions to suit young people, couples, budget travellers, families and those after a little luxury, the Whitsundays offer fun in the sun for everyone.
Young People
Airlie Beach is renowned as a backpacker and party hotspot that strikes the perfect balance between relaxing getaway with friends and plenty of nightlife to keep your evenings interesting. With a great range of accommodation to suit all types of travellers and budgets, Airlie Beach is considered the gateway to the Whitsundays and a watersport capital. Stroll the picturesque boardwalk, take a dip in the local lagoon, kick back and enjoy a cold beer at one of the many bars and pubs or work your way through the 'eat street' of Airlie's main thoroughfare. However if you're looking for a little more action, there's plenty of adventure and a great range of activities on offer including snorkelling, scuba diving, sailing and even sky diving.
Couples
Hamilton Island is a wonderfully relaxing escape offering the perfect blend of nothing to do and something to do. Enjoying a picturesque shoreline and marina surrounded by rolling hills of national park, nature lovers can enjoy the best of both worlds when it comes to forest and beach. Offering a range of accommodation with a surprisingly yet pleasant secluded feel, guests can choose from a range of hotel rooms, apartments, villas and holiday homes for their stay. Offering easy access to the Great Barrier Reef and the spectacularly beautiful yet romantically private Whitehaven Beach, Hamilton Island boasts an excellent range of day trips, activities and tours allowing you to do as much or as little as you like.
Budget Travellers
Long Island offers tropical island relaxation without the price tag and offers the ideal balance between entertainment and activities and getting back to nature at the most basic level. A dedicated National Park with more than 20km of scenic walking tracks and plenty of wildlife to spot, you'll be wondering how you managed to score such an amazing experience for such a low price. With lovely beaches practically on your doorstep, the most serious decisions you'll have to make all day, aside from how many trips you'll make to the buffet, will be whether you go swimming, snorkelling, sailing or prop up the poolside bar. Night owls are also catered for on Long Island with the resort offering plenty of entertaining nightlife including karaoke, if you're feeling game.
Families
What Daydream Island doesn't offer, isn't worth having. This affordable accommodation is the ideal all-rounder for families big and small. The island features almost endless list of entertainment and activities, most of which are complimentary for guests of the resort. From seaside outdoor cinemas to putt putt mini golf, there are plenty of ways to spend your day enjoying quality time with the whole family however the most outstanding activity has to be the islands famous 'Living Reef', an amazing experience exclusive to Daydream Island which offers a unique manmade open air lagoon home to coral, tropical fish, starfish, stingrays and even sharks - all of which you can get in with and get up close and personal.
Luxury
InterContinental Hayman Island offers the ultimate in luxury at its best. A deluxe lifestyle resort renowned for its opulent guest rooms, private suites, penthouses and villa, accommodation enjoys stunning views of the Coral Sea and access to an excellent range of onsite facilities including private terraces, decks or balconies, infinity plunge pools, a deluxe day spa, plenty of gourmet and fine dining experiences, designer shopping, seaplane and helicopter tours, golf, tennis, snorkelling, scuba diving and of course, some breathtaking day trips to the iconic Great Barrier Reef. For a well-deserved holiday dripping with extravagance, Hayman Island is at your service.
What better way to celebrate this great country of ours than to visit one of our most internationally acclaimed attractions and soak up life in the tropics this summer.
Comments