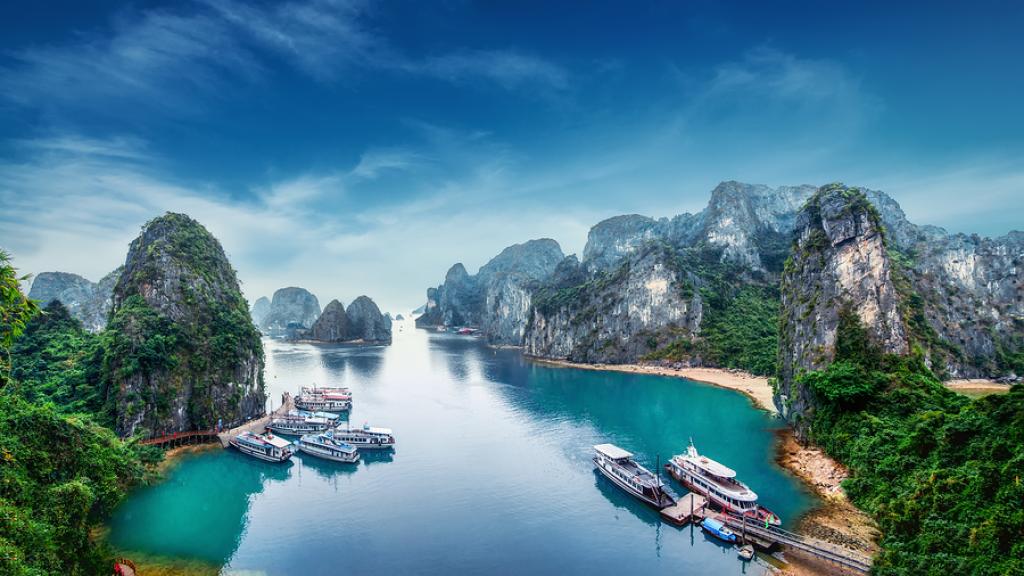 The world is full of endless magical natural wonders that appear as though they are straight out of a fairy-tale. From spectacular snow-capped mountains and ice-covered lakes to tropical turquoise waters and technicolour coral reefs, mother nature is oh so stunning. So, whether you're planning your next holiday escape, or just need some travel inspiration we've compiled a list of 5 natural landscapes so incredible you won't believe they're real.
Ha Long Bay, Vietnam
Cruise the waters of Ha Long Bay to discover the incredible unspoiled natural beauty formed over 500 million years. Located in Vietnam, Ha Long Bay is home to over 2,000 limestone islands that have been dazzling visitors for decades. This diverse biological habitat features uninhabited steep cliffs, shimmering blue water and a myriad of hidden caves just waiting to be explored. Known for its eco-tourism, most visitors experience the magic of Ha Long Bay via multi day cruise, which offer all meals, accommodation, sightseeing and activities. The perfect way to discover the mystical paradise of Vietnam, Ha Long Bay is a must visit natural wonder.
Arabian Desert, Dubai
Dubai is an exotic city where the warm sapphire waters of the Persian Gulf meet a high-rise metropolis to create a stunning desert oasis. Renowned for its incredible skyscrapers and man-made attractions, Dubai is also home to some of the worlds most stunning natural landscapes. The Arabian desert boasts miles of red dust and spectacular sand dunes as far as the eye can see. Venture on a desert safari to experience the thrills of sand four wheel driving, camel rides and sand tobogganing, all the while experiencing traditional Arabian culture.
El Nido, The Philippines
Dramatic limestone cliffs meet tropical turquoise water in the island paradise of El Nido. Boasting some of Asia's most incredible natural landscapes, El Nido is made up of a cluster of islands in the magical Philippines. Explore the unspoiled natural beauty as you discover kaleidoscopic reef systems and the picture perfect UNESCO World Heritage sites. Island hop your way around the sun-soaked archipelago and enjoy days filled with snorkelling, swimming and sunbathing.
Cradle Mountain, Tasmania
Located in Australia's smallest and arguably most beautiful state, Cradle Mountain in Tasmania is a stunning and romantic holiday highlight. Boasting unbelievable natural scenery, hiking trails, peaceful lakes and friendly wildlife, Cradle Mountain is mother nature at its best. When Winter falls, the mountain becomes a snow coated magical wonderland that is teeming with adventure and natural beauty. Cradle Mountain also features a range of beautiful luxury accommodation that is perfect for a dreamy getaway, think private outdoor spas, log fires cabins and delicious wine tastings… this place just oozes romance.
Waimea Canyon, Hawaii
Known as the "Grand Canyon of the Pacific", Waimea Canyon certainly lives up to its name. This stunning Hawaiian natural landscape flaunts vivid panoramas stretching 1.6km wide and 16km long and over 900m deep. Explore the geographical marvel as you discover verdant valley gorges, rugged escarpments and colourful layers of striated rock that seemingly change colour as the sun passes. Along with the incredible canyon, visitors will enjoy venturing through walking trails and cascading waterfalls that lead into secret swimming holes. The perfect place to soak up mother nature, Waimea Canyon is not to be missed on your next Hawaiian adventure.
Have you visited any of these incredible natural landscapes? Let us know in the comments below!
About The Author
Comments