Whale Watching Locations & Guides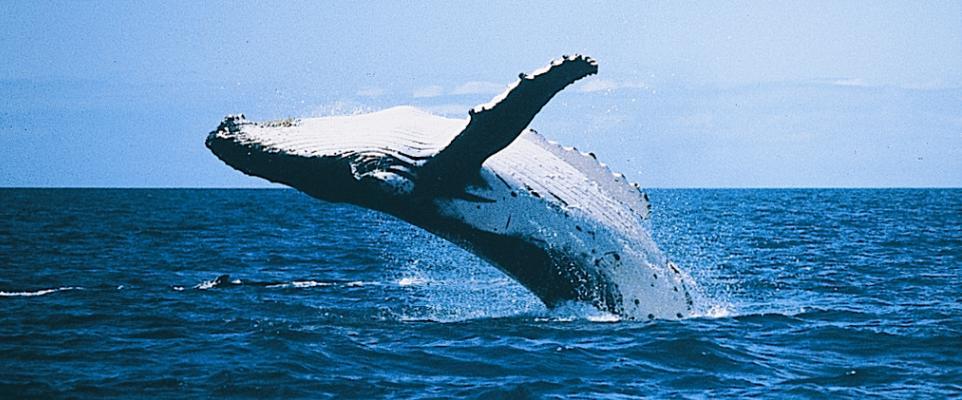 Humpbacks are the most acrobatic of all whales and are renowned for their 'singing'. They are the fifth largest of all whales, growing up to 15 metres and weighing up to 40 tonnes. Many thousands of people have possibly the best opportunity in the world of seeing this magnificent creature in its natural environment. Other marine life such as dolphins, turtles and dugongs are also sighted regularly.
The Humpback Whale, Scientific name Megaptera novaeangliae is aptly named from the Greek megas meaning great and pteron, a wing, because of its huge wing-like flippers. It is the fifth largest of the great whales. Adult females grow to 15 m slightly longer than adult males. A mature humpback may weigh 40 tonnes.
---
From late July to early November, Hervey Bay is considered one of the best places in the world to view the humpback Whales on their return to the Antarctic.
Hervey Bay is situated approximately 300 kilometres, 3 and a half hours drive, north of Brisbane. Bordered by 40 kilometres of pristine beaches, Hervey Bay offers access to islands, adventure, wildlife and a beautiful safe aquatic playground for visitors to the Fraser Coast.
Hervey Bay is preferred for its calm and safe whale watching conditions, where the whales put on a spectacular display for their admirers. A variety of Hervey Bay tours offer whale watching trips during the season and visitors can choose from either a morning, afternoon or full-day cruise.
Celebrating the return of the humpback whales each year; Hervey Bay stages a Whale Festival each year including an aquatic carnival, an illuminated procession of floats and the Blessing of the Fleet are highlights of this fun filled week.
Hervey Bay Marine Park was declared in 1989 to conserve the natural resources of the tidal lands and waters of Hervey Bay. Much of the bay, including the broad Platypus Bay off the north western side of Fraser Island is zoned to manage human activities around the Humpback Whales and to monitor the effects of such activities to protect the whales.
The Gold Coast whale watching season runs from May to November every year with Australian Humpback Whales the most common type of whale seen. These humpbacks are well-loved visitors who know how to work an audience and love nothing more than to perform tricks. Offering the ultimate photo opportunity, whales perform pectoral fin slaps, tail slapping and if you're really lucky you might even see a whale in full breach, jumping out of the water before plopping back in again.
The best time to see whales on the Gold Coast is during the months of June, July, August, September and October. There are different phases to the whale season on the Gold Coast and depending on when you visit, you will see different aspects of the whales as they make their annual migration past the coast. Gold Coast Whale Watching Tours allow you to experience the magic and magnificence of these mighty mammals, cruising the Australian Whale Sanctuary and Whale Alley, spotting everything from turtles, dolphins, sharks and of course the amazing humpback whales.
The whale migration season of the Great Barrier Reef is much more limited than many other parts of Australia however it is no less popular. From mid-July to late August, humpback whales are regularly spotted on the Great Barrier Reef off the coast of Cairns. Despite the limited window of opportunity, Great Barrier Reef whale watching cruises are one of the most popular tourist attractions with those who are lucky enough to be visiting during whale season.
Taking advantage of the whale migration as it occurs off the Cairns coast, the annual humpback whale migration is truly a sight to behold. Tropical North Queensland is the ultimate winter escape for both humpbacks and holidaymakers, who come together in an impressive fashion on a variety of these whale watching cruises. High speed catamarans head for the open water, with most cruises reporting whale spottings within half an hour of departure.
Sydney and its surrounding coastline offers some fantastic vantage points for whale watching. Although there are a number of locations around the country that offer whale watching, seeing these migrating whales travelling past the largest city in Australia is an incredible and unique opportunity. There are countless places around Sydney to watch the migrating whales pass by, however the cultural and naturel beauty of iconic Sydney Harbour National Park makes it one of the most unbeatable.
Whale Watching in Sydney Harbour is an extraordinary experience and there are many activities that you can combine including bushwalking, swimming, surfing and picnicking. Enjoy sailing away from historic Circular Quay and cruising the waters of Sydney Harbour and beyond to discover an awe-inspiring display of Mother Nature at her best as Humpback Whales and Southern Right Whales frolic and play right before your eyes.
Whale watching in New Zealand is a special experience where visitors can see the year round resident Giant Sperm Whales. Located in Kaikoura, just a two and a half hour scenic drive north of Christchurch in the South Island, NZ Whale Watching cruises offers so much more than just whales. While out on the water you'll come across a variety of wildlife including Dusky Dolphins, New Zealand Fur Seals and endangered Wandering Albatross.
Of course the whales are the stars of the show and depending on when you visit, you may see Southern Right Whales, Blue Whales, Pilot Whales and migrating Humpback Whales (June/July). Kaikoura is also home to the largest dolphin in the world, the Orca (during the summer months). The smallest and rarest dolphin in the world can also be found here, the Hector's.