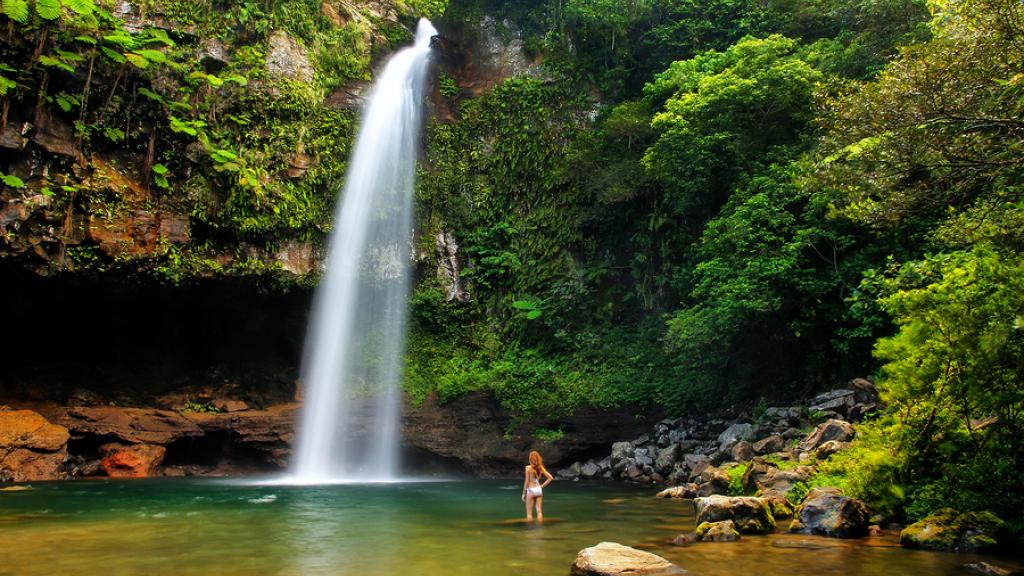 We love Fiji. We love it for the soft sand, the towering palms and superb resorts. We love the renowned kids clubs, world class cuisine and the unexpectedly short flight into paradise. However, sometimes we don't like the crowds and the overt tourism; rather we wish to discover wild, unspoiled Fiji, to explore the country that existed pre-development. In a destination that leads the international tourism industry, how do you steer from the trodden path?
This is our guide to secret Fiji, our favourite little-known attractions for the adventure-takers and secret-seekers.
PLAY
Bouma National Heritage Park covers over 80% of verdant Taveuni, aptly known as Fiji's Garden Island, offering pristine native wilderness to visitors seeking a slice of unspoiled Fiji. Nestled in among thick jungle, three waterfalls ascend up from the Bouma Carpark. The first and most popular falls are an easy 10-minute walk from the entrance, 24m tall and complete with toilets and a changing area. The following two falls are a challenging walk up along a muddy path, across flowing rivers and through lush vegetation. If you plan to see them all (which we definitely encourage), we recommend climbing straight to the third falls before descending at your leisure.
Speak with your resort to arrange a shuttle or driver to take you to the park.
DO
Fringed by thick forest, follow the dazzling white-sand Lavena Beach on Taveuni through quiet villages and shifting vegetation. Watch as the volcanic sand turns jet black and commence the climb up through lush ancient forest. As you ascend, stop at the spring fed waterfalls and challenge yourself across a rope-led river crossing. Get to know the 'real Fiji' as you meet locals and encounter native flora and vivid butterfly's along the Lavena Coastal Walk.
VISIT
Add an extra day to your stay in Nadi, hire a car and head up into the towering Nausori Highlands. With unparalleled views across Nadi and the Sabeto River Valley, this iconic drive offers rare insight into traditional Fijian lifestyles and the remote native wilderness. Pack a picnic, stop in at villages along the way and get to know the locals in an experience that will stay with you long after your plane departs.
EAT
For those with a keen interest in local cuisine, there's one "must-try" that comes up time and time again. Kokoda is a traditional dish of fresh local fish. Served raw, the fish is marinated in lemon and lime, with a coconut milk dressing poured over. Kokoda can be found at venues across the country, though we recommend preparing it yourself in a local cooking class for a stand out experience.
If you're keen to leave the resort for a local dining experience, we also recommend Eco Café (known for their pizza) on the Coral Coast and Taste Fiji for its emphasis on local produce.
SLEEP
Just metres from the shore, wake in secluded bliss on the private island of Nukubati. Take a short boat ride out to the vast Great Sea Reef where kaleidoscopic colours and vivid marine life wait beneath the waves. As one of a small number of guests permitted on the island at any time, enjoy the guarantee of a peaceful escape as you adjust to Fiji island time.
Comments