Gone are the days where cruises were all about eating, drinking and getting from A to B. These days, cruise liners are seriously upping their game with their variety of onboard attractions and experiences.
From immersive aqua shows, to thrilling go-karts and surf simulators, there are so many unique things you can do on a cruise ship (you may never want to leave!).
There's much more to cruising than just cocktails and comedy shows. Discover the flip side of cruising with 10 of the latest and greatest onboard attractions.
1. Indoor Skydiving
You can defy gravity on Royal Caribbean's Quantum-Class ships that feature the world's first skydiving simulator at sea. The RipCord by iFly allows cruising thrill-seekers to dive into the 23-foot-high enclosed wind tunnel and experience the rush of free-falling (minus the whole jumping out of a plane thing). A fantastic option for those who have always wanted to sky dive, this is one of the cruise industry's hottest attractions.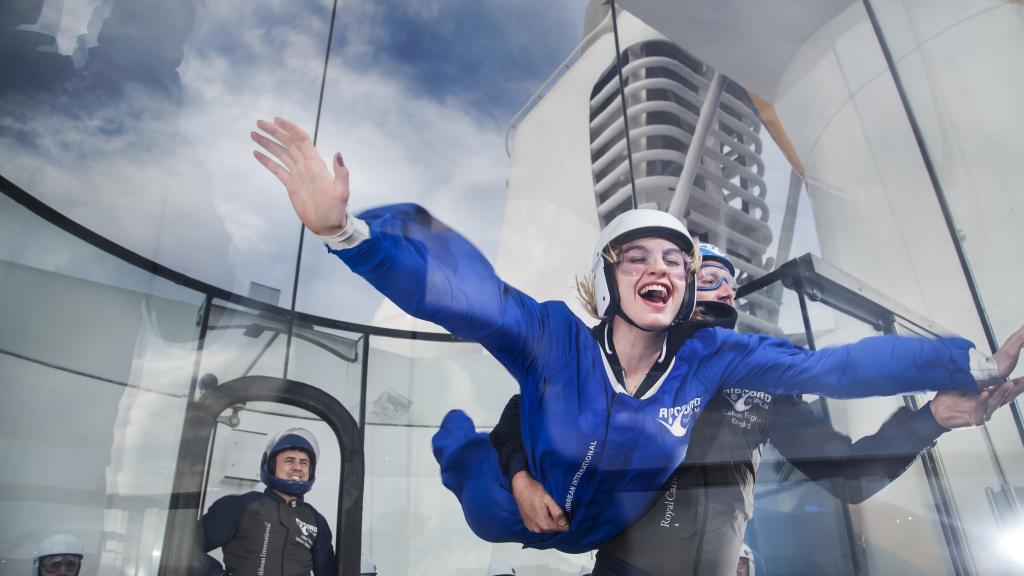 2. Ice bars
Made entirely of ice, Norwegian Breakaway's Svedka Ice Bar is one of the most unique bars on earth. Set at a chilly -8 °C the Svedka Ice bar serves up delicious cocktails to warm you from the inside out. Together with the complimentary hooded coats and gloves, you can rug up and enjoy the unique arctic experience complete with incredible ice sculptures and colour bulbs that glow like the Northern Lights.
3. Surf simulator
The surf's always up on Royal Caribbean's Flow Rider surf simulator. This 12 metre long wave pumps 100,000 litres of rushing water to create the perfect swell. Whether you're a surfing pro, or just a beginner, you can hang ten and carve up the waves while your friends cheer you on from the stadium seating.
4. Aqua show
Cruise ships are bursting with entertainment and activities, but perhaps one of the most unique experiences, is the Royal Caribbean Aqua Theatre. Featuring olympic-class divers, synchronised swimmers and acrobats, guests can enjoy an immersive show filled with spectacular stunts and high-flying feats. Prepare to be on the edge of your seat as you watch some of the world's best performers push the limits.
5. Go karting
Norwegian Cruise Lines have added a thrilling go karting track to its Joy and Bliss ships. Spanning over two decks and 300 metres, the amazing track is full of hairpin bends and exhilarating turns that will have you entertained for hours on end. Whether you want to race your family and friends to the finish, or perfect your individual time, go karting is a fantastic activity for all to enjoy.
6. Robotic Bar
One of the most unique experiences onboard Royal Caribbean's cruise ships is the incredible Bionic Bar. Featuring a collection of robot bartenders, thirsty passengers can order their favourite cocktail and watch the futuristic mixology unfold.
7. Ice skating
The weather outside may be balmy, but you can always get your winter fix at Royal Caribbean's ice skating rink. Offering complimentary ice skating to all onboard guests, you can carve up the ice or learn to skate in style all while floating on the high seas. Forgot your skates? No worries, you can hire them for free at the ice rink. Just remember to wear a jumper and long pants as it can get a little chilly inside the rink.
8. Flying Fox
Jump aboard P&O's thrilling flying fox and prepare to zoom across the ship's 80 metre zipline from deck to deck. Experience a bird's eye view of the enormous ship, wave to your friends and family and take in the panoramic ocean views as far as the eye can see.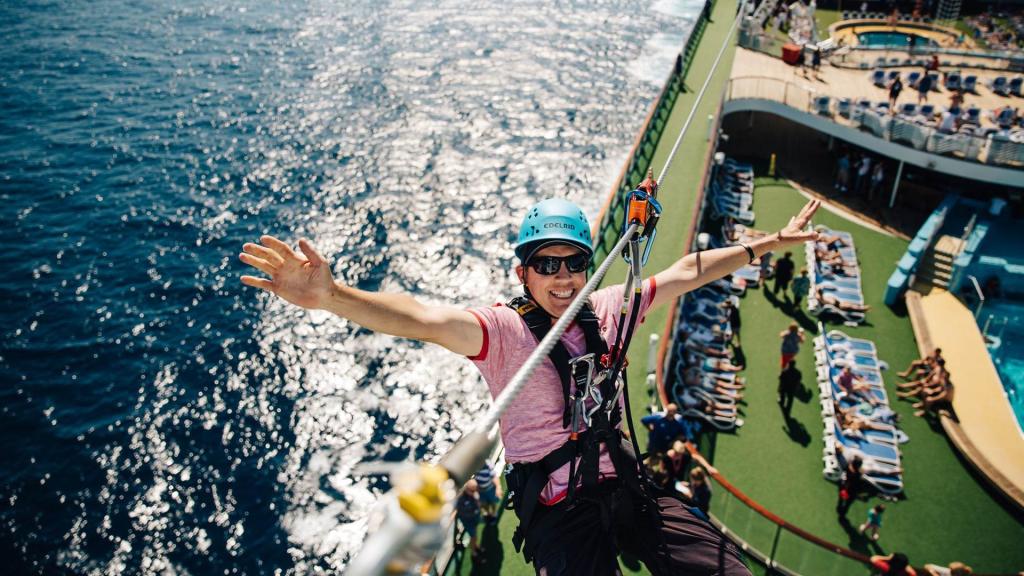 9. Become a certified scuba diver
Want to take your cruise holiday to the next level? Enrol in a PADI certified diving course onboard Royal Caribbean Cruise ships. Start your scuba learning from the convenience of the onboard pool, then build up your skills and progress to diving in some of the best dive sites in the world.
10. Walk the plank
Conquer your biggest fear and walk the plank aboard Norwegian Cruise Line's range of adventure cruises. While there won't be any pirates present, you can test your courage and walk out on the narrow ledge that extends off the side of the ship. Wearing a safety harness and helmet, you'll be in safe hands with the helpful cruise staff standing by to encourage you every step of the way.
About The Author
Comments