Cruises to Tasmania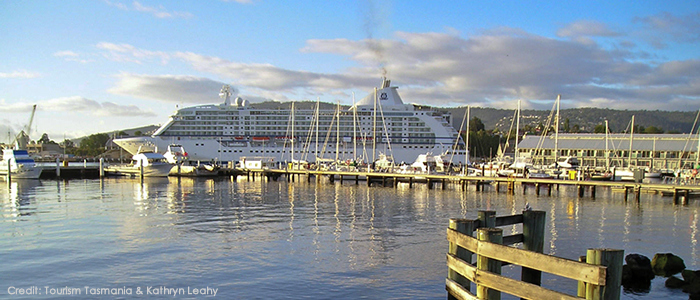 Separate from mainland Australia, Tasmania is an island of spectacular landscapes, rich heritage and unique flora and fauna. The state is both distinctive and diverse, offering fertile wilderness and world class food and wine. Home to one of the world's best deep-water harbours, cruises to Tasmania arrive at Hobart's bustling waterfront precinct, welcoming brief visitors as well as those disembarking from the final leg of their trip. The capital of Tasmania, Hobart is a lovely city that, despite all of its charm, manages to retain an international flair. Steeped in colonial history, Hobart is known for its iconic historical attractions including the Theatre Royal, Penitentiary Chapel and Anglesea Barracks.
Cruises to Tasmania
---
Cruises to Tasmania from Melbourne
---
Cruises to Tasmania from Sydney
---
Attractions
Tasmania offers a fantastic range of tours, activities and attractions and thanks to its compact size, all are just a short distance away. Situated on the banks of the Derwent River, Hobart enjoys the leisurely pace and atmosphere of a small town with all the attraction of a major cosmopolitan city.
The historic city features fine examples of Victorian and Georgian architecture including the 1830 whaling era terrace warehouses of Salamanca Place. Sullivan's Cove waterfront also offers the imposing sandstone structure of Parliament House while nearby Theatre Royal is Australia's oldest continually operating theatre.
Discover the mix of exotic and native flora and fauna in the Royal Tasmanian Botanical Gardens or explore the picturesque gardens and parks of Fitzroy Gardens, St David's Park and Waterworks Reserve. Take a walk on the wild side with Bonorong Park Wildlife Centre and spot unique critters like echidnas and the state's namesake Tasmanian Devils.
Step back in time with historic buildings in Battery Point and the Arthur's Circus settlement, explore Old Hobart Gaol and take a Ghost Tour if you dare. Take a look at life in Australia over the last century with interactive and interesting Time Warp House. Learn about natural and colonial history at the Tasmanian Museum and Art Gallery, Narryna Heritage Museum and the Maritime Museum.
Indulge your tastebuds at the Cadbury chocolate factory, Cascade Brewery and the Island Produce fudge factory.
Arrivals & Departures
Hobart Cruise Terminal
Macquarie Wharf No. 2 (Hunter St)
Distance from City: 5kms (10mins)
Distance from Airport: 20km (15mins)
Taxi Fare Estimate: $6 - $10 one way, cruise terminal to city