Cruises to Adelaide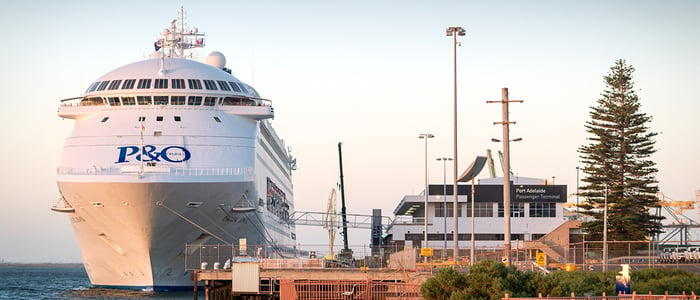 With a growing reputation as a trendy coastal holiday destination, cruises to Adelaide continue to increase in popularity. Although famous for its churches, fantastic wine regions and vibrant festival culture, Adelaide is also showing promising arts and live music scenes as well as a bourgeoning café culture. Boasting a picturesque coastal location, Adelaide is the capital city of South Australia and is an ideal cruising destination famous for its leisurely beachside lifestyle. The fifth largest city in Australia, Adelaide is situated between the Mount Lofty Ranges and Gulf of St Vincent, north of the Fleurieu Peninsula. Also known as the wine capital of Australia, Adelaide features a number of famous names right on its doorstep including the Barossa Valley and McLaren Vale. Enjoying a wide range of cruise itineraries from brands such as Princess Cruises, Cunard, Carnival and P&O, cruises to Adelaide offer the ultimate in choice.
Cruise Name
Date
Nights
Departing
Price
Australia Short Break


2 Nights on

Queen Elizabeth Departing Melbourne: 27th Feb 2023

AU$599.00


pp twin share
Comedy


2 Nights on

Pacific Explorer Departing Melbourne: 17th Feb 2024

AU$331.00


pp twin share
Southern Getaway


4 Nights on

Pacific Explorer Departing Adelaide: 19th Feb 2024

AU$759.00


pp twin share
Comedy


3 Nights on

Pacific Explorer Departing Adelaide: 23rd Feb 2024

AU$616.00


pp twin share
---
Adelaide offers a fantastic range of attractions within minutes of the city as well as some wonderful experiences well worth the trip a little further outside the city. Of course good wine is at the top of the list for most visitors who head to the Adelaide Hills to experience world-famous wine regions such as the Barossa, Clare Valley and McLaren Vale. Spend a day taste-testing your way around the cellar doors.
Where there's good wine, good food is sure to follow and Adelaide is no exception. The Adelaide Central Market is a must-visit for foodies and has been offering farm fresh produce for an incredible 145 years. Grab some gourmet supplies and a bottle of the region's finest and you're ready for an indulgent picnic while you discover the city's sunny beaches, beautiful architecture and funky festivals.
Stroll around the city and discover the wealth of impressive 19th century buildings, atmospheric old wharves and classic Aussie pubs on a self-guided tour. Be sure to visit the Maritime Museum and once you've got your sea legs hire a kayak and row your boat gently down the Port River for a chance to spot the resident dolphin colony.
If you have a little extra time, take a trip to Cape Jarvis and enjoy the 45 minute ferry ride to nearby Kangaroo Island. Experience stunning and unique flora and fauna including koalas, seals and sea lions in their natural habitat at popular spots like Flinders Chase National Park, Pennington Bay and Hanson Bay Wildlife Sanctuary Koala Walk.
Port Adelaide Passenger Terminal
Off Oliver Rogers Road, Port Adelaide
Distance from Adelaide City: 25kms (30mins)
Distance from Adelaide Airport: 20km (25mins)
Taxi Fare Estimate: $45 - $60 one way, cruise terminal to city