Cruises From Adelaide
The gateway to a great range of domestic and international destinations, cruises from Adelaide are a wonderful way to discover the vibrant culture of this famed wine region. Departing from Port Lincoln, cruises from Adelaide travel to exotic destinations such as South Africa as well as stunning Australian destinations like Kangaroo Island, Port Arthur and the Limestone Coast. Why not extend your holiday and spend some time in Adelaide before or after your trip? This stunning city is known for its churches and is beginning to develop a reputation as a trendy coastal holiday destination with a promising live music, café and art scene not to mention some fantastic festivals.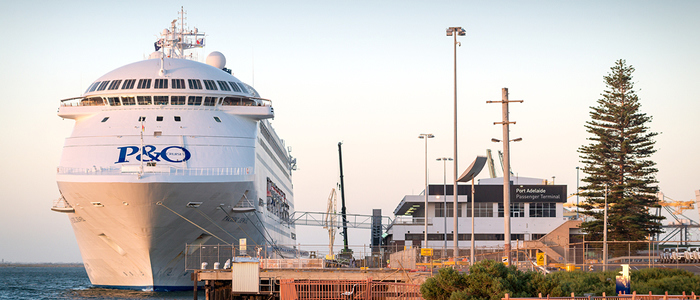 Cruises from Adelaide travel to a wide range of domestic and international destinations including Southern Australia where you'll visit iconic destinations such as Kangaroo Island, the Limestone Coast, Melbourne, Burnie, Port Arthur, Hobart and Port Lincoln as well as South Africa stopping in Mauritius, Durban, Port Elizabeth and Cape Town. Conveniently located just 12km from the CBD, Adelaide is a fantastic cruising departure point year round.
Cruises from Adelaide are available on board a number of excellent ships, the most popular of which include P&O Cruises' Pacific Jewel and Pacific Pearl. Cruises from Adelaide are a wonderful experience thanks to the convenient and picturesque location of Port Lincoln, just 12km from the Adelaide CBD. The port is easily accessed via car or taxi, bus and train and is just a 20 minute drive from the city and 15 minutes from the Adelaide Airport. The Port Lincoln passenger terminal is also surrounded by a range of shopping, dining and entertainment options.
If you're planning on spending some time in Adelaide before or after your cruise, there's plenty to explore and enjoy. As the wine capital of Australia, there are some excellent vineyards to visit and wines to sample, particularly in the famous Barossa Valley. There's also great boutique and mall shopping, cafes, restaurants and street entertainment at Rundle Mall and the nearby beachside suburb of Glenelg where you can explore this historic area, swim in the pristine beaches, walk along the jetty or get active with some scuba diving, golf and sailing.
---