Overview
Prepare to embark on an exploration of the timeless beauty and rich history that exists in some of the Mediterranean's most picturesque and intriguing destinations. Explore Barcelona, the capital and largest city of Catalonia, discover the towering coloured homes in Cinque Terre and bear witness to Palma's extraordinary turquoise waters.
Pack your bags and start your holiday the right way with a night in Barcelona to rest and rejuvenate after making it over to Europe. It's then time to embark on the brand new mega-ship MSC Seaview for an unforgettable 7-night cruise around the stunning Western Mediterranean. Your days will be filled with excitement and unforgettable memories as you visit some of the most popular locations in Spain, France & Italy.
Highlights
Stay in the vibrant city hub, right in the heart of Barcelona, amidst the city's most popular attractions.
Experience a new era of modern cruising onboard MSC's magnificent MSC Seaview with state of the art technology and cutting-edge entertainment, including the only Cirque du Soleil shows at sea.
Witness one of Antoni Gaudi's masterpieces in the Sagrada Familia (arguably the most striking Basilica in the world).
Enjoy the sweeping panorama of islands and rough headlands of La Spezia and neighboring Cinque Terre.
Take a dip in some of the world's most pristine waters in Palma de Mallorca.
Step back in time and explore the heartland of one of the world's greatest civilizations in Rome.
Optional Extras
Upgrade to Oceanview Cabin for an additional $170pp
Upgrade to Balcony Cabin for an additional $370pp
Add a 3 night Pre-Cruise 5-star Dubai stopover including Desert Safari & Burj Khalifa tour from $600 per person.
Available Upgrades
Upgrades are available upon request at an additional cost. Ask one of our Travel Experts when enquiring for more information.

Fare Upgrade

Cabin Upgrade

Room Upgrade

More Nights

Insurance
Inclusions
Return economy class airfare to Barcelona including checked baggage
Return airport transfers in a private car
4 nights 4 star accommodation in Barcelona
7 nights onboard the brand new state-of-the-art MSC Seaview
FREE Unlimited Drinks while onboard your ship
Most meals & entertainment while onboard
Port Charges, Fees and Airport Taxes
Add a 3 night Pre-Cruise Dubai stopover including Desert Safari & Burj Khalifa tour from $600 per person.
Itinerary
Fly to Barcelona
Depart Sydney, Melbourne or Brisbane to Barcelona - on arrival be met by your private transfer to take you to your hotel.
Barcelona
Spend your morning exploring or relaxing in Barcelona before boarding the magnificent MSC Seaview early in the afternoon.
Ajaccio, France
Ajaccio is the capital of Corsica and has a wealth of smart cafés, restaurants and shops to explore along its picturesque coastline. Be sure to check out the "old town" a cluster of ancient streets spreading north and south of place Foch
Genoa, Italy
Genoa is marvelously eclectic, vibrant and full of rough-edged style. Explore its old town: a dense and fascinating warren of medieval alleyways home to large palazzi built in the sixteenth and seventeenth centuries by Genoa's wealthy mercantile families and now transformed into museums and art galleries.
Just 35 km south of Genoa, there's no denying the appeal of Portofino, tucked into a protected inlet surrounded by lush cypress- and olive-clad slopes. It's an A-list resort that has been attracting high-flying bankers, celebs and their hangers-on for years.
La Spezia, Italy
La Spezia, an impressively sweeping panorama of islands and rough headlands. It is a major naval and shipbuilding centre, it has a fine art gallery but is most famously known for the breathtaking folded coastline of the Cinque Terre (Five Lands) that stretches between the beach resort of Levanto and the port of La Spezia. It's named for five tiny villages – Monterosso, Vernazza, Corniglia, Manarola and Riomaggiore – wedged into a series of coves between sheer cliffs, whose comparative remoteness and dramatic positions make the region the principal scenic highlight of the whole Riviera.
Civitavecchia (Rome), Italy
Civitavecchia is the gateway to Rome and an endless array of unforgettable experiences including but not limited to The Roman Forum and Colosseum, The Sistine Chapel and the Trevi Fountain to name but only a few.
Cannes, France
With its immaculate seafront hotels and exclusive beach concessions, glamorous yachts and designer boutiques, Cannes is in many ways the definitive Riviera resort, a place where appearances count, especially during the film festival in May. You may also organise an excursion to the famous seaside city of Nice from Cannes.
Palma, Spain
Palma is a vibrant place and a world away from the heaving tourist enclaves of the surrounding bay. The obvious landmark to see in Palma on your cruise holiday is the Catedral, which dominates the Mediterranean Sea waterfront and backs onto the oldest part of the city, a cluster of alleys and narrow lanes whose northern and eastern limits are marked by the zigzag of avenues built beside – or in place of – the city walls.
Barcelona, Spain
Barcelona – Spain's second city, and the self-confident capital and port of Catalunya – vibrates with life, and there's certainly not another city in the country to touch it for sheer style, looks or energy. Today you will disembark your ship and transfer to your hotel for 3 nights in the infamous Barca!
Barcelona, Spain
A holiday in Barcelona can start with the Ramblas, and then dive straight into the medieval nucleus of the city, the Barri Gòtic. But there are plenty of other central old-town neighbourhoods to explore too, from La Ribera – home to the celebrated Museu Picasso – to funky El Raval, where cool bars, restaurants and boutiques have mushroomed in the wake of the striking contemporary art museum, MACBA.
Fly to Australia
Sadly your journey comes to an end as you depart Barcelona homeward bound to Australia.
Map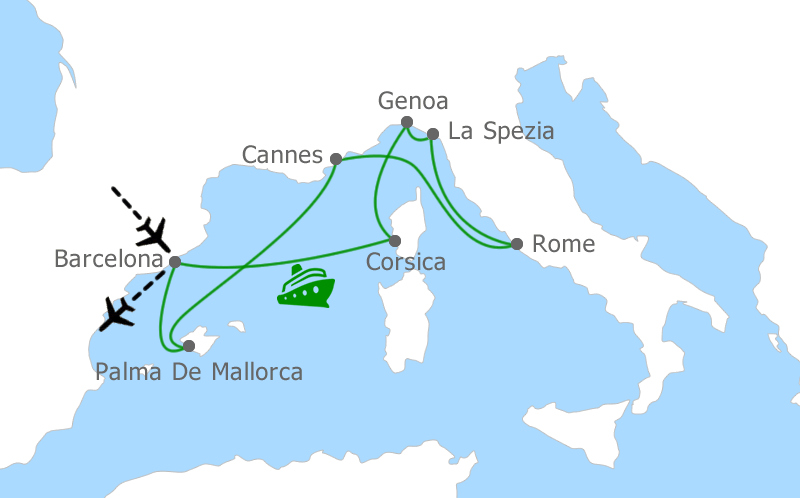 Terms & Conditions
Whilst all information is correct at the time of publication, offers are subject to change.
Please note that many of the prices shown on this website are not shown in real time.
While we endeavour to keep our pricing as up-to-date as possible, the advertised prices shown here may differ slightly from the live prices in our booking system.
Our agency reserves the right to correct errors without penalty.
Price advertised is based on 07 May 2020 departure only.
Prices are per person share twin based on best available cruise, rail and airfare, inclusive of all discounts unless otherwise stated.
Outside and Balcony cabins may have obstructed views and Suite cabins comprises Junior Suites, Mini Suites and any other type of suite that represents the best value for each cruise.
Unless otherwise stated, gratuities are NOT included.
Hotel and cruise accommodation is based on category specified, upgrades and extending your stay maybe available at an additional cost.
AIRFARE INFO: Return economy airfare with a full service carrier (Etihad, Virgin/Singapore, Qantas or similar full service carrier if unavailable).
Flight details can not be confirmed more than 11 months from departure and final details will be sent through once they are available.
All prices based on cash or cheque payment - credit card fees may apply.
Final payment is due 120 days prior to travel. If you book within 120 days of travel, you will be sent an invoice within 7 days for final payment.
Up to 12 Months Interest Free available: https://www.travelonline.com/interest-free.
Invoices will be emailed to you in advance and it is your responsibility to ensure payments are made prior to the due date.
Should payment not be received by the due date, your booking will be cancelled and all prior payments will remain strictly non-refundable.
Unless otherwise stated, all packages containing airfare will require full airfare and taxes within 24 hours of reservation and cancellation/amendment conditions apply.
Travel agent service fees may apply. Special conditions apply - please ask for full details at time of enquiry.
All passports, vaccinations and visas are the responsibility of the travelling guest to secure prior to departure from Australia.
Items of a personal nature are not included.
This fine print should be read in conjunction with the: TravelOnline terms and Conditions.
Other dates advertised may vary in itinerary slightly and may incur a surcharge.
**ALL PICTURES SHOWN ARE FOR ILLUSTRATION PURPOSE ONLY.ACTUAL PRODUCT MAY VARY DUE TO ITINERARY VARIATIONS**
**FREE DRINKS PROMO**
Book inside, oceanview or balcony cabin for unlimited drinks priced up to 6 euro/USD (Easy Drinks package) for first two passengers in cabin, additional passengers in cabin must purchase Easy Drinks package. Includes house wines by the glass, draught beer, selected spirits and cocktails, non-alcoholic cocktails, soft drinks and fruit juices by the glass, bottled mineral water, espresso, cappuccino, caffe latte, hot tea, coffee and chocolate delights. Available in all onboard bars, self-service buffet & restaurants, excluding speciality restaurants. Option exists to upgrade to Premium Drinks package from $15 Euro/USD / day based on MED, NOR Summer 2020 rates.