Overview
It's time to sit back, relax and leave the worries of the world in your wake with a relaxing 14-night cruise onboard P&O's newest addition, the stunning Pacific Explorer . Formerly the Dawn Princess, the 77,000 tonne Pacific Explorer transformed in mid-2017 to become P&O Cruises' biggest ship and boasts an array of features designed to create the most memorable of holiday experiences.
Sailing from Sydney you will visit exciting destinations in Australia, Timor and Indonesia before reaching the multicultural hub of Singapore where you will enjoy 3 incredible nights in 4 star luxury.
Immerse yourself in its eclectic mix of cultures, religions & ancient treasures, and can be described as" The essence of modern Asia". With its stunning sky scrapers, gleaming streets and iconic green spaces, Singapore has a wide selection of memorable leisure options to rival its neighbours. Whether you're a nature lover, culture buff or thrill-seeker, you will be sure to find a wealth of exciting and compelling experiences to enjoy, all within easy reach.
Highlights
Experience what it is like to sail out of one of the world's most picturesque cities. With its famous icons such as the Sydney Opera House and Harbour Bridge, Sydney is breathtaking in every sense of the word.
See the Great Barrier Reef and witness one of the seven natural wonders of the world from the air or the water.
Discover the rich history and culture of one of the world's most diverse cities. Get a photo with the mythical Merlion, Singapore's national icon with the head of a lion and the body of a fish.
Set off on an experience that will tantalise your taste buds. With influences of Malay, Indian and Chinese your appetite is in for a treat.
Be the envy of your friends and get insta worthy pics at one of the worlds most checked in places on Facebook, The Gardens by the Bay.
Optional Extras
Upgrade to an Oceanview cabin from $460 per person.
Upgrade to a Balcony cabin from $460 per person.
Available Upgrades
Upgrades are available upon request at an additional cost. Ask one of our Travel Experts when enquiring for more information.

Fare Upgrade

Cabin Upgrade

Room Upgrade

More Nights

Tours

Insurance
Inclusions
14 Nights onboard Pacific Explorer in an Interior Cabin
All Main meals + most activities & shows onboard
Pier to Hotel Transfer
3 Nights 4-star accommodation in Singapore
Hotel to airport transfer
One way economy class airfare from Singapore to Sydney including checked baggage
Itinerary
Embarkation Day - Pacific Explorer
Sydney is home to two of the world's most famous landmarks – the Sydney Harbour Bridge and the Sydney Opera House, both perfectly situated on the magnificent harbour and both on display as you sail out of the heads to kick off your amazing holiday.
At Sea
With so many experiences onboard you can choose to do it all or do nothing at all. It's your holiday, your way!
Gladstone, Australia
Time to get out and explore! Why not take a highlights tour of Gladdy, a thriving regional town that's home to Queensland's largest multi-commodity port, surrounded by islands and a gateway to the Southern Great Barrier Reef. You can also explore one of Queensland's best kept secrets, Agnes Water is a beautiful seaside town surrounded by crystal-clear water, pristine beaches and national parks.
At Sea
Why not treat yourself today! Relax, rejuvenate & get poolside fabulous. Pacific Explorer has a range of utterly decadent and relaxing therapies at their Spa
Cairns, Australia
Cairns is surrounded by a natural wonderland – the glorious Coral Sea on one side and lush rain forest hinterland on the other. Here's your chance to explore one of the seven natural wonders of the world – the breath-taking Great Barrier Reef rich with corals and teeming with marine life or explorer one of the world's most beautiful rainforest experiences on the Kuranda Skyrail
At Sea
Dance until your feet hurt or chat over an ice-cold pint at the Pacific Explorers fantastic range of nightclubs, bars and pubs.
Dili, East Timor
Nestled at the foot of lush, green hills overlooking the Banda Sea, Dili, the capital of Timor L'este combines a small-town vibe with a unique Portuguese influence. Why not try the Highland Coffee and Cultural Village Explorer excursion or for the more adventurous you can opt to do Dili on your own.
At Sea
Leave your worries behind at The Oasis. Its just like it sounds - a happy peaceful escape that's all about the downtime. ahhhhhhh
Benoa (Bali), Indonesia
Being nearby, affordable and sun drenched all year round, Bali has long been favourite holiday destination for Aussies. Beyond its beaches and the resorts this is a place that embodies the essence of the Eastern world.Why not try an Elephant Safari & Ubud Shopping tour or try white water rafting down the Ayung river.
Lombok, Indonesia
Lombok is a key component of the West Nusa Tenggara Barat province and its indigenous Sasak people are Muslim. the culture and language is rich and unique, and animist beliefs still hold strong. Why not explore the ambiance of Lombok, the beach, shopping, food and interacting with local people at Senggigi beach
At sea
With so many experiences onboard you can choose to do it all or do nothing at all. It's your holiday, your way!
Arrive Singapore
Arrive in Singapore disembark your ship and transfer to your hotel where you will spend 3 nights at your centrally located 4-star hotel
Singapore
The next 3 days are yours to do as little or much as you like!
Why not try a meal with the locals at the Singapore Hawker Centre, shop til' you drop on Orchard road or take a stroll through the world famous Gardens by the Bay home to over 1 million exotic plants.The experiences on offer are endless!
Fly home to Australia
Your holiday ends as you are transferred to the airport for your return flight home
Map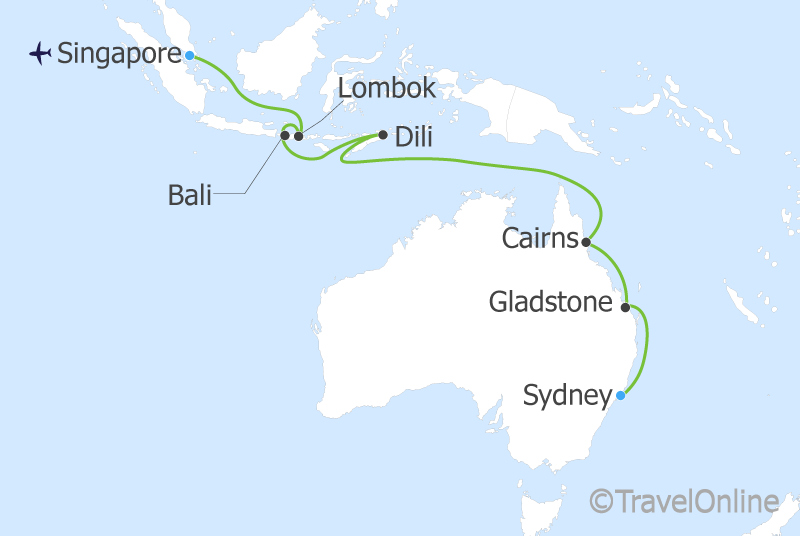 Terms & Conditions
All prices are correct at the time of writing, offers are subject to change.
Package is based on 2 adults twin share.
Price is valid for travel on the dates shown – alternative dates may be available at an additional cost.
Hotel accommodation is based on lead in categories, upgrades are available at an additional cost.
Cruise is based on an Inside Cabin, upgrade to other cabins are available at an additional cost.
Prices shown are for departure from Sydney, Brisbane or Melbourne. For other cities please contact TravelOnline.
Extending your stay may be available at an additional cost.
It is the responsibility of the client to ensure booking details are correct and all passenger names are correct and match passports.
Name changes and booking changes incur penalties.
Cruises, packages and flights are subject to price and schedule changes without notice and subject to availability.
Items of a personal nature are not included.
Images are representative of the destinations and are indicative only.
Terms and conditions apply to all bookings.
It is the responsibility of the client to request and familiarise themselves with the terms and conditions for their particular Cruise & associated travel.
This fine print should be read in conjunction with the TravelOnline terms and Conditions