Overview
Get ready to discover the rustic beauty and history of some of Europe's most picturesque and ancient destinations on an incredible journey through the Eastern Mediterranean. Explore the open-air floating museum of the canal city Venice and discover the sun-drenched olive groves of the Greek Islands.
Pack your bags and start your holiday with plenty of time to relax and enjoy the treasures of Venice. Cruise the 150 canals, wander the city's famous churches and marvel at one of the finest art collections in Europe. Be sure to enjoy a romantic gondola ride and indulge in some spaghetti and wine at an authentic trattoria. A guided tour to the stunning islands of Murano and Burano is also included in your Venice stay.
It's then time to embark on MSC Magnifica for your 7 night cruise around the breathtaking waters of the Mediterranean. Your days at sea offer plenty of time to relax and enjoy the excellent onboard facilities of the ship in between visiting some of the most famous locations in Italy, Montenegro & Greece.
Highlights
Stay in beautiful San Marco, right in the heart of Venice, surrounded by all of the most popular attractions.
Witness the wonder of the 12th century Basilica di San Nicola in Bari.
Discover the famous landmarks, exquisite colours, and relaxed way of life on the Venetian islands of Murano and Burano
Visit the ancient site of Olympia that hosted the most important Pan-Hellenic Games for over a millennium.
Catch a sunset that will literally take your breath away in Oia on the romantic island of Santorini
Explore the ancient Classical city of Athens, most famously represented by the Parthenon and mighty Acropolis.
Discover Corfu Town, one of the most elegant island capitals in the whole of Greece.
Optional Extras
Upgrade to Oceanview Cabin for an additional $230pp
Upgrade to Balcony Cabin for an additional $470pp
Why not add a 3 night 4-star Paris extension with Best of Paris Tour for only $800 additional per person
Available Upgrades
Upgrades are available upon request at an additional cost. Ask one of our Travel Experts when enquiring for more information.

Fare Upgrade

Cabin Upgrade

Room Upgrade

More Nights

Tours

Insurance
Inclusions
Return economy class airfare to Venice including checked baggage
3 nights 4-star accommodation in Venice including breakfast daily
Bonus Burano & Murano Islands Day Tour
7 nights onboard MSC Magnifica
Most meals & entertainment while onboard
Port Charges, Fees and Airport Taxes
Why not add a 3 night 4-star Paris extension with Best of Paris Tour for only $800 additional per person
Departs Weekly Surcharges apply
Itinerary
Fly to Venice
Depart Sydney, Melbourne or Brisbane to Venice - be transferred from the airport to your hotel.
Venice
Explore Venice at your own pace. Visit St Mark's Basilica or a walking tour through the streets of Venice. Watch the local craftsmen at work making the famous Murano glass and lace. Laze away an evening on a romantic gondola ride which you will agree ticks one of the bucket list. On day 2 be treated to a full day tour to discover the famous landmarks, exquisite colours, and relaxed way of life on the Venetian islands of Murano and Burano
Embark MSC Magnifica - Venice
Spend your morning exploring or relaxing in Venice before boarding MSC Magnifica early in the afternoon.
Bari, Italy
Arrive around 11am and spend a few hours entranced by the jumble of streets to wander and discover before departing at 5pm.
Katakolon, Greece
This tiny seaside town is one of the largest ancient sites in all of Greece and is based on history and myth. It is the gateway to the ancient site of Olympia which for over a millennium hosted the most important Panhellenic Games. See the ruins of a gymnasium and a palaestra or wrestling school, used by competitors during their obligatory month of pre-games training.
Santorini, Greece
Santorini is the supermodel of the Greek islands, a head-turner whose face is instantly recognisable around the world: multicoloured cliffs soar out of a sea-drowned caldera, topped by drifts of whitewashed buildings. With its reputation for dazzling panoramas, romantic sunsets and volcanic-sand beaches, it's hardly surprising the island features on so many travellers' bucket lists.
Piraeus (Athens), Greece
Piraeus has been the port of Athens since Classical times. Here, the upscale residential areas are alive with attractive waterfront cafés, bars and restaurants offering some of the best seafood in town.The vestiges of the ancient Classical Greek city, most famously represented by the Parthenon and other remains that top the Acropolis, are an inevitable focus, along with the magnificent National Archaeological Museum.
Corfù, Greece
Corfu has a rich multi-cultural heritage, its historic monuments, stunning natural landscape, crystal clear seas, and its excellent weather all year round explain why Corfu is one of the most cosmopolitan Mediterranean destinations weaving a powerful spell on its visitors.
Kotor, Montenegro
Located along one of the world's most beautiful bays is Kotor, a city of traders and famous sailors, with many stories to tell. The Old City of Kotor is a well preserved urbanization typical of the middle Ages, built between the 12th and 14th century. Medieval architecture and numerous monuments of cultural heritage have made Kotor land on the UNESCO's World Natural and Historical Heritage Site list.
Venice, Italy
Sadly your journey comes to an end as you depart Venice homeward bound to Australia.
Map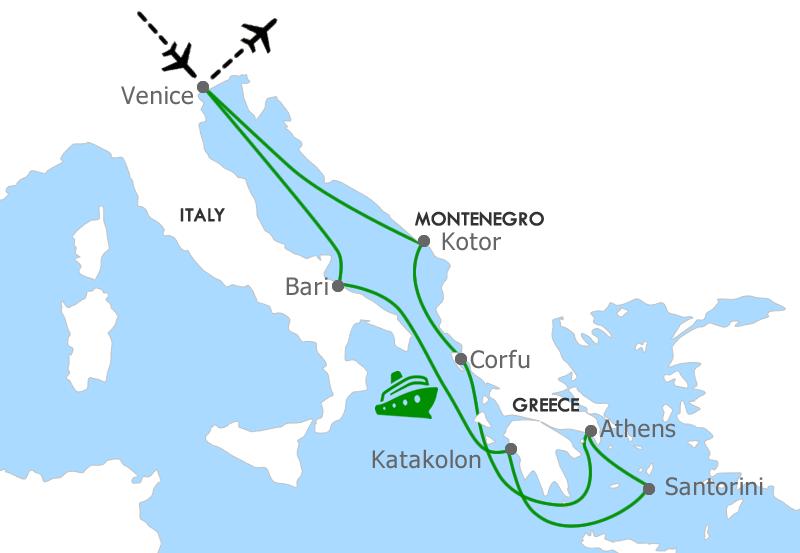 Terms & Conditions
Please note that the prices shown here are not shown in real time.
While we endeavour to keep our pricing as up-to-date as possible, the advertised prices shown here may differ from the live prices in our booking system.
Offer subject to live availability at time of booking.
Price advertised is based on 27 November 2019 departure only.
Prices are per person share twin based on best available cruise fare, inclusive of all discounts unless otherwise stated.
Outside and Balcony cabins may have obstructed views and Suite cabins comprises Junior Suites, Mini Suites and any other type of suite that represents the best value for each cruise.
Unless otherwise stated, gratuities are NOT included.
Hotel and cruise accommodation is based on category specified, upgrades and extending your stay maybe available at an additional cost.
All prices based on cash or cheque payment - credit card fees may apply.
Full payment is due no later than the 1st of August 2019 after which cancellation conditions apply.
Unless otherwise stated, all packages containing airfare will require full airfare and taxes within 24 hours of reservation and cancellation/amendment conditions apply.
Some cruise lines reserve the right to impose a fuel levy if the NMEX price reaches a certain level - please check with your consultant at time of booking.
Cruise deposit, amendment and cancellation conditions apply.
Travel agent service fees may apply. Special conditions apply - please ask for full details at time of enquiry.
All passports, vaccinations and visas are the responsibility of the travelling guest to secure prior to departure from Australia.
An ESTA visa is required for travel to the USA & Canada and is the responsibility of the passenger to obtain this before travel.
Items of a personal nature are not included.
Images are representative of the destinations and are indicative only.
It is the responsibility of the client to request and familiarise themselves with the terms and conditions for their particular cruise & associated travel.
This fine print should be read in conjunction with the: TravelOnline terms and Conditions.
**Important** Airfare & transfer prices for some of the departure dates of this package are outside of bookable date range, they are based on 2019 levels and are estimates only.
Prices cannot be guaranteed until approximately 11 months outside of travel date.
Once actual fares display your consultant will inform you of any difference in the package cost if any
Other dates advertised may vary in itinerary slightly and may incur a surcharge.