Overview
Pack your bags and get ready to discover the rustic beauty and rich history of some of Europe's most picturesque destinations on this incredible journey through the Mediterranean.
Beginning with 2 nights in Rome, your epic journey gives you ample time to explore the famed cobble streets leading to ancient wonders such as the Colosseum, Spanish steps, Trevi fountain and so much more.
It's then time to embark on Royal Caribbean's Explorer of the Seas for your 10-night round-trip cruise from Rome. Your days at sea offers plenty of time to relax and enjoy the excellent onboard facilities of the ship in between visiting some iconic locations in Italy, Malta, Greece & Turkey.
Highlights
Visit the ancient site of Olympia that hosted the famed Pan-Hellenic Games for over a millennium.
See the myriad of iconic blue and white buildings that line the narrow labyrinthine streets of Mykonos.
Catch a sunset that will literally take your breath away in Oia on the romantic island of Santorini
Explore the ancient Classical city of Athens, most famously represented by the Parthenon and mighty Acropolis.
Enjoy the sweeping panorama of islands and rugged headlands of Capri and the Portofino Coast including Cinque Terre
Step back in time and explore the heartland of one of the world's greatest civilizations in Rome.
Optional Extras
Upgrade to Oceanview Cabin for an additional $865pp
Upgrade to Balcony Cabin for an additional $1420pp
Available Upgrades
Upgrades are available upon request at an additional cost. Ask one of our Travel Experts when enquiring for more information.

Fare Upgrade

Cabin Upgrade

Room Upgrade

More Nights

Tours

Insurance
Inclusions
Return economy class airfare to Rome including checked baggage
All required transfers
2 nights 4-star accommodation in Rome including breakfast daily
10-nights onboard Explorer of the Seas
Most meals & entertainment while onboard
Port Charges, Fees and Airport Taxes
Itinerary
Australia to Rome
Upon arrival be met at the airport and transferred to your centrally located Rome hotel
Rome
Today is yours at leisure to explore. From the monuments of the ancient empire to the pursuit of la dolce vita, the Eternal City is an unrivalled open-air museum and a lively modern metropolis.
Embark Explorer of the Seas
Welcome aboard Explorer of the Seas
Sicily (Messina), Italy
Just a few miles from mainland Italy, Messina has served as a gateway to the island of Sicily since antiquity. Over the centuries, the city has been influenced by foreign invaders and powers, and its architecture is a mix of old and new.
Valletta, Malta
In 1530 Malta was given to the Knights Hospitallers, who built a Christian stronghold and the capital, Valletta, behind whose fortifications you'll find Renaissance splendours that seem to be untouched by time.
Cruising
Whether you seek an adrenaline rush or total tranquillity, Royal ships have it all. Try rock climbing, ice skating and mini golf on green that overlooks a sea of blue.
Mykonos, Greece
One of the most popular Greek islands, Mykonos mixes sun, fun, glamour and tradition. Relax at a beach and wander the maze-like streets of the scenic, chic port town. Delos, a sacred islet of antiquity, is a boat ride away.
Ephesus (Kusadasi), Turkey
The seaside resort of Kusadasi is your gateway to the ruins of ancient Ephesus, a magnificent regional capital of Imperial Rome. Closer to port, explore sights like a Venetian-Byzantine castle, an Ottoman mosque and a Turkish old town.
Santorini, Greece
No other Greek island is more famous for its romantic setting, mythic beauty and volcanic scenery. Santorini enchants with a deep blue bay, high cliffs, black and red sand beaches, and white-washed towns perched on the crater rim.
Athens (Piraeus), Greece
Discover the splendours of Greece's epic past in the ancient city that is also the capital of a modern nation. The hilltop Acropolis has overlooked Athens for 2,500 years. Below, a park-like promenade links many iconic sights.
Cruising
Melt away land-based stress with a spa massage, build a scrapbook of memories or simply relax by the side of the pool. Onboard, dining is about more than just food. Think ambience, variety and the flexibility to decide when and what you savour.
Naples (Capri), Italy
One of Europe's oldest cities, Naples is vibrant and filled with rich artistic and architectural heritage. Nearby sights include the ruins of ancient Pompeii uncovers, the idyllic resort isle of Capri, and the jewel-like towns that dot the Amalfi Coast.
Disembark (Rome) return flight to Australia
After disembarkation be met at the pier for your transfer to the airport for you return flight home.
Holiday concludes.
Map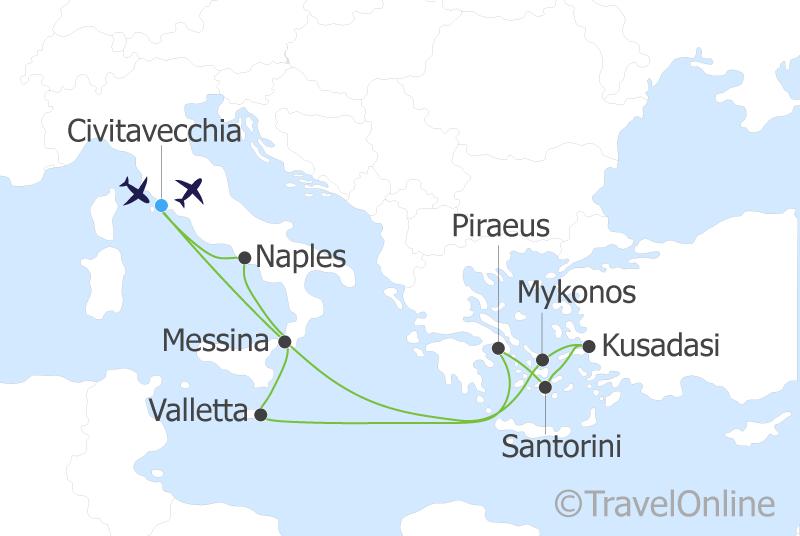 Terms & Conditions
Whilst all information is correct at the time of publication, offers are subject to change.
Please note that many of the prices shown on this website are not shown in real time.
While we endeavour to keep our pricing as up-to-date as possible, the advertised prices shown here may differ slightly from the live prices in our booking system.
Our agency reserves the right to correct errors without penalty.
Price advertised is based on 14 May 2020 departure only.
Prices are per person share twin based on best available cruise, rail and airfare, inclusive of all discounts unless otherwise stated.
Outside and Balcony cabins may have obstructed views and Suite cabins comprises Junior Suites, Mini Suites and any other type of suite that represents the best value for each cruise.
Unless otherwise stated, gratuities are NOT included.
Hotel and cruise accommodation is based on category specified, upgrades and extending your stay maybe available at an additional cost.
AIRFARE INFO: Return economy airfare with a full service carrier (Qantas/Emirates, Qatar Airlines, Etihad Airlines or similar full service carrier if unavailable).
Flight details can not be confirmed more than 11 months from departure and final details will be sent through once they are available.
All prices based on cash or cheque payment - credit card fees may apply.
Final payment is due 120 days prior to travel. If you book within 120 days of travel, you will be sent an invoice within 7 days for final payment.
Up to 12 Months Interest Free available: https://www.travelonline.com/interest-free.
Invoices will be emailed to you in advance and it is your responsibility to ensure payments are made prior to the due date.
Should payment not be received by the due date, your booking will be cancelled and all prior payments will remain strictly non-refundable.
Unless otherwise stated, all packages containing airfare will require full airfare and taxes within 24 hours of reservation and cancellation/amendment conditions apply.
Travel agent service fees may apply. Special conditions apply - please ask for full details at time of enquiry.
All passports, vaccinations and visas are the responsibility of the travelling guest to secure prior to departure from Australia.
Items of a personal nature are not included.
This fine print should be read in conjunction with the: TravelOnline terms and Conditions.
Other dates advertised may vary in itinerary slightly and may incur a surcharge.
**ALL PICTURES SHOWN ARE FOR ILLUSTRATION PURPOSE ONLY.ACTUAL PRODUCT MAY VARY DUE TO ITINERARY VARIATIONS**